in memoriam: patrick wallis burke (1928–2000)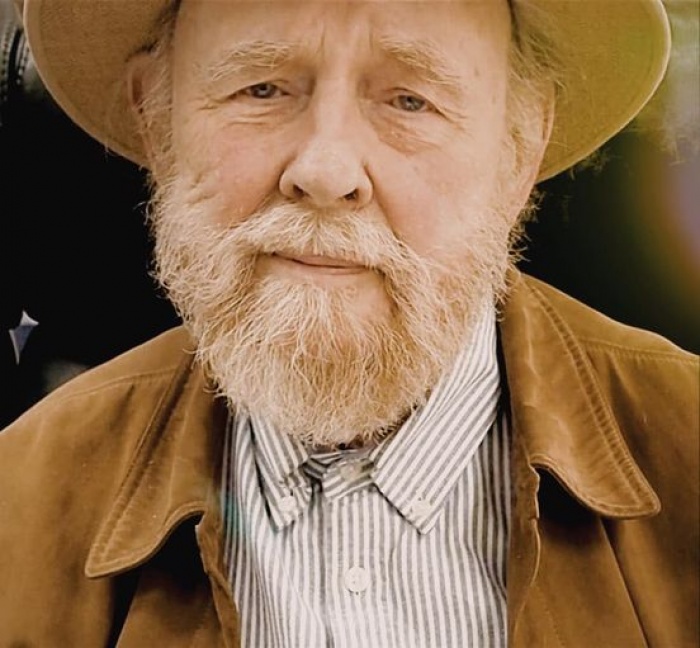 02.10.2020 News
It is with great regret that we learn of the passing of Patrick Wallis Burke on 10 August, 2020. Recipient of the Icograda President's Award and Executive Editor of Icograda/ICoD publication Icographic. Accomplished designer, educator, fiction author and family man, Patrick's student Herb Gillman recalled, "We created Icographic in our spare time at Ravensbourne, evenings and weekends, pasting it up by hand, setting the text with the old IBM golf-ball typewriter; how did he get his ideas, that amazing brain, those connections and articles!"

Born in the London borough of Ealing in 1928, Patrick Wallis Burke was the elder son of Patrick, an engineer's tool-maker, and Leonora Burke. Leaving school in 1945, aged seventeen, Patrick enlisted for war service. "Fortunately," he said, "a couple of atom bombs released me from this horror. The wonderful truth that the war was over blinded me to horror of what had happened to the people of Hiroshima and Nagasaki." He went on to study at Camberwell School of Art where he was taught drawing by the artist, John Minton, and specialised in Graphic Design. He also studied portraiture with the war artist, Henry Marvell Carr. "He was a marvel," said Patrick. "he'd painted Eisenhower and Montgomery. When told I could no longer afford his classes, he said, "Come for free, and we can continue to argue with each other. So we did."
After early work as a trainee designer, by 1958 Patrick was head of industrial design for J. Lyons and Co., the next year working as Head of Design at The Gordon Hotels Group. His love of film and theatre led him to create a new interior for the Mayfair Theatre and sets for its first production. In 1963 he launched his own freelance design practice of products, exhibitions and graphics and made sets for the People's Theatre, Newcastle. At Hornsey College of Art Patrick was Senior Lecturer of their Industrial Design course, giving it a "seismic redirection", introducing new methods of instruction, and in 1969, being head-hunted for Principal Lecturer in the School of Graphic Design at , a position he was to hold for twelve years.
"Patrick was a master and an advocate of professionally responsible design, from concept to craft, and saw text as led by meaning, not by typography. The delivery of his programme at Hornsey and his ideas and drive at Ravensbourne had a national impact. It was a moment that could be defined "heroic" for the development of design education."
— Stephen Lobb, close friend to Patrick Wallis Burke.
Absorbed by the complex interrelation between the spoken and written word, researching writing systems: syllabic, alphabetic and ideogrammatic – particularly the vast ink-drawn taxonomy of the Chinese language, Patrick's lectures in the 1970's included semiology, kinesics, and communication theory. Challenging the students' common perception of arts and science as polar opposites, he encouraged them to think more widely, to look everywhere for ideas. Patrick's tutorials, seminars and demonstrations sought to give art and design students insight into their own thinking, and to free them from prescriptive solutions. He introduced creative problem-solving methodology, sciences, 'gameplaying' and cryptic crosswords to demonstrate how solutions were often reached by bringing together disparate ideas.

After a period producing magazines in 1972, Patrick was appointed by John Halas, the film maker, to become editor of the first edition of Icographic, the quarterly magazine of the International Council of Graphic Design Associations (Icograda; ICoD).
In the words of his colleague and friend, Former ICoD President Jorge Frascara (Canada), Professor Emeritus, University of Alberta:
"Patrick was an expert professional, always generous, and committed to helping the development of the field. With an unfailing and calmed tenacity, he produced the Icographic magazine, taking care of everything from beginning to end, from content to form, publishing 15 issues from 1971 to 1979. At that time there were not that many opportunities for designers to write and to learn about the international scene. He wanted designers to read, not only to look at pretty pictures."
After leaving Ravensbourne he continued to lecture at colleges in Canada, Israel and Republic of Ireland until his retirement in1985. An exhibition of Patrick's work was held at the Pie Factory Gallery in Margate in 2018, with thirty drawings and twenty-five stone carvings. His pencil portrait drawings of friends and townspeople are beautifully accurate and lifelike, and the stone carvings are sensational - inventive and full of respect for the flesh and stone. At ninety years of age he attended the gallery every day, talking about his work with great enthusiasm and – ever the teacher - demonstrating how to sculpt. As Herb said, "He was always a performer."

He had a marvellous voice. Over the last four years he has been a leading member of Ramsgate Poets, reading his poems and prose and encouraging newcomers. He had an insatiable thirst for life, a warm and kind man with a huge sense of humour.
Special thanks to Stephen Lobb for his words for this article in memory of Patrick Wallis Burke, and to Former President Jorge Frascara for his personal reflections (also quoted). He will be missed by the design community. Our respects to Patrick's first wife, Marijke Singer and current wife, Alison Dunsmore, his daughter, Kirsten Burke and his stepchildren, Victoria and James Burke-Dunsmore.