PM2018 beijing
From 18.10.2018 to 20.10.2018 Platform Meeting
China
This 2018 Platform Meeting (PM) was a three-day event held in Beijing (China) on 18–20 September, hosted by ICoD Member Central Academy of Fine Arts of China (CAFA). The theme of the meeting was 'Design is Changing', an acknowledgement that our world is moving quickly and that our profession has a role to play in this change.
The effects of globalisation touch all of us. Professionals in all sectors feel the impact of fast-growing economies, an upheaval in manufacturing and trading patterns, a call for openness to a world enhanced by a diversity of cultures and to modes of communication and travel that have shrunk time and space down to the touch of a device. In this cultural, technological and communication revolution, distant continents have become tangible neighbours. Advances in telecommunications provide a new form of dialogue between people and cultures, and technological advances like hyperloops and even space travel tourism inspires awe.
The choice of China as a setting for this discussion was of course intentional. Design is poised at this point in time to make an impact on the changes that are to come. Design is changing. But the world around us is changing faster. China reflects much of this accelerated change. What follows in this report are the reflections of our international Members on where we are going, should be going and what we are doing wrong. Thanks to simultaneous translation, the conversations took place in both Chinese and English and these exchanges in particular—between Members that would perhaps not have been able to communicate at all without the aid of technology—are among the most illuminating.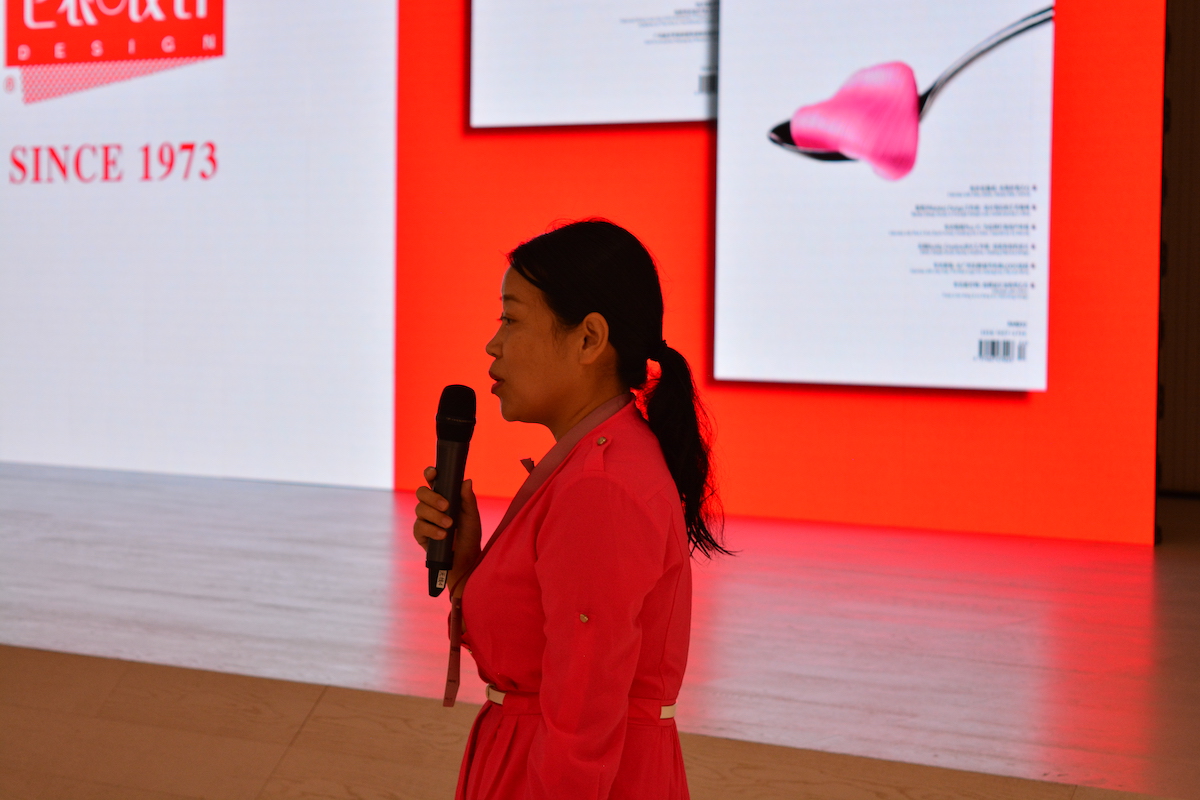 PROGRAMME DAY  01
The first day of the Platform opened with Topic 01 China in Context referring to the reforms and opening up of China after 1978 which gave birth to Modern Design in China. The presentation "China 40 years later: Design in China after 1978" was given by Wang Min representative of both Central Academy of Fine Arts (CAFA) and Beijing Design Week (BJDW). This was followed by a status report on China's creative design industry development by Zeng Hui of Beijing Design Week showing the effects of the modern transformation of traditional architecture, particularly rural architecture in China.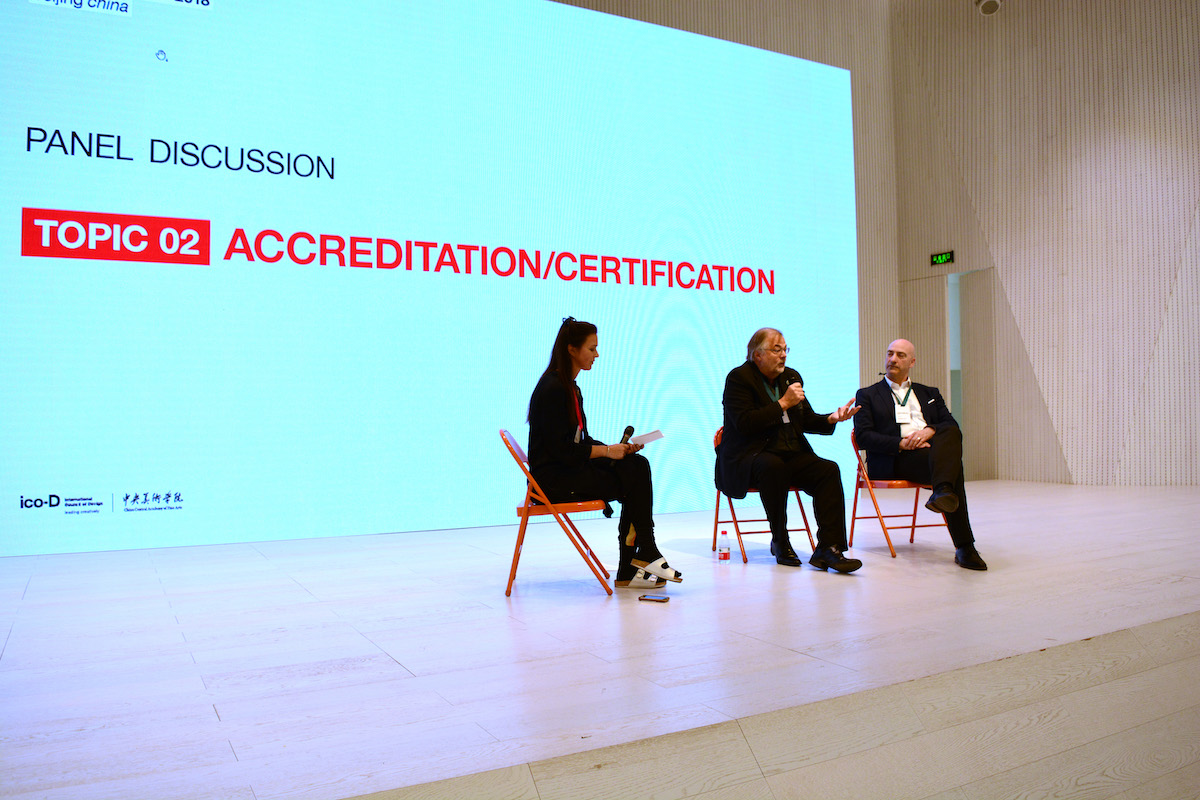 Topic 02: Accreditation/Certification panel moderated by ICoD Communications Officer Alisha Piercy with ICoD Members Frank Peters of the Chartered Society of Designers (CSD) and Johnathon Strebly of the Graphic Designers of Canada (GDC) Each explored their long established system to recognise and designate professional designers in a panel discussion.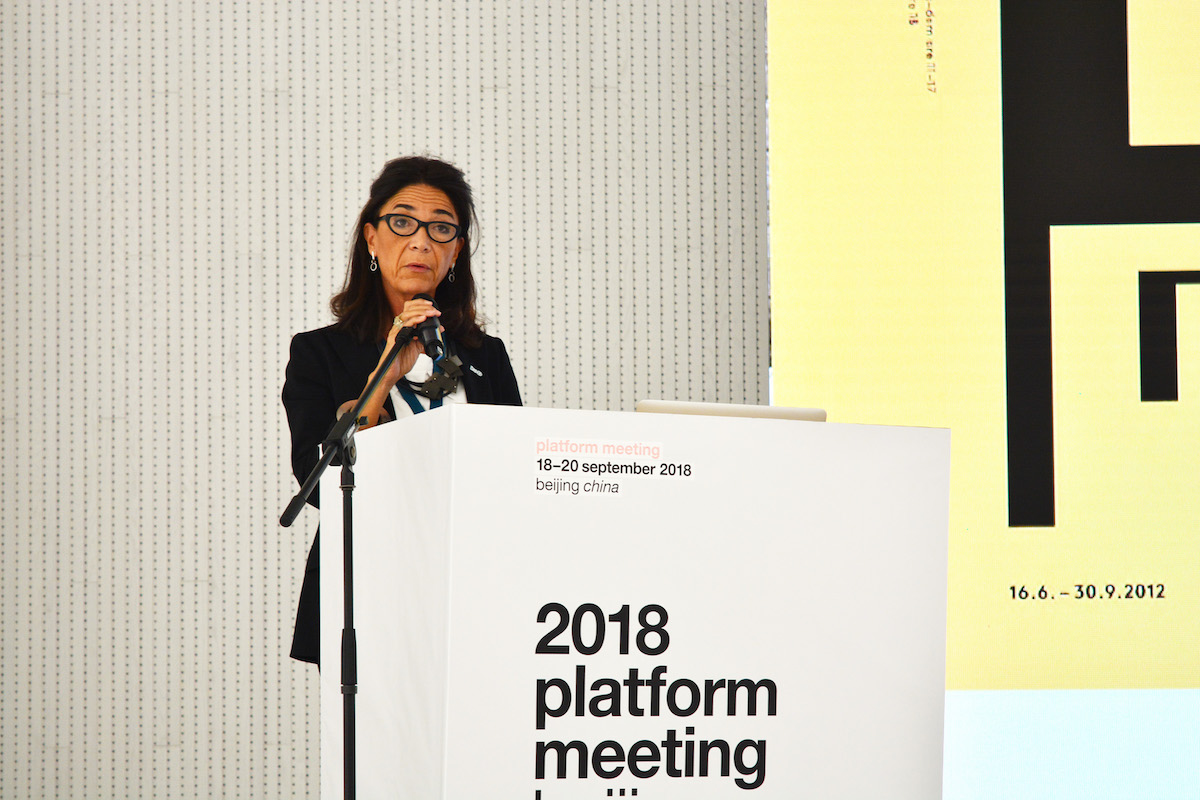 Topic 05 Women in Design: Daniela Piscatelli (ICoD) presented the development of the Aiap Women in Design Award encouraging women in all countries to participate.

The Discussion Forum then gathered all Members together discuss the statement: DESIGNERS ARE BAD PROFESSIONALS in hopes of unpacking as a misconception or opening to betterment. This was followed by Daniela Piscatelli (ICoD) who led Topic 05 Women in Design featuring an initiative whose aim is to recognise the contributions of women in communication design.

For Topic 03 Lifelong Learnings three current ICoD Board members—Cihangir Ístek, Desmond Laubscher and David Grossman shared insights on LLL and how design continues to improve quality of life for all, the importance of LLL for professional development and a future agenda: nine ways to engage with and to encourage LLL. MEMBER FORUM speakers included Jonas Liugaila of Lithuanian Design Association and Helge Persen of Grafill (Norway). The day closed with the ASEAN Regional Meeting Recap given by ICoD President Zachary Haris Ong and a look to upcoming meetings from ICoD Managing Director Ana Masut.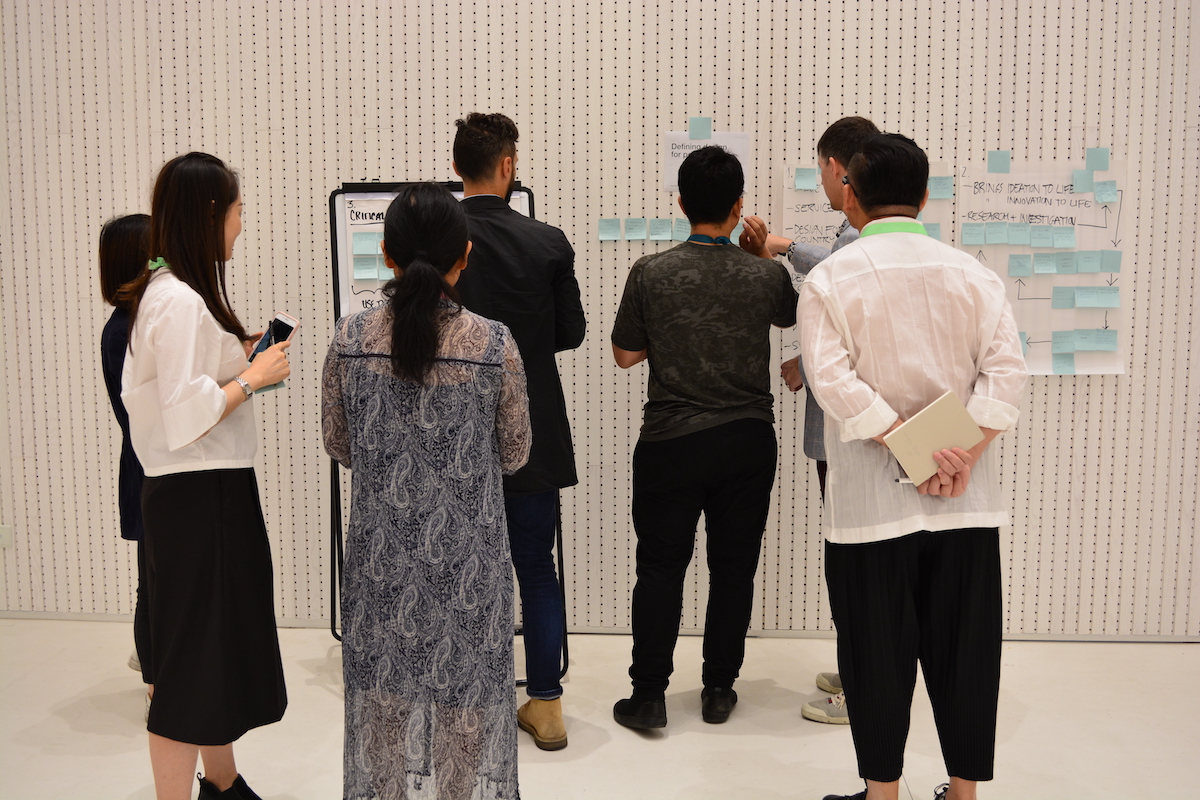 PROGRAMME DAY 02
The workshop led by the National Design Policy Work Group, for Topic 04, was composed of presentations, a rotating round robin session and a mash-up in which Members were asked to participate and give feedback on issues such as the purpose of NDPs, the aims of stakeholders and hoe to implement an NDP while also engaging industry.
Presenters included Bradley Schott of Design Institute of Australia, Wulan Pusponegoro (Indonesia Graphic Designers Association), Rebecca Blake (ICoD), Sami Niemelä (Grafia), and Desmond Laubscher (ICoD).

The Member forum included talks: Communicating the value of design in Indonesia by Wulan Pusponegoro (Indonesia Graphic Designers Association), Addressing sustainability challenges: Shenzhen's efforts by Xu Ting (Shenzhen Culture, Creativity & Design Association (SCCDA)) and The value of research at FAD/ASU by Essam Abu-Awad (Applied Science University in Jordan).

PROGRAMME Day 03
Resumed with Topic 01 China in Context with a talk by Lan Cuiquin from Beijing Institute of Fashion Technology regarding China's adoption of industrial design as a national innovation strategy. The rest of the day was composed of MEMBER FORUM talks and the DISCUSSION FORUM where all participants grouped together to engage with the statement: Design is changing and designers have to change.

Member Forum talks zoomed in on sustainability case studies, community-centered design, the future of skill-sets and emphasising creativity as design practice and the restructuring of design education models by Augustina Widyani (Tarumanagara University), Antonio Iadarola (Beijing Institute of Technology) Scott Mayson (RMIT University) and Xiewei Song (CAFA).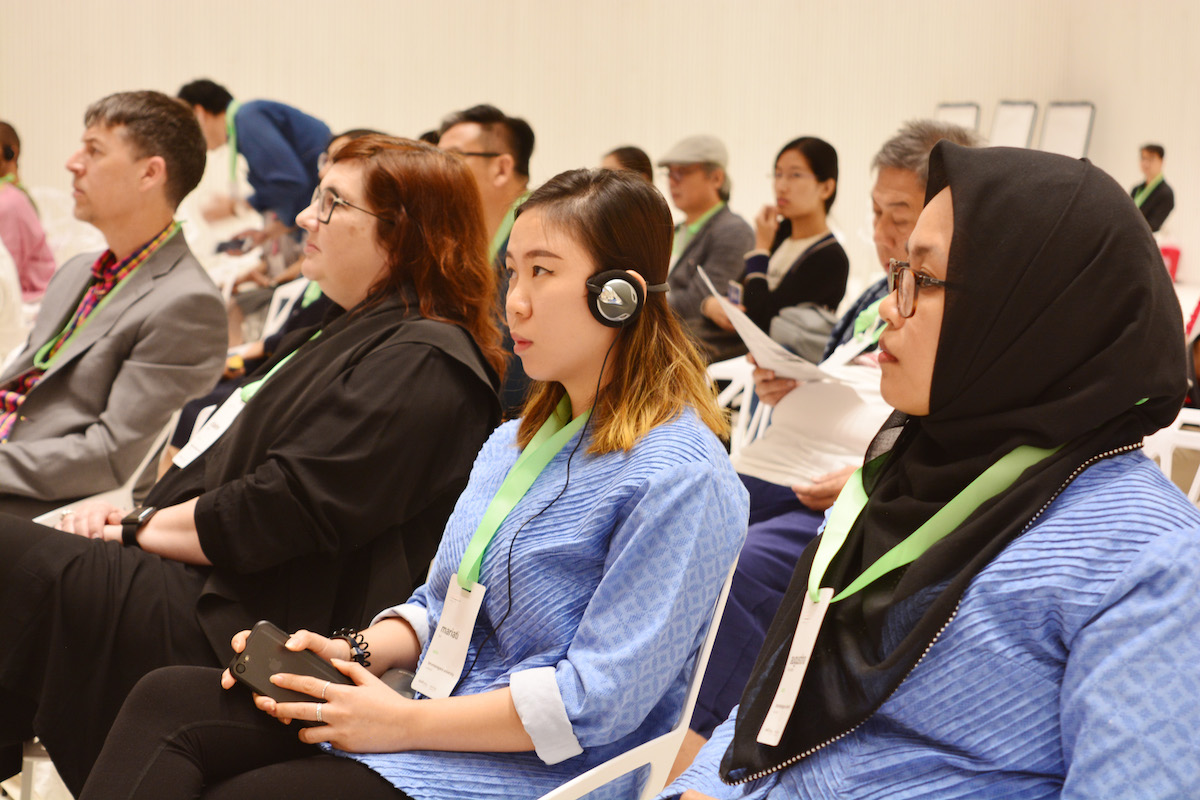 Next steps for the Montréal Design Declaration were outlined, as well as ICoD's Start Young programme, followed by more talks related to design research, copyright standards and innovation curriculum that bridges traditional with new knowledge systems by Han Xu (China Academy of Art Shanghai Institute), Yanique DaCosta (Graphic Artists Guild), Claire Beale (Design Institute of Australia), Keith Doyle (Emily Carr University), Tony Credlan (London College of Communication) and Wang Yu (Zhejiang Modern Intelligence and Manufacturing Promotion Center).

A great turn out and dynamic Platform Meeting! Thanks to all Members who came to Beijing, your participation and sharing has lasting impact. We would like to acknowledge our Member Central Academy of Fine Arts (CAFA) for hosting this meeting to exacting standards and for the warm welcome to their new meeting space. Happy 100 year Anniversary CAFA! An extra special thank you to ICoD Vice- President Wang Ziyuan for his inestimable support and dedication to making this meeting happen and to the support tea led by Zheng Tao for their attention and presence, great taste, and for making our event and short time in China so memorable!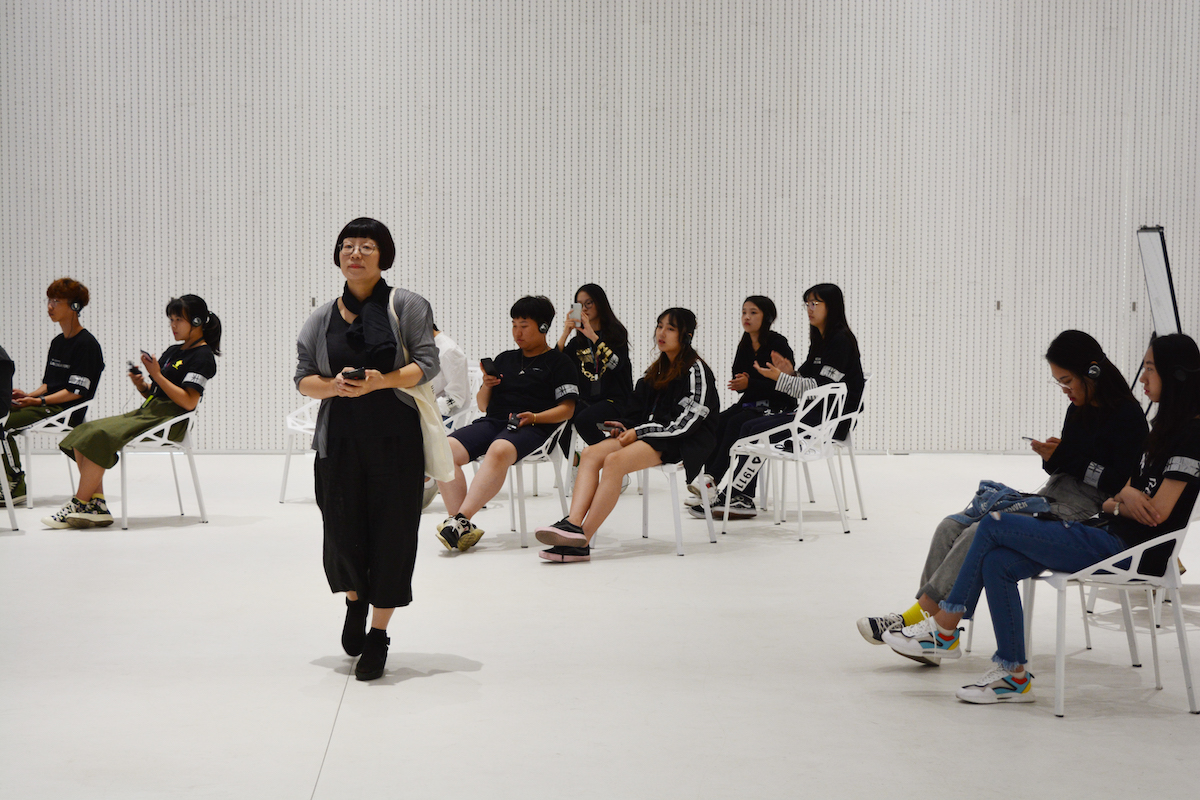 THEME: DESIGN IS CHANGING 
The future of design is becoming ever more difficult to predict. The world surprises us every day with dramatic changes and vast possibilities. What if Design—perceptive in its understanding of the past, and prescient in its talent at re-imagining a better future, is in a unique position to offer a clear path through this shift?

Geo-political shifts have upped the stakes on what the choices and actions of designers will be. We feel excitement and also uncertainty as the free movement of people, goods and services forces a paradigm shift in how designing happens. We may feel some anxiety—over the control over the movement of people, and trade conflicts that make it more urgent to upturn the triangular relationship between producer, designer and end-user. Can we afford to let the market determine consumption while ignoring the cost of mounting waste, plastics in our oceans and the social costs associated with increasing inequality? Can designers reposition themselves as ambassadors for the end-users, advocating for the greater good in ways that are innovative, democratic, inclusive and sustainable? We know designers have the power to make new choices in their practices—to create a new balance focused on improving the economic, social and environmental relationships between people and corporations. In small and big ways, this is happening already. How fruitful to shed light on design innovation in lesser-known regions, and the on the ways people are bridging between fields and expertise through new kinds of communication. Designers never work alone. The designer's role to listen and collaborate on global issues is a new reality as designing becomes increasingly multi- inter- and cross- disciplinary


CONTACT
Send any ICoD Event related inquiries to Event Manager Elizabeth Carbonell events@theicod.org