international
design media network
The International Design Media Network (IDMN) brings the world's design media together into a single online community. The network consists of IDMN participants and bona fide design publications and media. This branch of the ICoD network is dedicated to establishing and promoting standards and ethics in design journalism. It is also a forum for sharing ideas and information, and is becoming a meaningful resource for the most forward-thinking practices in design.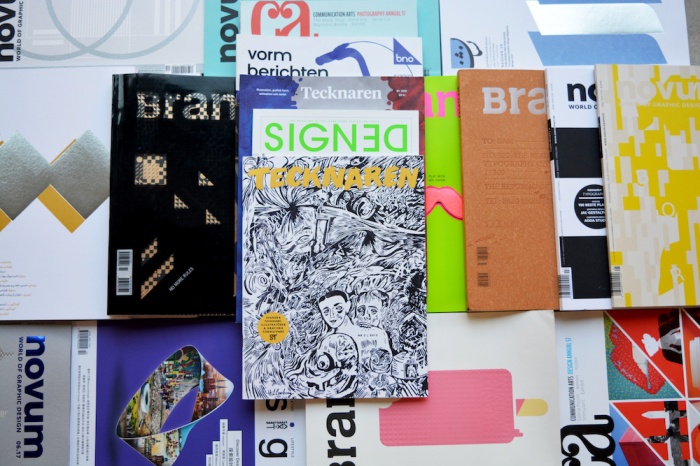 brazil
Contact information

Silveira Peixoto, nº 1040, Conjunto 1102. Batel, Curitiba Paraná, 80240-120 Brazil

*Contact details available only for ICoD Members (login to see)

Profile

abcDesign is a quarterly publication for both graphic and product designers that approaches design context, tendencies, culture and history. The main goal of the publication has always been to deliver information that will help build a better and more competitive Brazilian design.

Contact information

Rua Conde de Irajá 208, Vila Mariana São Paulo - SP, 04119-010 Brazil

*Contact details available only for ICoD Members (login to see)

Profile

Zupi is a different, independent and non-profit magazine. It is one of the first Brazilian publications on art and creativity for people looking for new ideas and trends. It was created in 2001 by Allan Szacher (curator, editor and art manager) as an online magazine and since 2006 it has a printed version.

Zupi was born to inspire and to promote the production of art works showing the best in art, design, illustration, animation, sculpture, advertising, architecture, among dozens of other creative areas in Brazil and around the world.

Zupi is a full platform for collectors and art lovers, as well as a space for emerging artists to showcase their projects and experiences. Acting as a communication vehicle that promotes talent, generating recognition, business and merits for artists and professionals who appear on our pages.

The magazine is aimed at artists, designers, illustrators, art directors, photographers, stylists, web designers, street artists, graffiti artists, architects, product designers, decorators, landscape designers, motion designers, advertisers and creatives in general.

Zupi is the official magazine of the Pixel Show, the biggest Festival of Creativity in South America.

Bilingual edition: Portuguese/English
canada
Contact information

Suite 105, 65 Overlea Blvd., Toronto ON, M4H 1P1 Canada

*Contact details available only for ICoD Members (login to see)

Profile

Founded in 1986, Applied Arts continues to be the country's leading voice on visual communications, covering key industry issues, strategy, top talents and technology—and showcasing the very best creative work, all beautifully reproduced in a large-format magazine on premium stock. Published five times a year, each issue contains a mix of columns, features on key issues and profiles pertaining to design, advertising and image-making. Also featured in each issue, the winning work from one of the highly prized Applied Arts Awards: • Community Awards, celebrating the great talent coming out of local markets across Canada – March • Photography and Illustration – May • Design – July • Advertising – September • Student – November With it's extensive industry knowledge built on a 30-year legacy, Applied Arts will continue to help its audience keep their finger on the pulse of this dynamic and evolving field.

Contact information

2147 ave de Vendome, #20, Montreal QC, H4A 3M4 Canada

*Contact details available only for ICoD Members (login to see)

Profile

Netdiver is devoted to tutoring, empowering and stimulating creativity as well as excellence in design projects by the international community involved in the design industry and beyond! Feed your eyes!

Contact information

1435 St-Alexandre, No. 700, Montreal Quebec, H3A 2G4 Canada

*Contact details available only for ICoD Members (login to see)

Profile

Urbania is a fan of humankind and breathtaking aesthetics. As cultural & social anthropologists we understand the importance and the power of beautifully crafted things and we truly believe that unconventional editorial POVs deserve equally breathtaking layouts. And our advertiser need to understand that too. We thrive on being completely one of a kind. We pride ourselves on creating material that knows absolutely no censorship, whether it's in is form or its content. The Urbania team does and sees things like no one else because that's the only way we know how to do things. We are different and we like it.
china
Contact information

7F, 10th Anning Street, Jin Sha Zhou, Baiyun District,, Guangzhou Guangdong, 510000 China

*Contact details available only for ICoD Members (login to see)

Profile

BranD is an international bi-monthly magazine, focusing on Brand Design and Branding, with English-Chinese and English versions, published in Hong Kong by Sendpoints Publishing Co., Ltd. and distributed globally since 2012. BranD is the unique one to explore Brand Design and Branding content internationally by four parts: "Brandesign®", "Brandirection®", "Brandream®" and "Brandiscovery®". Every issue defines a theme and invites worldwide notable branding designers to seek the methodology to meet diverse demands of customers meanwhile enhancing the brand value through high-quality design. Excellent brand spokesmen are invited to share their valuable experience of brand development and management to build a favourable platform for designers, brands and customers to communicate. Brandesign®: Interviews of global well-known designers to discuss the possibility and scientific of design and display of excellent brand design showcases. Brandirection®: Special column to share the leading ideas and concepts for brand development and management with theoretical research features. Brandream®: An interactive platform for designers, brands and customers. Brandiscovery®: Coverage on the recent happenings, e.g. exhibitions, events and contests. PAGES: 200 PRINT SIZE: 220mm×295mm PRICE: HKD 150.00 RMB 120.00 NTD 650.00 USD 25. 00 EUR 19.95 GBP 14.95 CIRCULATION: Published globally every other month English Version: 10000 copies English-Chinese Version: 5000 copies PUBLISHING DATES: 1st Feb. / 1st Apr. / 1st Jun. / 1st Aug. / 1st Oct. / 1st Dec.

Contact information

3rd Floor, Design Building, Guangzhou Academy of Fine Arts, No. 257 Changgang East Road, Haizhu District, Guangzhou China

*Contact details available only for ICoD Members (login to see)

Profile

Design influences the world and the future. Let us enjoy our life by the name of design! Design 360° - Concept and Design Magazine is an Asian mainstream magazine. It is an all-round design magazine dedicated to introducing international advanced design concepts, original works, outstanding designers and prestigious design institutes. The target readers of Design 360°  are professional designers, artists, teachers and students from universities or colleges. So far, Design 360° has tens of thousands of faithful readers from Japan, Korea, Thailand, Singapore, India, Australia, Hong Kong, Macau, Taiwan, Mainland China, ect. Since 2009, Design 360° Magazine has been awarded twice by Design for Asia Award (DFA). It covers graphic design, architecture, animation, industrial design, interior design, digital design etc, being an informative source for students in art and design academies, professional designers and amateurs alike, who take great interest in international design trends. It has built up a bridge between the design circle in china and that of the rest of the world.

Contact information

*Contact details available only for ICoD Members (login to see)

Profile

Package and Design' is a bimonthly magazine featuring the work of Chinese designers and introducing the work of international designers to the Chinese design community. It has had a significant influence on Chinese packaging and design in the past decade - both among practicing professionals and in design education. With the goal to 'Serve the designer and society,' the magazine will continue to promote interaction and communication, thereby sharing the experience of design with readers.



Package and Design' is sponsored by China Packaging Import & Export Guangdong Company and is supported by the Design Committee of Chinese Package Technology Association. It is edited by Package & Design Publishing House. It is printed by Artron Enterprise Ltd. Shenzhen and distributed worldwide through China International Printing Trade Corporation (Beijing).
czechia
Contact information

Letenské nám. 3, Prague 7 170 00 Czechia

*Contact details available only for ICoD Members (login to see)

Profile

TYPO is a magazine devoted to typography, graphic design and visual communication. It is aimed at professionals as well as beginning typographers, font designers, graphic designers, educators and marketing and visual communication specialists.



It regularly brings information about major events in the world of graphic design, features articles on information graphics, presents the work of young typographers and designers and publishes interviews with important figures in the field. There are reviews of new fonts, and news from important typography conferences. The magazine works with authors and theoreticians from several different countries; so far it has published articles written by Rick Poynor, Jan Middendorp, Peter Biľak, Kevin Larson, Albert-Jan Pool, Adam Twardoch, Reza Abedini, Andreu Balius, Veronika Burian, Richard W. Doubleday, Mary C. Dyson, Peter Enneson, Oded Ezer and many others.



TYPO has between 64 and 96 pages, is published quarterly, and is printed in full colour on high-quality paper. Articles are published in Czech and English.



germany
Contact information

Nymphenburger Str. 86,, Munich Bavaria, D-80636 Germany

*Contact details available only for ICoD Members (login to see)

Profile

novum – World of Graphic Design is an international monthly publication (bilingual, in German/English) featuring the best in contemporary graphic design, illustration, photo design, web design, corporate design, poster design, advertising, packaging and typography. novum also spotlights new talent and the latest trends.
greece
Contact information

Sokratous 157, Athens 176 73 Greece

*Contact details available only for ICoD Members (login to see)

Profile

Greece's premiere design magazine - graphics, web, industrial and illlustration.
hong kong sar
Contact information

Publisher of IdN Magazine, PO Box 20408 Johnston Road Post Office, Wanchai Hong Kong SAR

*Contact details available only for ICoD Members (login to see)

Profile

IdN magazine is an international publication for creative people on a mission to amplify and unify the design community in Asia-Pacific and other parts of the world. It has been an active organiser of many design-related events. It is devoted to bringing designers from around the globe together to communicate with, learn from and inspire one another. It has truly become what the initials of its title proclaim it to be: an international designers' network. Currently IdN is published in five editions: Asia Pacific, Australia & International (in English), China/Hong Kong & Spanish (Latin America).
india
Contact information

K-101, Westend Village, Bhusari Colony (R), Paud road, Pune Maharashtra, 411038 India

*Contact details available only for ICoD Members (login to see)

Profile

Pool Magazine is a new monthly publication for designers, creative professionals, and the inquisitive in India, launching in June 2010.





Being India's first international magazine dedicated to all walks of design, innovation and art, Pool aims to stay true to the very essence of creativity by inspiring, informing and entertaining readers via fresh approaches and ideas in never-seen-before design features.





We have successfully brought together some of the planet's foremost thinkers and influencers, who have played a transformational role in society and business, to provide valuable advice and be an intellectual pool that acts as a sounding board and a conscience for this publication.



Pool is the first multidisciplinary design magazine in India.



iran
Contact information

5 Mansoor Alley, Sadri Street, Sohrevardi Avenue, Tehran Tehran, 15657563 Iran

*Contact details available only for ICoD Members (login to see)

Profile

Neshan is a professional and educational magazine with the Aim of promoting the design & visual culture intention of ameliorating ties between the graphic designers of Iran, Asia and all parts of the world.
lebanon
Contact information

Sursock Street,, Beirut Lebanon

*Contact details available only for ICoD Members (login to see)

Profile

Since 1986, ArabAd has established itself as the authoritative voice representing advertising, marketing and the creative industries in the Middle East.
netherlands
Contact information

Nieuwe Doelenstraat 3-2, 1211 CD, Hilversum 1211 CD Netherlands

*Contact details available only for ICoD Members (login to see)

Profile

Arabictypography.com is a non-commercial site that was launched in the year 2000 in the Netherlands. It  acts as a communication platform for Arabic designers/typographers and anyone else interested in the subject. It creates a certain online type association for the Arabic designer's community. It is a place for getting information, reading articles, exchanging ideas, displaying and viewing work and getting useful links and contacts. The site has three main sections: Experimental section, research section and community section. The site's main objective is to promote typography, design, and designers coming from the Arab world.

Contact information

Klaprozenweg 75 G,, Amsterdam NL-1033 NN Netherlands

*Contact details available only for ICoD Members (login to see)

Profile

General Editor: Peter Simlinger (International Institute for Information Design, Austria) Editors: Carel Jansen (Radboud University Nijmegen, The Netherlands), Aaron Marcus (Aaron Marcus and Associates, USA), Karen A. Schriver (KSA Document Design & Research, USA), David Sless (Communication Research Institute (CRI), Australia) Information Design Journal (IDJ) is a peer-reviewed international journal that bridges the gap between research and practice in information design. IDJ is a platform for discussing and improving the design, usability, and overall effectiveness of 'content put into form' - of verbal and visual messages shaped to meet the needs of particular audiences. IDJ offers a forum for sharing ideas about the verbal, visual, and typographic design of print and online documents, multimedia presentations, illustrations, signage, interfaces, maps, quantitative displays, websites, and new media. IDJ brings together ways of thinking about creating effective communications for use in contexts such as workplaces, hospitals, airports, banks, schools, or government agencies. On the one hand, IDJ explores the design of information, with a focus on writing, the visual design, structure, format, and style of communications. On the other hand, IDJ seeks to better understand the ways that people understand, interpret, and use communications, with a focus on audiences, cultural differences, readers' expectations, and differences between populations such as teenagers, elderly or the blind. IDJ publishes research papers, case studies, critiques of information design and related theory, reviews of current literature, research-in-progress, interviews with thought leaders, discussions of practical problems, book reviews, and conference information. Contributions should be relevant to a multi-disciplinary audience from fields such as: communication design, writing, typography, discourse studies, applied linguistics, rhetoric, usability research, instructional design and graphic design. Contributions should be based on appropriate evidence and make clear their implications for practice. This journal is peer reviewed and indexed in: European Reference Index for the Humanities.
poland
Contact information

ul. Kochanowskiego 19/1, Kraków 31-127 Poland

*Contact details available only for ICoD Members (login to see)

Profile

Polish design quarterly 2+3D is devoted to graphic design (posters, signs, typefaces, typography, packaging, visual identity, as well as information design) and products from both industrial design and limited series production. Every issue features portfolios of selected designers, notes significant design happenings, and provides theoretical articles on the history of design and inspiration for contemporary designers. The magazine also addresses interdisciplinary issues. Semiannually digital edition of 2+3D design magazine for iPad tablets and Androids (www.digital.2plus3d.pl) is devoted to design in Central Europe. It features as well texts on both graphic and product design. Subsequent editions will also deal with international design issues as seen from our perspective.
russian federation
Contact information

PO Box 3,, Moscow 125475 Russian Federation

*Contact details available only for ICoD Members (login to see)

Profile

Identity is the first and only bilingual Russian - English magazine that covers the field of branding and commercial design in detail. Well-known specialists in the field of corporate identity, branding, naming, graphic design and jurisprudence publish their articles in Identity. We also publish the brightest works of Russian and foreign design studios. The audience of Identity consists of specialists and CEOs in the field of marketing, branding and professionals in the field of design and advertising. The main topics are: branding, design, logos, trademarks, corporate identity, packaging and naming. The mission is to facilitate an open and civilized brand market forming in Russia.
singapore
Contact information

15B Lloyd Road,, Singapore 239098 Singapore

*Contact details available only for ICoD Members (login to see)

Profile

DesignTAXI

A news and editorial site that is updated daily. We deliver daily news on Creativity and Innovation.

The Creative Finder

A global search engine for creatives. We connect talent to opportunities, whether it is for collaboration, networking or business. We also host portfolios for creative professionals.
slovenia
Contact information

Metelkova 6, Ljubljana SI-1000 Slovenia

*Contact details available only for ICoD Members (login to see)

Profile

Emzin Institute of Creative Production is a non-profit organization, acting in cultural field. From the very beginning, Emzin Institute has been focusing on visual arts, primarily on photography, illustration and design. Its approach to current topics is generally original, engaging, thorough and (self-) critical. The institute publishes Emzin arts magazine dedicated to the promotion of art and culture with particular emphasis on visual arts, graphic design and photography. The magazine itself has become an exposition of various visual design concepts. As we try to maintain high standards, all the articles published in the magazine are made exclusively for Emzin. We attach great importance to our visual appearance, which has become one of the recognizable features of the magazine. Emzin is a thematic magazine, meaning that each issue covers a different topic. The themes of recent editions are as follows: Photography; Film; Internet; European Month of Culture; Advertising, Propaganda, Publicity; Trivial Art, Trash, Kitsch; Body; Graphic Design; Home; Love; Journey; Identity; Women; Death; Money; Pleasure; Communication; Work; Food; Values; Fear; Humour, Possession, Control, Intelligence, Contemporary Russia and Time. Please take note that the magazine is published only in Slovene language.



Other Institute's activities include organization of educational seminars on graphic design and photography as well as organization of the Photo of the Year Contest to award Slovenia's best photography. For 10 years straight Emzin has been the selector of exhibitions held in Avla gallery of Slovenia's major bank, Nova Ljubljanska banka.

Contact information

p. p. 2736,, Ljubljana 1001 Slovenia

*Contact details available only for ICoD Members (login to see)

Profile

Our goal is to be present at all places involved in production, creativity and innovative technologies. What does Klik do? - It opens up and comments on relevant questions that modern society poses to all socially conscious and meditative individuals - It introduces local and international designers, artists and other creative people and companies with special attention to their top achievements - It introduces good projects, initiatives, exhibitions etc. - It informs about events, awards or contests at the national or international level - It introduces all contemporary and high-end technologies, smart materials and specially sustainable projects, products and techologies. - It presents all the software and hardware used by creative and professional people - It establishes links between creative professionals, scholars, design-oriented companies and commercial enterprises involved in design and high-technology - It continuously stimulates creativity, innovativeness and originality At the end of 2008 we are proud to have the following achievements and successes: - We obtained financial and formal support from the Slovenian Ministry of Culture as a good quality media publication in the fields of culture and design - We received financial and formal support from the Slovenian Ministry for Education and Sports - We received financial support from the Slovenian Research Agency and therefore we are regulary present at the national e-library - We are already present in over 60 libraries and similar institutions at schools, universities and in companies - We are present at most universities and many secondary schools - We are present at design, CAD and architectural studios and companies, advertising agencies, govermental offices, etc .. - Every month we participate in working tables of all members of the Archicad club - Klik is periodically sent out to all subscribers to the AutoCAD programme
spain
Contact information

c/ Maldonado, 19, bajo dcha.,, Valencia Va, E-46001 Spain

*Contact details available only for ICoD Members (login to see)

Profile

culture & post-design Founded in 2000, d[x]i Magazine is a complimentary quarterly publication distributed throughout Spain. It is devoted to design and its related disciplines, such as art, architecture, interior design, graphic communication and fashion. d[x]i is an experimental platform where opinions, analysis and debate mix - complimented by news and up-to-date information. Content is presented in a graphically atractive and innovative manner. d[x]i is a unique publication that offers a committed vision to design with cutting-edge style.

Contact information

Rosselló 87-89,, Barcelona 8029 Spain

*Contact details available only for ICoD Members (login to see)

Profile

étapes international is a quarterly 150 page magazine focused on contemporary graphic design. The magazine is structured in 3 parts. The «News» pages have a strongly visual presentation relying on a panorama of images which show recent projects created in the areas of visual identity, commercial and cultural visual communication, packaging, editorial and on-screen design. The «Substance and Style» section consists of feature articles on transverse, monographic, geographical or historic themes as well as case studies and reports. These ideas are elaborated on in the «Time for Text» section. Essays and reviews of books provide in-depth details as well as further opportunities for reflection and inspiration. Originally derived from étapes: the monthly French graphic design magazine, going forward, étapes international will be published quarterly in three different language editions: English, Spanish and Chinese, using material that is created by culturally specific as well as international authors and contributors.
switzerland
Contact information

Grellingerstrasse 75,, Basel 4052 Switzerland

*Contact details available only for ICoD Members (login to see)

Profile

The epda was formed in 1991, when a number of Europe's leading designers identified a deeply-felt need for a new, European forum. They wanted to share information, ideas and opinions - however controversial - about packaging, identity, literature, point-of-purchase, electronic media. They wanted to meet other design professionals, not as competitors, but as colleagues and friends. And it worked. From that simple concept, the epda has grown steadily into the pan-European force for design that it is today.

Contact information

Birkhäuser Verlag AG, Viaduktstrasse 42, Basel CH-4051 Switzerland

*Contact details available only for ICoD Members (login to see)

Profile

form is one of the leading design magazines in Europe and is issued in both German and English. Renowned specialist writers report six times a year on the latest trends in industrial design, graphic design and interaction design. Since 1957, form has been been an authoritative source of information and inspiration to designers, entrepreneurs, lecturers and students alike. The internationally oriented magazine founds its reputation on thoroughly researched articles, lavish photo sequences, noteworthy interviews, a vivid layout and high print quality. form is distributed worldwide. The annual subscription price is 99,29 EUR (including shipment, plus VAT). form became one of the official media partners for the Icograda World Design Congress in Havana (2007), and Icograda Design Week in Torino (2008).
türkiye
Contact information

Gülbahar Mah. Balaban Sok. Meri? Konak Apt. No: 46/1,, Mecidiyeköy, Istanbul 34394 Türkiye

*Contact details available only for ICoD Members (login to see)

Profile

The magazine of visual culture and communication Grafik Tasarim, founded in 2006, is the only magazine in Turkey dedicated to graphic design and communication design. One of our aims is to build and develop a greater design consciousness within Turkish society. We introduce to our readers the best examples of graphic design, typography and art direction from Turkey and around the world. Grafik Tasarim publishes interviews with well-known international designers and we try to feature new trends and new solutions from the design scene in every issue. We discuss the social codes and communication theories which underlie design practice, and share practical know-how with our readers. It is a great honour and achievement to be the key resource in Turkey for both students and design professionals Grafik Tasarim has been publishing monthly since October 2006 and bi-monthly from the beginning of 2009 with a print run of 6000 copies. It has a wide readership, which includes students, professional designers, advertising agencies and design studios.
united states