2020 international poster exhibition "breath"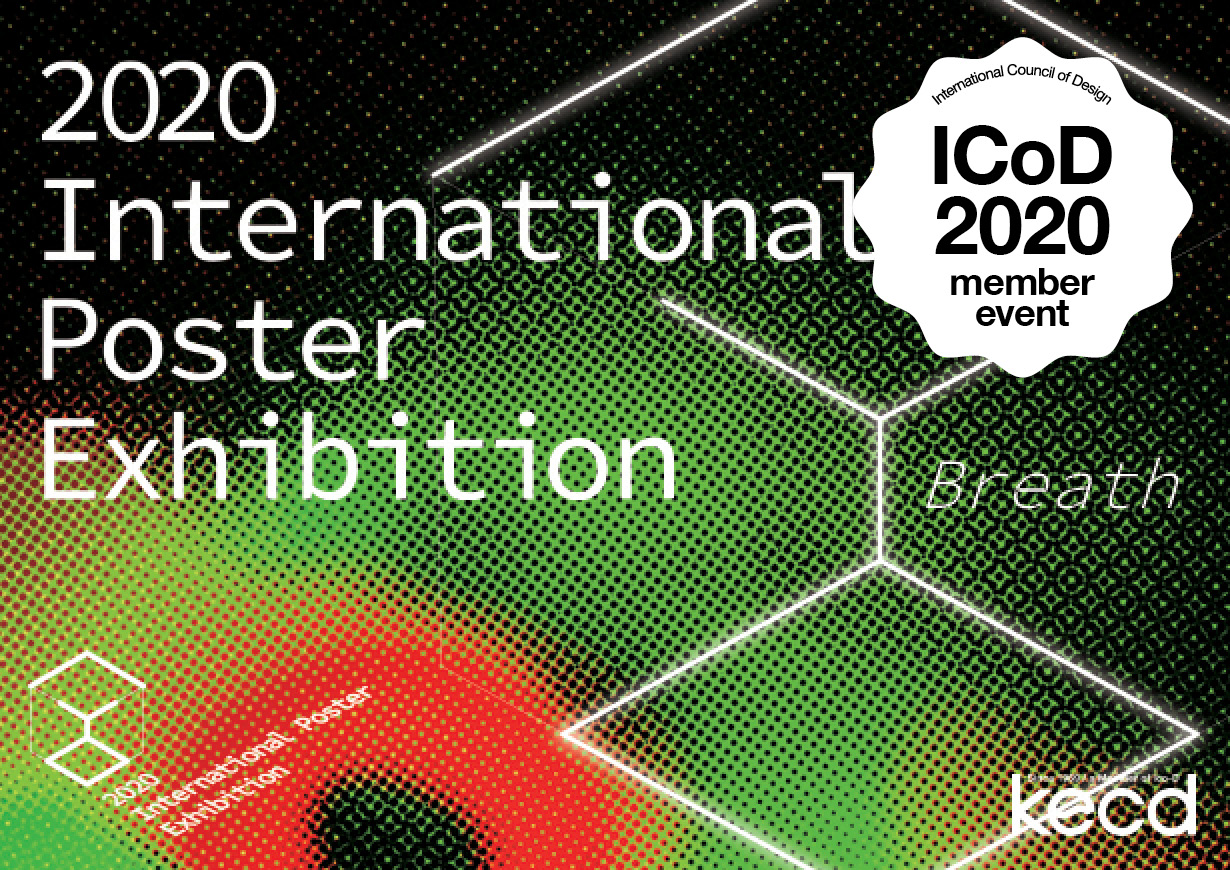 From 19.12.2020 to 18.01.2021 Exhibition
South Korea
ICoD is pleased to announce the Member Event the 2020 International Poster Exhibition "Breath" organised by the Korea Ensemble of Contemporary Design (KECD).
SUMMARY
Exhibition date: 19 December 2020 to 18 January 2021
Theme: Breath
Breath is a phenomenon that occurs continuously when inhalation and exhalation pass through an open door without any obstruction. The process is surreal in that we all know it. Today we look back into that opaque appearance with longing.
Breathing - provides us with full energy due to vitality that was transmitted through the whole body with air as breath. Breathing is more than just providing the power to maintain our existence. Thus, breathing is a medium in which our thoughts are designated, and we can create the world by making constant patterns of air. Perhaps we are not breathing, but breathing has led us.
Our world, filled with the dissonance of encounters of different languages and cultures, is a pattern created by breath. Thanks to you, before we can hear the sound, we can feel the silence first.
These days, when a sound breath is more precious than ever, the exhibition attempts to read the context of breath in the language of visual art. It reflects visual resonances that look into "Breath."
This exhibition aims to:
    •    develop and share innovative graphic language globally
    •    discuss and introduce different visual perspective under the current situation
    •    encourage visual recognition of diversity in a way of graphic application
    •    expanding and inspiring creative ideas through visual translation.
    •    maintain the common promotion further through networking with other international associations
EVENT DESCRIPTION
The origin story: It has been 20 years since to host an international poster design exhibition. KECD is an internationally focused, innovative, and collaborative Art and Design development, toward a unified, high-quality visual design sharing platform.
Participating design association: Central Creators Club (CCC), Taiwan Poster Design Association (TPDA), Taiwan Graphic Design Association (TGDA), Taiwan Design Alliance (TDA), Shenzhen Graphic Design Association (SGDA), The Graphic Design Association of Malaysia (wREGA), Iran Graphic Design Society (IGDS), Macau Poster Design Association (MPDA), Macau Designers Association (MDA), Heilongjiang Federation of Literary and Art Circles (HLJFLAC) , Creative Designer Salon of China, ASIA CHINA & KOREA DESIGN ASSOCIATION
LINKS