2022 taiwan international student design competition (TISDC)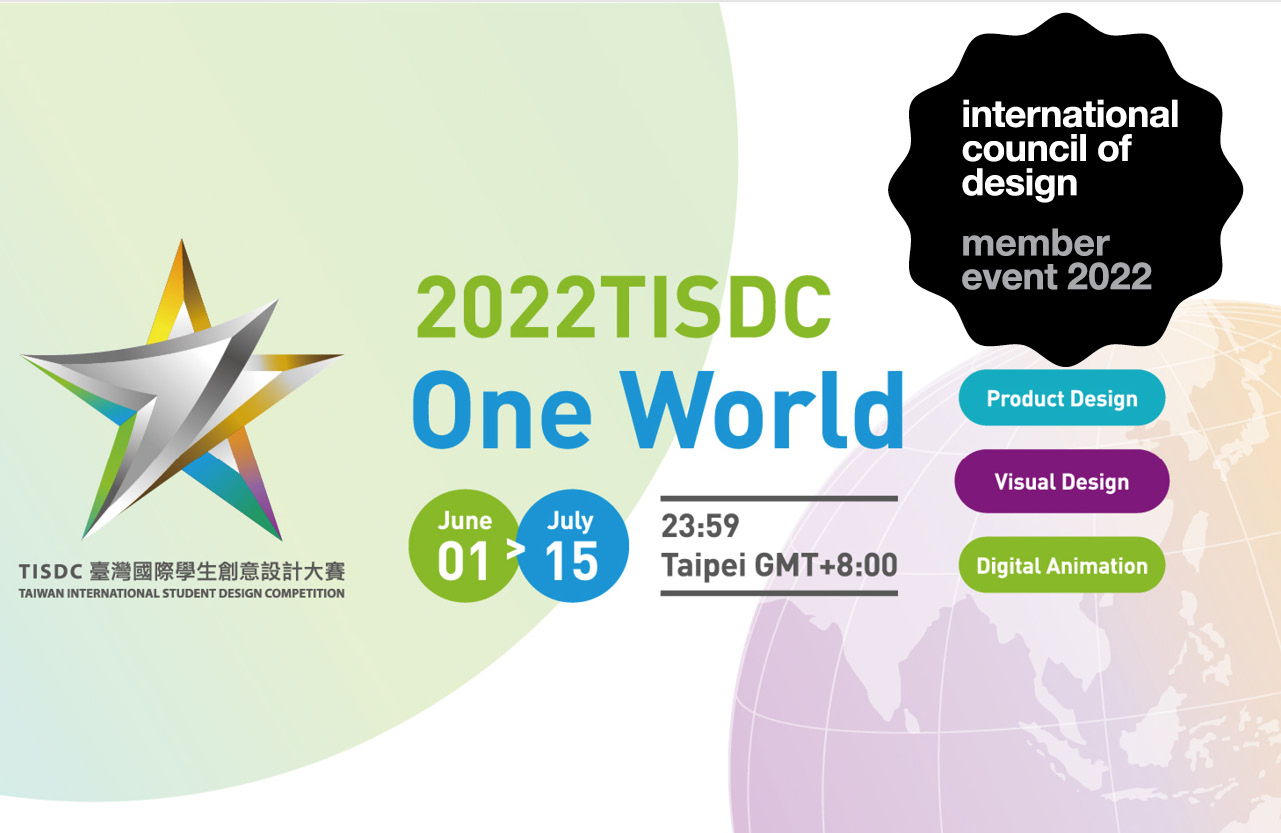 From 01.06.2022 to 15.07.2022 Competition
Taiwan (Chinese Taipei)
ICoD is pleased to announce the Member Event 2022 Taiwan International Student Design Competition (TISDC) organised by Asia University. The Deadline to submit is 15 July 2022.
The 2022 Taiwan International Student Design Competition (TISDC) is organized by the Ministry of Education, and sponsored by iSee Taiwan Foundation, the Sayling Wen Cultural & Educational Foundation and TPCA Environment Foundation for Brand Specified Special Prize.
2022TISDC is in its fifteenth year. Throughout years of endeavor and effort, 2021TISDC attracted a total of 59 countries/region worldwide, 970 schools to join the competition, receiving 21,901 registration entries among the categories, which set a new record and indicated that TISDC is indeed the most participated, with the highest award's international student design competition in a worldwide scale.
FEATURES:
Largest Student Design Competition in the world
Prize Money up to US$150,000
Special Prize endorsed by 22 International Design Associations
Easy to participate- Submit online
No extra fee needed to participate
KEY DATES
Opening Date of Submissions:  01 June 2022
Announcement of Finalists: Mid-September 2022
Award Ceremony 28 November 2022
Submission Deadline 15 July 2022
2022 TISDC CALL FOR SUBMISSIONS! 
"Young designers, create a better world with design!"
Inspirations always come from our everyday life. In 2021 during the pandemic, TISDC received over 20,000 submissions from students all over the world with many of the works aiming at "improving people's health and wellbeing", and "exploring life and the self". The juries strongly felt our students' in-depth observations and feedback on the world around us.
It is now 2022, a year of inflation, pandemic and war, how do young designers look at the #OneWorld that we are in today? Whatever your answer is, whether you are disappointed, dissatisfied, or still hopeful, #turn them into design!
The theme for TISDC 2022 is "One World", with UN Sustainable Development Goals (SDGs) as the principle. We look forward to seeing our students contributing to the universal value of global sustainability and the world as one with rich and diverse designs. We are not just passers-by in this world. Leave your mark with design. 2022 Design for a Better World!
ADDITIONAL DETAILS
The World's Largest International Student Design Competition !
No Registration Fee required - with a total bonus of US$150,000
Theme: One World 
Submission Date: 01 June, 2022 (Wed.) – 15 July, 2022 (Fri.)
Categories: Product Design, Visual Design, Digital Animation
Open to those who are currently enrolled in senior high school or higher education but are younger than 30 years of age