HKDI inspire*: design thinking for well-being 2020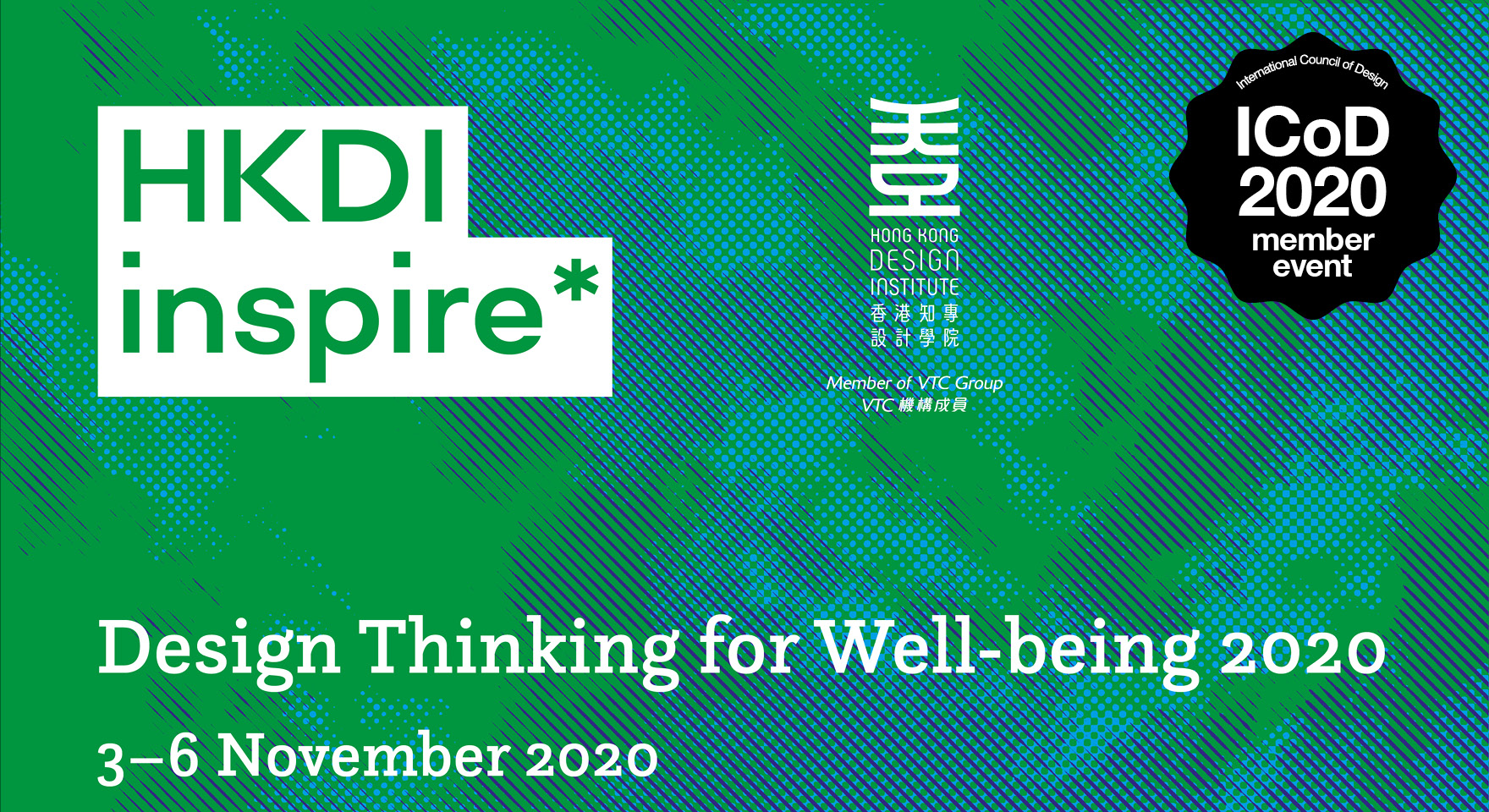 From 03.11.2020 to 06.11.2020 Conference
Hong Kong
ICoD is pleased to announce the Member Event HKDI inspire*: Design Thinking for Well-being 2020 organised by the Hong Kong Design Institute (HKDI).
SUMMARY
Hong Kong Design Institute (HKDI) advocates the application of Design Thinking across disciplines as problem-solving soft skills, and the role and value of Design in enhancing human well-being. In 2018 and 2019, HKDI organised two series of HKDI inspire* lectures and workshops on various topics namely digital health, patient experience, food, education, entrepreneurship, architecture, virtual reality, social innovation, urban farming, etc. conducted by renowned design professionals and academics from Australia, The Netherlands, UK, USA and Hong Kong. Get your tickets here.

Riding on the previous success, there will be a new series of lectures and panel discussions entitled HKDI inspire* Design for Well-being on 3-6 November 2020, targeting design students, academics, designers and industry professionals worldwide.


EVENT DESCRIPTION
The programme will dive deep into the user-centric aspect of Design Thinking with a diverse group of local and overseas experts will take the virtual stage, sharing their expertise and experience across disciplines related to well-being, such as ageing and dementia, industrial and interior design for those with special needs, social and systems design, etc. Topics include the key challenges and opportunities of driving forward wellbeing transformations fuelled by the interaction of different knowledge areas, such as design, technology and behavioural study will also be touched upon.
A list of keynote speakers is as follows:
Tuesday, 03 November 2020 |16:30 – 18:00 HKT: 
    •    Prof. Lynne CORNER, Director, UK National Innovation Centre for Ageing
    •    Dr Yanki LEE, Co-founder of Enable Foundation
    •    HKDI Project Sharing: Dementia Hong Kong

Wednesday, 04 November 2020 |16:30 – 18:00 HKT:
    •    Mr Richard HALL, Managing Director, Pd-M International Ltd
    •    Mr Lawrence LUI, Co-founder of Longevity Design House
    •    HKDI Project Sharing: Hong Kong Society for the Blind

Thursday, 05 November 2020 | 16:30 – 18:00 HKT:
    •    Dr. Laura CLERIES, Director of ELISAVA Research, ELISAVA Barcelona School of Design and Engineering
    •    Dr. Albert FUSTER, Academic Director of ELISAVA Barcelona School of Design and Engineering
    •    Mr. Pau GARCIA, Co-founder of Domestic Data Streamers
Friday, 06 November 2020 | 16:30 – 18:00 HKT:
    •    Prof. Chao ZHAO, Deputy Dean of Academy of Art and Design, Tsinghua University
    •    Mr Clube NG, CEO, eHealth Research Institute
    •    HKDI Project Sharing: The Society for Rehabilitation for Drug Abusers
LINKS
Tickets: https://www.eventbrite.hk/e/hkdi-inspire-design-thinking-for-well-being-2020-tickets-124242459541.
Official Event website: http://www.hkdi-dt.org/
Organiser's website: http://www.hkdi.edu.hk
Facebook: https://www.facebook.com/HongKongDesignInstitute/