IASDR 2021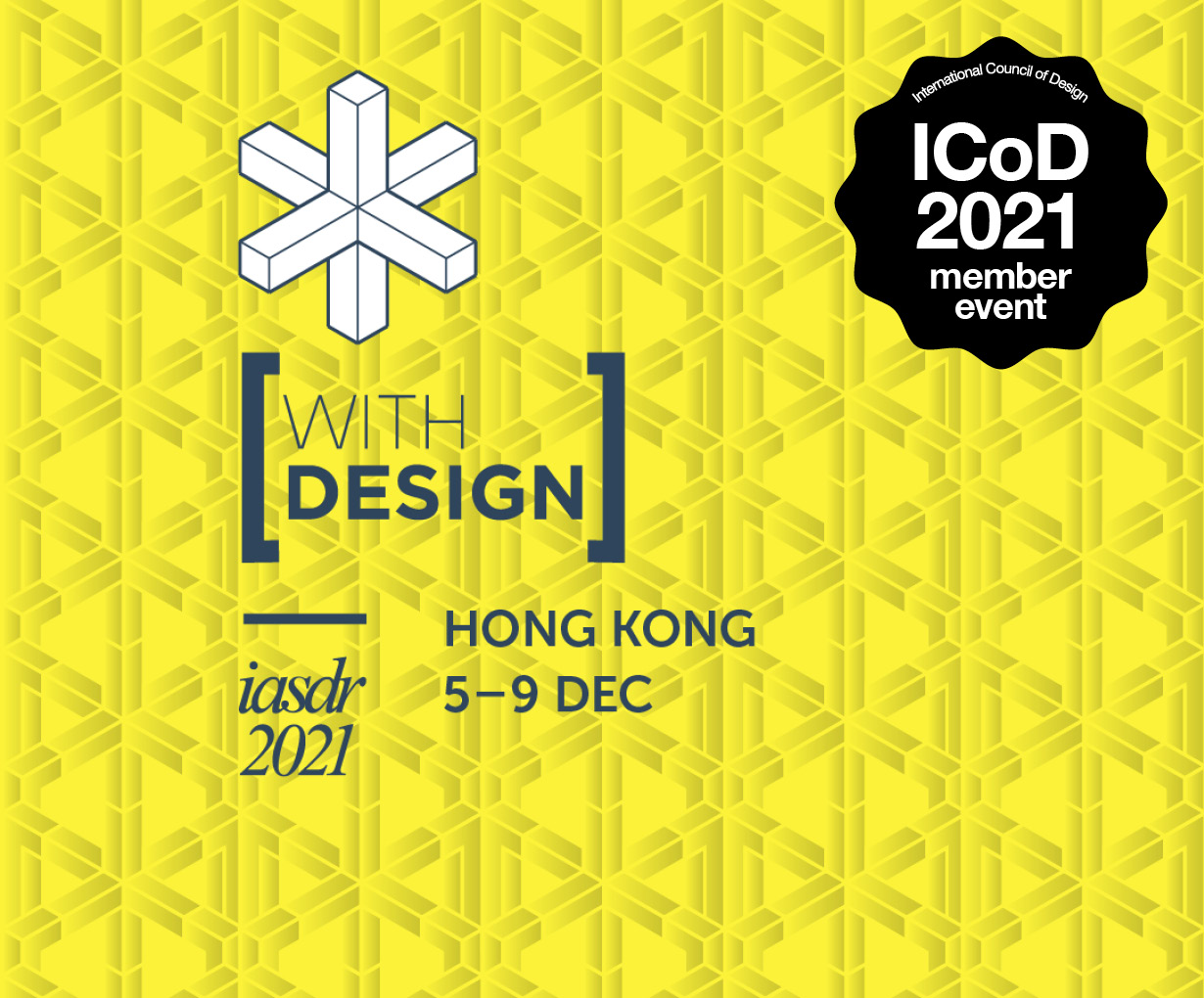 From 06.12.2021 to 09.12.2021 Conference
Hong Kong SAR
ICoD is pleased to announce the Member Event IASDR 2021 [ _ ] With Design: Reinventing Design Modes organised by The Hong Kong Polytechnic University. The conference will take place from 05 to 09 December 2021 in Hong Kong and online
IASDR 2021 is the ninth Congress of the International Association of Societies of Design Research. The overarching theme of IASDR 2021 is '[ _ ] With Design: Reinventing Design Modes'.
Keynote Speakers include:
Anne Boddington, Professor Emerita of Design Innovation, Kingston University
Nan Cao, Professor, TongJi College of Design and Innovation
Rachel Cooper, Distinguished Professor of Design Management and Policy, Lancaster University
Bruce Hanington, Professor and Head, School of Design, Carnegie Mellon University
Don Norman, Distinguished Professor (emeritus) and Founder and first Director of the Design Lab, University of California, Co-founder and first chair of the Cognitive Science Department
Miles Pennington, Professor of Design Led Innovation, The University of Tokyo – the DLX Design Lab
The IASDR 2021's registration is open. We welcome all to participate across the 6 keynotes talks, 185 paper presentations, 6 designed objects presentations, 25 pictorial presentations, 9 workshops, 6 panels discussions, 28 doctoral and 11 master consortium presentations. A detail programme and registration link can be found at http://www.iasdr2021.org.
EVENT DESCRIPTION
IASDR 2021 is the ninth Congress of the International Association of Societies of Design Research. The overarching theme of IASDR 2021 is '[ _ ] With Design: Reinventing Design Modes'. Design finds itself at a critical moment where the conventional 'modes' of doing, thinking and application are increasingly challenged by the troubled ideology of globalisation, climate changes, migration patterns and rapid restructuring of locally driven manufacturing sectors. In addition, the wider call for design to become more open and more cross- and trans-disciplinary has further blurred boundaries between disciplinary and knowledge domains, challenging both design discourses and designers to steer praxis and thinking across unchartered territory for the sake of innovation and advancing research. In combination with the environmental, cultural, technological, and, crucially, pandemic transitions, the call heeds for design at large to fundamentally alter its modes of practice. Beyond the conventional models of conducting research, or developing solutions to 'wicked' problems, the recoupling of design with different modes should be seen as an expression to embrace other capacities of thinking, criticisms and productions. The coupling of DESIGN with SOCIAL, MAKING, BUSINESS, CRITICAL, HISTORICAL/PROJECTIVE, IMPACT, PANDEMIC and ALTERNATIVE MODES necessitates the rescripting of all aptitudes and practices. '[ _ ] With Design: Reinventing Design Modes' encourages design researchers to discuss, elaborate and investigate emerging modes of design research that transcend disciplines in order to serve a multitude of goals and scales. This overarching theme wishes to solicit the definition of new frameworks, models, methods, products and unexpected outcomes in this questioning of design futures.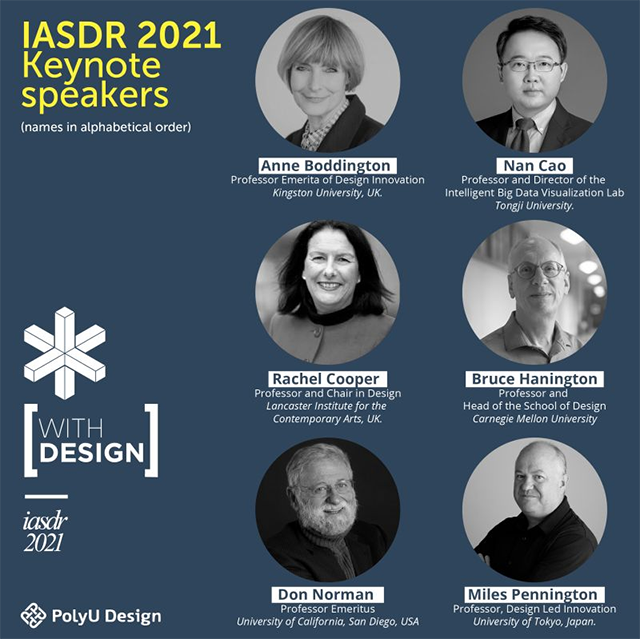 Above: 2021 Keynote speakers
IASDR 2021 and Hong Kong
This is the second time the conference is hosted in Hong Kong, after a 14 years' interval. Hong Kong represents the amalgamation of socio-economic diversity informed by an east meets west legacy as a design locale. The Special Administration Region of Hong Kong is described as one of the truly and uniquely modern 'Market Cities'. The hosting School of Design of The Hong Kong Polytechnic University as a driving force brings out Chinese design research potential to international arena, allowing for the cross-fertilisation of research agendas and expertise to impact design and its research futures.
IASDR Conference Format
In the ever-changing global pandemic context of 2021, the conference is prepared to be hosted in online format. More information will be made available in due course. IASDR 2021 participation formats include full and short papers, pictorials, designed objects, workshops and panel discussions, as well as graduate consortium.
IASDR Conference Proceedings
For the first time, the IASDR proceedings will be published by Springer in their book format. The proceedings will include presented papers, pictorials, designed object papers, and doctoral short papers from the Graduate Consortium. Springer proceedings enjoy high degree of exposure and will be submitted to all major citation databases such as Scopus and SSCI for their evaluation and approval for inclusion.