KECD international poster exhibition & seoul design 2022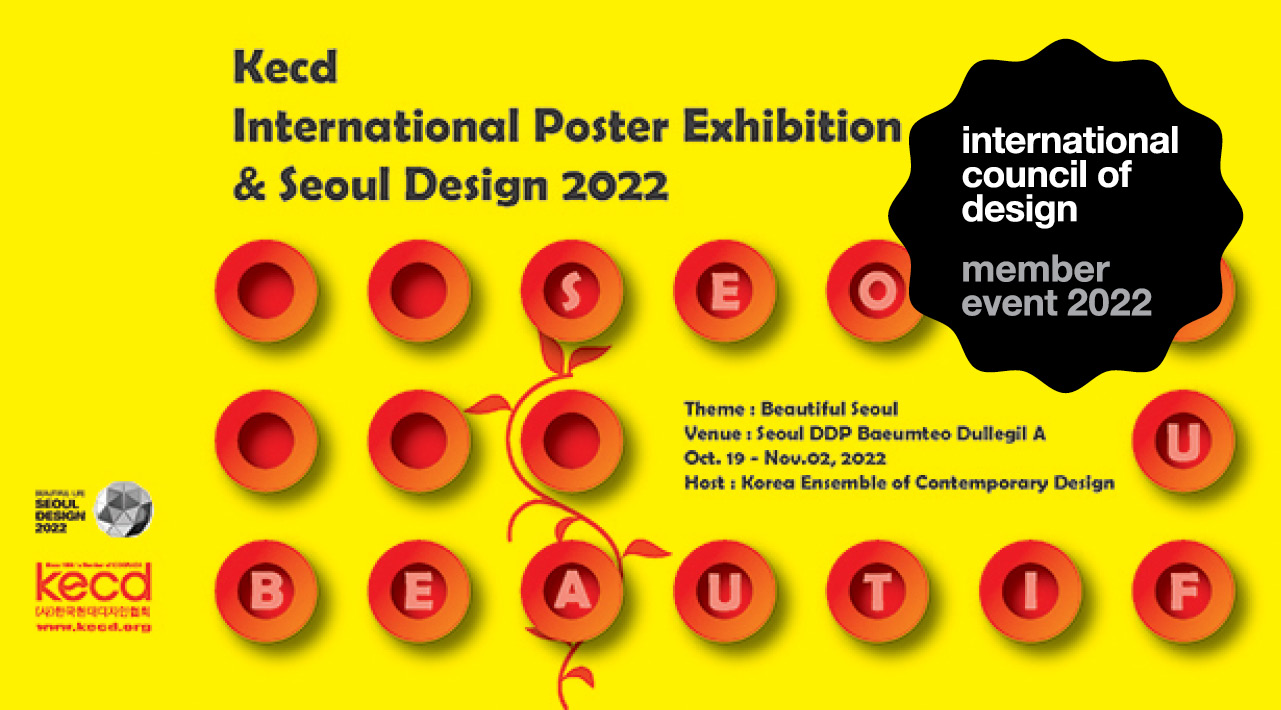 From 19.10.2022 to 01.11.2022 Exhibition
South Korea
ICoD is pleased to announce the Member Event KECD International Poster Exhibition & Seoul Design 2022 organised by Korea Ensemble of Contemporary Design KEDC. The KECD International Poster Exhibition will be held from 19 October to 01 November, as the part of event of Seoul Design 2022
Korea Ensemble of Contemporary Design (KECD) is participating in the poster design exhibition section of Seoul Design 2022 hosted by the Seoul Design Foundation. Seoul Design 2022, conjoined with Seoul Design Week and DDP Design Fair starting this year, will be a national and international design business launching event, a civic festival communicating through design, and a place to enhance the global status of Seoul by leading global design trends with Asia's representative design MICE (Meetings, Incentives Travel, Conventions, Exhibitions/Events).
The KECD International Poster Exhibition will be held from 19 October to 01 November, as the part of event of Seoul Design 2022, and it will take place at Seoul DDP Design Dullegil A as well as a virtual reality (VR) exhibition. It is an annual exhibition since 1969 to show KECD's ability to pursue an experimental design spirit. KECD invites the professionals from twenty different design associations and universities all over world.  
The kecd international poster exhibition hosted by Korea Contemporary Design Association is held under the theme of 'Beautiful Seoul'. As the capital of the Republic of Korea, Seoul is a symbol of modern and contemporary social, economic, political, and cultural development, as well as a space where both coexistence and mixture of order.  In English, vice versa is used to refer to both sides at the same time. If there is one aspect, it means that there is always another aspect.  From a chronological point of view, as the dynamic time of Seoul passed, a mixture was created, and the result was the birth of the order of Seoul. It brought about by this unique and changeable is the visual metaphor that 'Beautiful Seoul' aims to cover. A chapter is opened in which the phenomena that occur in the mixture of time and space that exist only in this region and the order remaining as traces are interpreted in terms of visual communication. Designers at home and abroad who look at Seoul from this point of view will each draw the image of this space in a unique way. The above is the topic we want to cover in this exhibition 'Beautiful Seoul'. From this point of view, designers at home and abroad try to express the city of Seoul through their own unique methods and messages.
1. Awards for outstanding works (Total of 4 entries)
- Korea Institute of Design Promotion (KIDP Award)
- Korean Federation of Design Associations (KFDA Award)
- Excellent Design Award (ICoD Award)
- Korea Ensemble of Contemporary Design (KECD Award)
2. Jury Lists
- President of KFDA
- Honorary president of KFDA
- Advisory committee member of KECD