2023 shenzhen global design award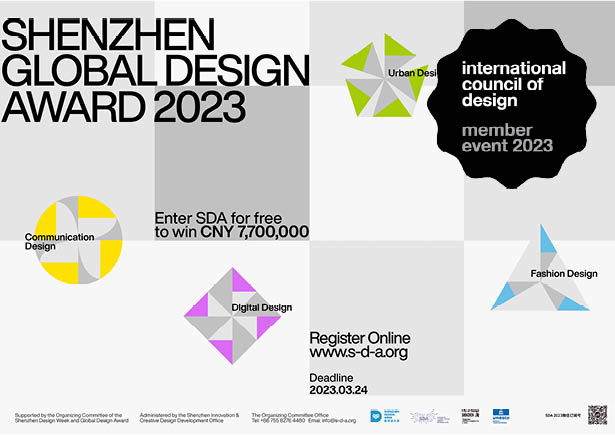 From 20.02.2023 to 24.03.2023 Competition
China
ICoD is pleased to announce the Member Event Shenzhen Global Design Award 2023 organised by Shenzhen Culture, Creativity & Design Association. Submissions are open from 20 February 2023 to 24 March 2023.
SUMMARY 
The Shenzhen Global Design Award (SDA) aims to discover designers with creativity, vision, foresight, and influence. It also aims to enhance the exchanges and cooperation among all designers from different countries and inspire the industrialization of creative designs as well as the promotion of creative design concepts. This award is supported by the Organizing Committee of the Shenzhen Design Week and Global Design Award, administered by the Shenzhen Innovation & Creative Design Development Office.
Theme: Global Design, Shenzhen Energy
The SDA 2023 targets 4 categories: Urban Design / Fashion Design/ Digital Design / Communication Design.
While its most eye-catching feature is the total prize of 7,700,000 CNY, SDA strives to brand and promote the winning designs and their authors through various activities, such as tours of exhibitions, constant media coverage, etc. Thus, SDA will become one important and effective window through which foreign designers and design institutions could enter the vast Chinese market.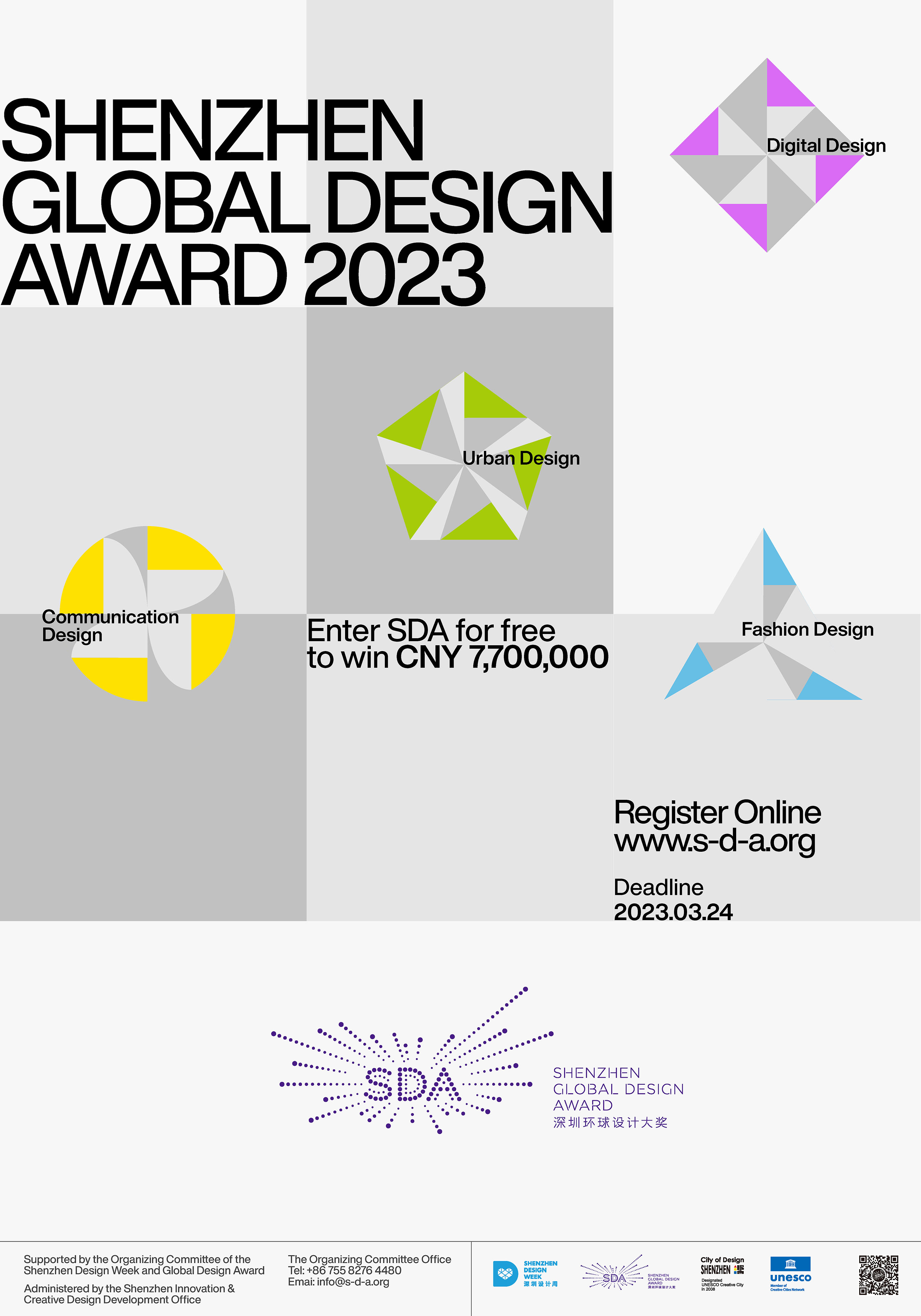 KEY DATES
    •    The opening date for submissions is 20 February 2023.
    •    The announcement of finalists is on 24 March 2023. 
    •    The award ceremony is on 15 April 2023.
SCHEDULE
    •    Online registration deadline is 24 March 2023.
    •    Tangible project submission deadline (Arrival date at the specified warehouse)is 24 March 2023.
    •    Final judging is on 1 - 2 April 2023.
    •    Awarding ceremony and exhibition is in April 2023, during Design Week.
Online registration and entry submission are free of charge. Any costs arising from packaging, shipping, postage, customs clearance, insurance and any other necessary fees are at the entrants' expense.
EVENT DESCRIPTION
Eligibilities and Prerequisites
The competition is open to individual designers, teams and companies. Each entrant can submit as many entries as he or she wants, and entries must fulfil the following criteria:
1. Entries must be projects that are entirely constructed, completed, on the market or being mass-produced. Entries' completion date must be between 1 January 2021(1 January 2019 for architectural entries) and 24 March 2023. 
2. Projects that are conceptual, still under construction, or not commercially developed, or unfinished displays including models, renderings, etc. are NOT eligible as entries.
3. Entries must be submitted by the project's owner/client/brand owner/designer/design consultancy, and the same project can be submitted by one entrant ONLY. If one entry involves more than one party, it is necessary to submit a contract or an agreement between relevant parties to confirm the entrant and state clearly the settlement of possible prize money. Otherwise, the entrant will be disqualified.
4. Projects that have participated in any previous SDA are NOT eligible as entries for the SDA 2023. 
CATEGORIES
SDA 2023 targets 4 categories: Urban Design / Fashion Design / Digital Design /Communication Design.
Urban Design
Urban planning and management & Municipal Services.
Urban planning, smart city systems, traffic systems, Sewerage system, eco-city and green buildings, etc.
Landscape & Public Space
Landscaping, urban blocks, public facilities, amusement facilities, parks, plazas, greenways, Installations (digital, interactive, bricks-and-mortar etc.)in public exhibitions and public spaces, etc.
Architecture
Urban renewal, old city renovation, monument revitalization, cultural heritage preservation, roads, airports, bus stations, parking facilities, port facilities, railway stations, etc.
Interior
Public and cultural spaces, commercial spaces, leisure spaces, offices &accommodation.
Fashion Design
Apparel
Including men's apparel, women's apparel, children's apparel, home wear, lingerie, functional apparel, e.g. safety clothing & personal protective equipment design, clothing for special needs (for elderly, disabled, infant), uniform & occasion apparel, etc.
Accessories
Including belts, bridal fashion, jewellery, eyewear, watch, gloves, hair accessories, hats & caps, mobile & tablet accessories, scarf, footwear, smart accessories, swimwear & accessories, wallets & purses, etc.
Bags & luggage
Including handbags, school bags, suitcases, backpacks, travelling bags, briefcases, camera bags, carrier bags, dry bags, etc.
Digital Design
New media
Including E-Commerce, E-magazine, E-paper, landing pages, microsites, news portals, newsletters, online platforms, online shops, social media, corporate websites, public service websites, community/networking websites, Apps, etc.
Interface & User Experience Design
Including operating systems, screen design, Interactive media design, smart home solutions, user interfaces, virtual reality, wearable technology, data visualization, etc.
Film and Animation
Including games, animations, documentaries, film crafts, image films, movie openers, videos, online films, short films, station IDs, trailers, TV commercials, visual effects, motion graphics, etc.
Communication Design
Identity & Branding
Including corporate design & identity, brand design & identity, etc.
Advertising
Including digital Campaigns, direct marketing, image campaigns, integrated campaigns, out-of-home & ambient, print campaigns, promotions, social campaigns, product and advertising brochures, POS advertising, content marketing, etc.
Packaging
Including packaging of CDs & LPs, fashion, beverages, food, beauty, health, household, leisure, lifestyle, consumer electronics, etc.
Publishing & Print Media
Including books, brochures, calendars, cards & flyers, magazines, annual reports and other publications, etc.
Illustrations
Including advertising illustrations, cover illustrations, editorial illustrations, etc.
Posters
Including art posters, events & exhibitions, infographic posters, poster series, etc.
Typography & Signage
Including pictograms, signets, signage, symbols, wayfinding, orientation systems, brochures & catalogues, books & covers, film titles, information systems, etc.
AWARD AND PRIZES
(For all categories) 
One Special Award for Sustainable Development, CNY 500,000


(For each category)
One Gold Award, CNY200,000
Five Silver Awards, CNY100,000 each
Fifteen Bronze Awards, CNY50,000 each
Thirty-five Merit Awards, CNY10,000 each
Twenty Nomination Awards, honorary prize
NOTE
1. The "Special Award for Sustainable Development" is set up to reinforce public interest and promote the spirit of building a community with a shared future for mankind. This special award winner will be named by the special final jury composed of the chairmen and vice-chairmen of each of the four Juries.
2. Winner of the Special Award will be chosen from all entries and is not limited to projects that have already received other awards. The winner of the Special Award can also be the winner of other awards.