taipei design award 2023 (TDA)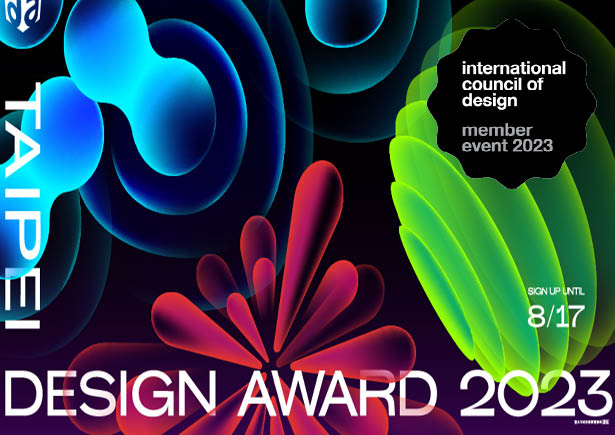 03.08.2023 Competition
Taiwan (Chinese Taipei)
ICoD is pleased to announce the Member Event Taipei Design Award 2023 organised by the China Productivity Center. The submissions to 2023 TDA are open from 20 May 2023 to 17 August 2023.
Taipei City Government organizes the Taipei Design Award with the ethos of "Design for Adaptive City", as an ongoing gesture to the world, particularly to those with a passion for creativity and design, a gesture in projecting the urban branding imagery of "Design Taipei; Dream Taipei". Here is an open call for outstanding international designs and an effort to shape Taipei into a convergence platform for creative designs, thereby discovering creative designs with business potential, and further still, encouraging practices of social design in advocacy that design as a medium can bring humans a better, more pleasant and convenient life.
CATEGORIES
Entries are grouped into three main categories: Industrial Design, Visual Communication Design and Public Space Design.
1. Industrial Design
Industrial design refers to design works that can be mass-produced, including general and digital applications, transportation tools, equipment and instruments, daily utilities and household goods, IT and home appliances, etc.
2. Visual Communication Design
Visual communication includes designs of digital graphic creations, identity, posters, packaging and printing.
3. Public Space Design
Open space provided for public use, government buildings, and private establishments that are partially provided for public use.
KEY DATES
Opening Date of Submissions: 20 May 2023
Closing Date of Submissions: 17 August 2023
Announcement of Finalists: 17 August 2023
Award Ceremony: 10 November 2023