2018 regional meeting ASEAN sparks creation of new network of designers in laos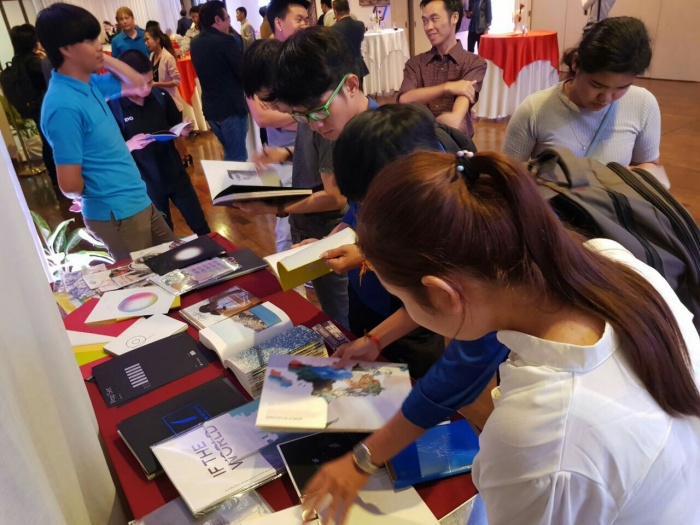 08.05.2018 ICoD news
DesignLaos was inaugurated during World Design Day 2018 27 April 2018 at the Mercure Hotel in Vientiane (Laos). (All photo credits to Kelvin Wee.)
An outcome of the (05-06 February Kuala Lumpur) was to spark a recent design-led initiative in Laos. DesignLaos, a new Vientiane-based design group, will be the first network group of Lao designers representing all design disciplines.

One of ico-D's mandates is to support and encourage the organisation of design communities everywhere. That is why we are very pleased to see when participants to ico-D Regional Meetings go home and found new associations with the knowledge they have acquired. The event described below was held on the occasion of World Design Day (WDD2018) 27 April 2018 at the Mercure Hotel in Vientiane and included approximately 50 attendees: 30% were students, 60% designers and 10% officials.
As an initiative to increase Lao economic growth, DesignLaos's goal is to "diversify the nation's economy and growth by encouraging more creative design strategy through various professional, technological and artistic fields and projects among its members" (Ventiane Times). During the event, the Lao designers and Bluegrass Founder and Principal Mr Praseuth Banchongphakdy stated the intention would be to increase the network nationwide, suggesting that the common sense of design strategy used by designers from all sectors—from fashion to product design, architecture and more—was a methodology that is relevant to every sector within the Lao economy.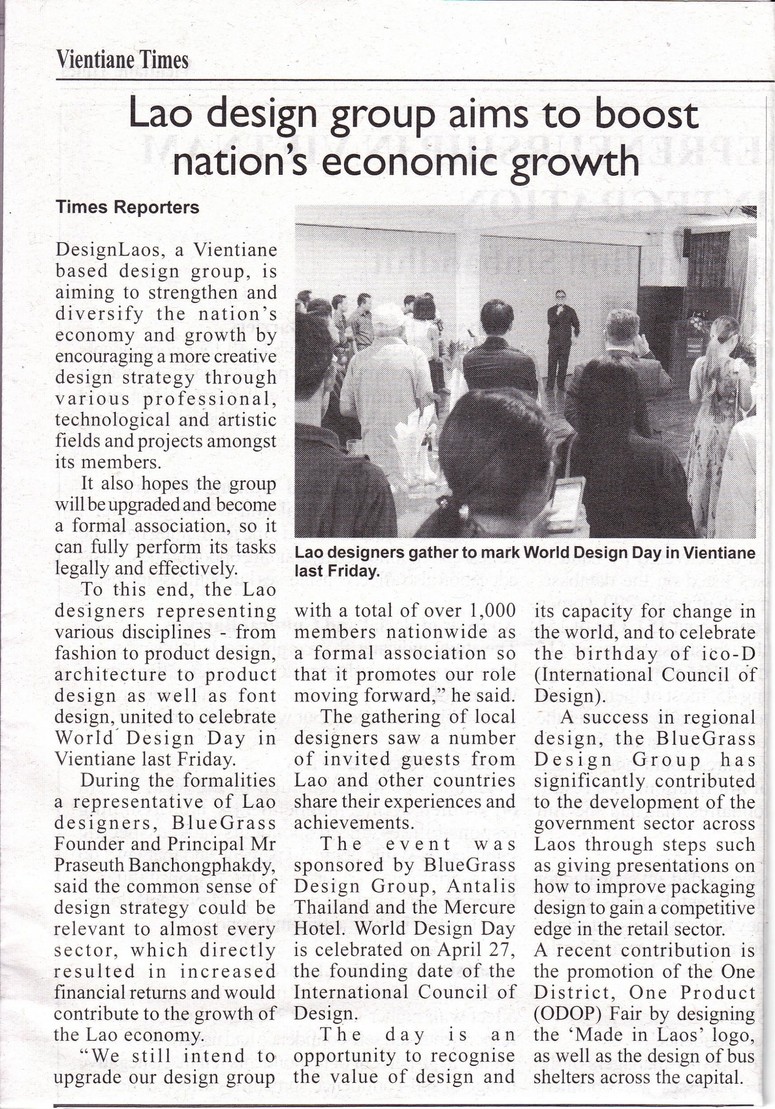 DesignLaos feature article in the the Ventiane Times
This first meeting of DesignLaos gave voice to a range of speakers from the region. Dr. Maising Chanboutdy, Dean of the National Institute of Fine Arts (NIFA) spoke about design courses with a focus on video production. Dr. Thanousone Vongpaseuth from National University of Laos (NUoL) introduced the course "Product design and Decoration". Mrs Pany Sayavong, Founder and CEO of Lao Fashion Week discussed the "Lao Young Designer Project", an initiative that creates overseas opportunities for study and internships. Mr. Phonexay Southiphong, President of Association of Lao Architects and Civil Engineers (ALACE) stressed the need for more Laos designers, not just architects, to make the country a better and more beautiful place to live.
"We had a great turnout and are excited about the future of design in the country," remarked Kelvin Wee, DesignLaos.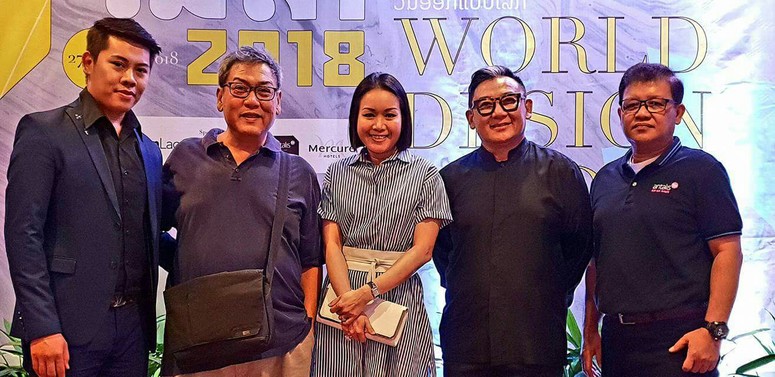 DesignLaos celebrating WDD2018 event in Vientiane.

K. Khonsan Duangpasert from Antalis Thailand talked about how quality paper complements good design. Designers talked about design process, calligraphy and Loa fonts: Vilakone Phachanthavong, Kaiyasith Sirivongs, and Sengkeo Vangxiengvue, respectively. Nix from Designix studio explained how freelance designers in Laos work, and finally, Khamhou Phanludeth closed the session with a talk about his trajectory from architecture school to becoming an actor and graphic designer.

The ico-D Regional Meetings are an important opportunity to engage with design communities at the regional level to discuss a variety of common topics and challenges. One of ico-D's main objectives with RM's is to connect local design entities in a region so they can strengthen their initiatives and organise. We wish the DesignLaos network great success going forward and commend Mr Praseuth Banchongphakdy for attending RM ASEAN 2018 and for his follow-up work to bring the Laos designers together for future collaboration.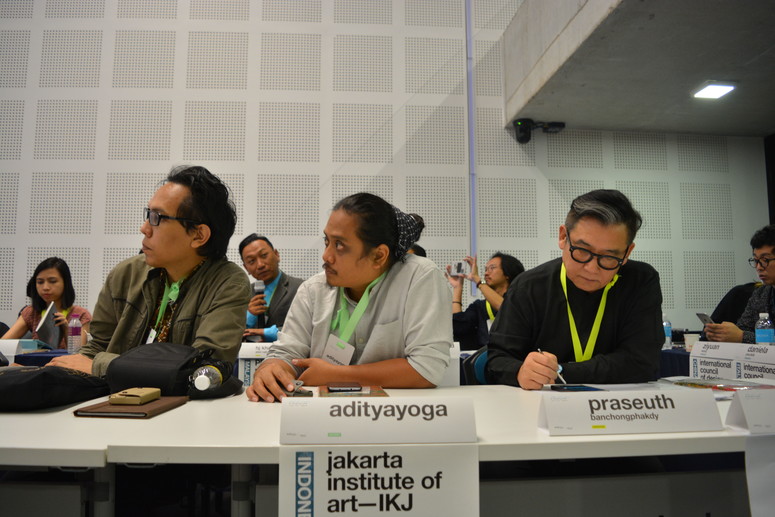 ico-D Regional Meeting ASEAN 2018 in Kuala Lumpur Mr Praseuth Banchongphakdy (right).
.