icographic 05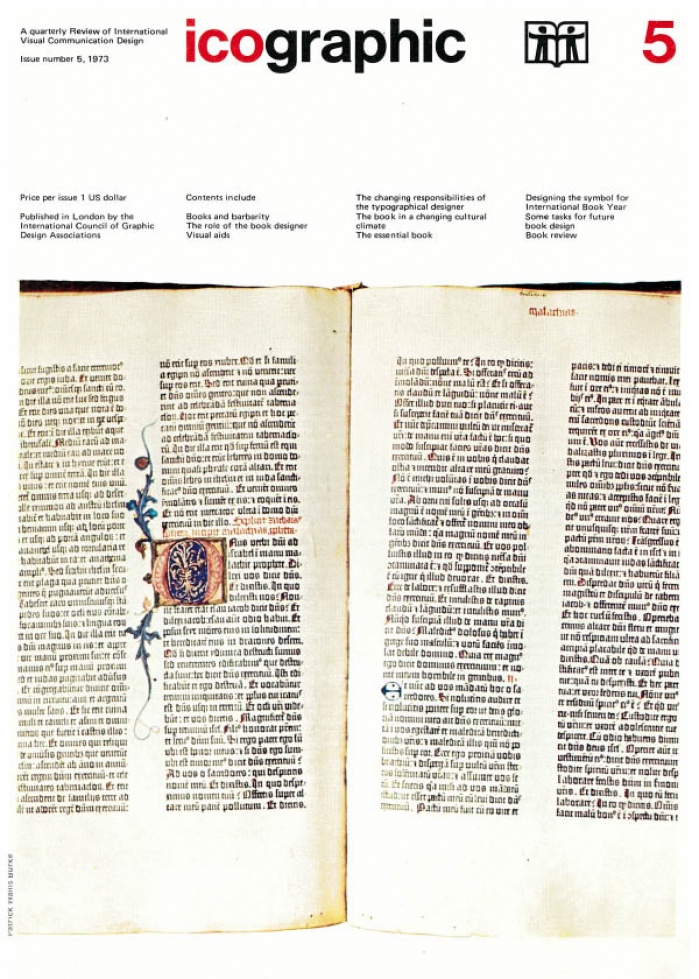 TABLE OF CONTENTS
1      Introduction
2      Foreword Edward Wegman
Edward Wegman is Head of Unesco's International Book Year Unit and we are grateful to him for providing this foreword to our fifth issue.
3      Books and barbarity John Olford
John Offord is a writer and philosopher, currently teaching in the Liberal Studies Department of a Design School in London.
4      The role of the book designer Peter Kneebone and Germano Facetti
Peter Kneebone is one of the founder members of lcograda and is currently Chairman of its Signs and Symbols Commission. Germano Facetti is a graphic designer with an international reputation, probably best known for his work for Penguin Books.
5      Visual aids Bruce Robertson and Robert Chapman
Bruce Robertson and Robert Chapman are directors of DIAGRAM, a London based cooperative of statisticians and designers.
8      Some tasks for future book design Albert Kapr
Professor Albert Kapr is Principal of the Hochschule fur Grafik und Buchkunst in Leipzig.
10      The book in a changing cultural climate Patrick Wallis Burke
Patrick Wallis Burke, Executive Editor of this journal, is also Principal Lecturer in Graphic Design to the School of Graphic Design, Ravensbourne, a Diploma College near London.
12      The essential book Edward Wright
Edward Wright is Head of the Graphics Department at Chelsea School of Art. He is a member of the SIAD/STD Typographer's Computer Working Group.
16      The changing responsi­bilities of the typographic designer G W Ovink
G W Ovink is art consultant for Tetterode-Nederland and extra­ordinary professor at the University of Amsterdam in history and aesthetics of the art of printing and allied trades. Dr Ovink is also a board member of the Association Typographique Internationale.
18      Designing the International Book Year symbol
Michel Olyff is a consultant designer to a wide variety of industrial concerns. He is a member of the Board of the Chambre des Graphistes (CBG) and Union Professionelle des Industrial Designers (UID) as well as a member of AGI.
22      Book Review