2021 design intelligence award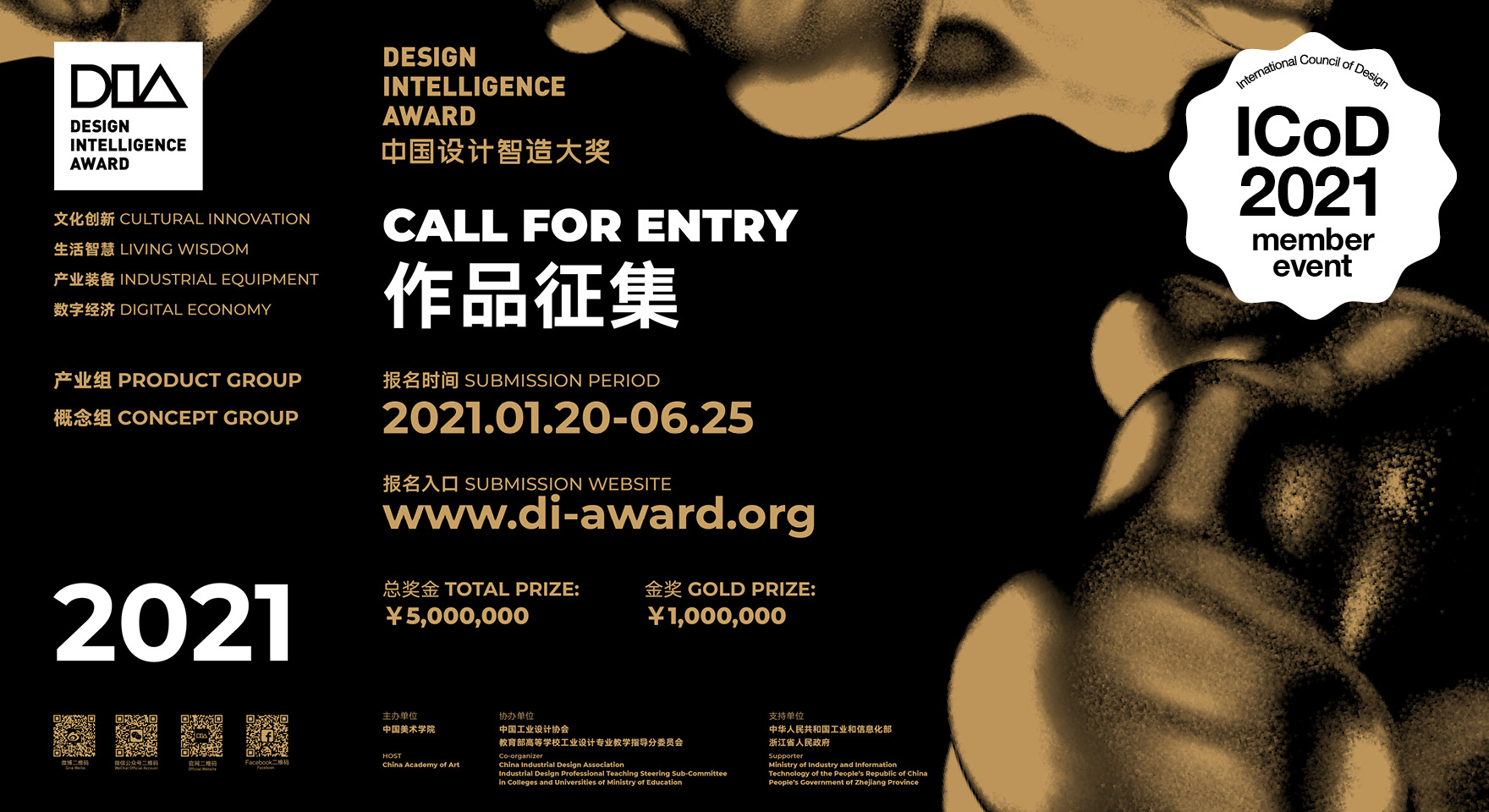 From 20.01.2021 to 25.06.2021 Competition
China
ICoD is pleased to announce the Member Event the 2021 Design Intelligence Award organised by Zhejiang Modern Intelligence and Manufacturing Promotion Center.
SUMMARY
Design Intelligence Award (DIA) is an international academic award in industrial design established in China, 2015. It is a platform for evaluation, promotion, and communication of design, an accelerator bringing innovation to the industry and the future.

DIA returns to the origin of design with human intelligence, advocates the core value of "Intelligence of Humanity, Wisdom of Life, Fusion of Tech & Art, Brain of Industry", and plays the role of bringing world-wide creativity to an intelligent future.

The Application system has been open from Jan. 20, 2021 and will close on June 25, 2021(24:00, UTC+8). There is no entry fees for registration and the process is pretty simple and easy to access, the total bonus is 5 million RMB.

The DIA Award Ceremony will be held in Sept to announce the Million Award Winners, with a series of promotion activities accompanied during this period, such as DIA Exhibition, Design Business Roadshow, And Design Venture Capital Roadshow, etc.In the past five years, innovative design talents worldwide have gathered in Zhejiang, China.

Over 30,000 excellent works are collected in the four categories of Industrial Equipment, Living Wisdom, Cultural Innovation and Digital Economy from 60 countries and regions around the world. At present, more than 500 experts from nearly 30 countries and regions have joined DIA expert bank. Nearly 4,000 companies and more than 6,000 designers around the world have connections with DIA. DIA has gradually developed into one of the largest and most internationalized industrial design competitions in China.


Participation
Both Product Group and Concept Group are open to original works from individuals, enterprises, universities/colleges and institutions.
Requirements
Product Group: Entries should have been launched within the previous two years or, if not yet on the market, a fully functioning prototype needs to be available for viewing. All kinds of design such as product, software, integrated service and etc. are open for participation.
Concept Group: Entries ideas which have not been launched but which need to be capable of being manufactured and brought to market. Cross-border innovation is encouraged and a physical prototype or complete design-concept video is required before the final evaluation this year.

DIA Committee observes the right to adjust the group and category of entries in case of confusion.

Categories
The design has the characteristics of inclusiveness and cross-domain. The category of DIA is mainly classified according to the core innovation points of the entry.
Product Groups
01 Cultural Innovation
Recognising and emphasizing culture as the internal driving force behind the idea, we look at the contemporary revival of traditional culture, the design crafting of the idea, the value created both in cultural IP and in societal terms.
This category is open to products and services from the fields of packaging, fashion, furniture and lighting, tableware, stationery, souvenirs and social innovation, etc.
02 Living Wisdom
Recognising the way we live as a driving force behind the idea, we look at the wisdom they bring to daily life, intelligent approaches to everyday appliances and how they care for vulnerable groups in society.
This category is open to products and services from the fields of digital electronics, household appliances, kitchen and bathroom, elderly care, mother and baby, personal care, pets supplies, toys and musical instruments, sports and leisure, disaster prevention and protection, application of new technologies and materials, etc.
03 Industrial Equipment
Recognising production as a driving force for the idea, we look at how equipment has been upgraded or transformed, how strategic new industries are emerging and how production systems are optimized for maximum efficiency.

This category is open to products and services from the fields of transportation, medical, construction, agriculture and forestry, military, office, mechanical tools, robots, etc.
04 Digital Economy
Recognising big data as the driving force behind the idea, we look at how digital is changing the way we live our lives, how the service industry is changing and how traditional industries such as manufacturing and agriculture are being upgraded.

This category is open to digital products and services from the fields of smart cities, smart business, smart medical care, smart education, smart community, AI, industrial internet and block chain technology
Concept Group
Whilst the entry categories for this group are the same as for the Product Group, there is always a different theme every year. This theme of 2021 is "Design Symbiosis"—Scientific and technological innovation is the first driving force of economic development, and design is an effective way to graft sci-tech into the real world. DIA hopes to explore the symbiotic value of design, seek the concurrence of design with new technology, new materials, new technology and new equipment. Designing for the world, creating the future.

Facing the new normal of COVID-19 and human coexistence, DIA will continue to focus on "Challenge Post Covid-19", where we will be looking for new revolutionary design that makes a real innovative transformation for the future. In particular, DIA encourages innovation that goes beyond the shackles of tradition and self-constant barriers, promotes taking crisis as the source of future design value and subversive transformation. Design has no boundaries.
KEY DATES
Submissions: 20 January to 25 June 2021
Announcement of Finalists: 27 September 2021
Award Ceremony: 29 September 2021
LINKS
Official Event website  https://en.di-award.org/about.html
Organiser's website https://en.di-award.org/about.html
Registration links https://en.di-award.org/about.html

The annual DIA Exhibition is open to the public, which is the platform for excellent designer and works, also provides opportunities for cooperation among designers, manufacturers, and sellers: https://en.di-award.org/collections.html