ICoD code of conduct translated to arabic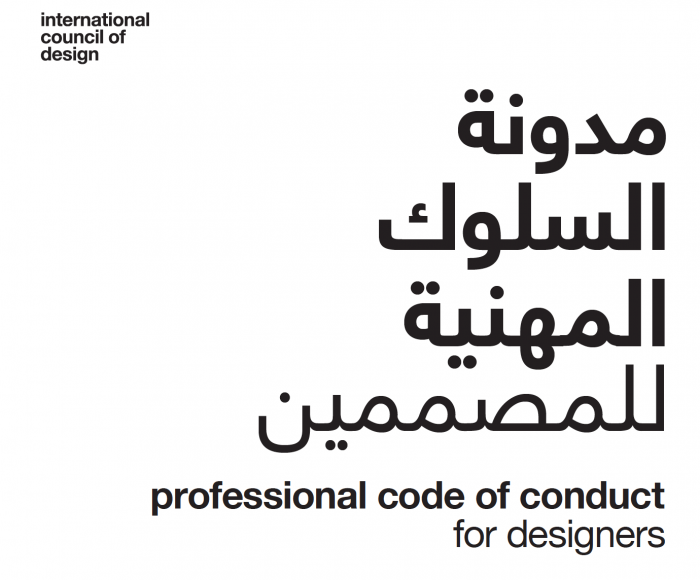 20.02.2023 Announcements
The Council is pleased to announce the Professional Code of Conduct for designers now exists in official Arabic translation. ICoD Member Lebanese Graphic Design Syndicate (LGDS) revised and reviewed the original translation and present a version more adapted to the Arab-speaking community in the region.
The Professional Code of Conduct for designers is presented by the International Council of Design as an international standard and reference. It is an aspirational document, intended to serve as a touchstone for professional associations crafting their own Codes, and to support educational institutions developing curricula. It is a tool for any designer who seeks to adhere to international standards. So far the Code has been translated into Spanish (OT), Polish, Japanese and Lithuanian. The Arabic translation is the most recent.
According to LGDS External Relations Officer Halim Choueiry, the initial translation of the document was originally initiated by Essam Abu Awad, belated ICoD Vice President (among other prestigious ranks). LGDS took on the professional duty to continue the process begun by Mr. Abu Award and to contribute to the design community by making this guiding document available, not only to the Lebanese design community but to all Arabic-speaking designers and professionals who seek a guide focused on design professionalism. This contribution reflects the common purpose of promoting ethical and responsible education and practice in design and helping achieve global positioning and desired value among design professionals. This official translation into Arabic remains of high and special relevance for anyone and everyone who lacks a code of ethics or similar guiding documents at their local level.
Upload the Code in Arabic here.