in memoriam: yu bingnan (1933–2020)
16.10.2020 News
ICoD sadly mourns Yu Bingnan, outstanding art and design educator, designer and professor who passed on 24 September 2020 at the age of 87. Yu Bingnan taught in the Department of Visual Communication Design of the and was Icograda's first Chinese Board Member, acting as Vice President from 2001-2003 during the period of Robert L. Peters' Presidency.
Yu Bingnan was born in Shanghai in 1933 and entered Lu Xun Academy of Fine Arts at the age of 20. In 1956, Yu Bingnan went to the University of Graphic Design and Book Art in Leipzig in Germany to study under Professor Albert Kapr. The same year he graduated, in 1962, he began teaching in the Department of Decoration at the Central Academy of Art and Design, now Tsinghua University Academy of Art and Design. There he was Dean of the Book Art Department, a member of the Academy's Academic and Degree Committee, and finally, professor of the Visual Communication Design Department of Fine Arts until his retirement. He was the first Chinese member of the National Typographic Working Committee, a Vice President of the International Council of Graphic Design Associations (Icograda), a member of the International Alliance Graphique Internationale (AGI), and a visiting professor at the University of Graphic Design and Book Art in Leipzig. A great advocate of China's unique traditional culture, Yu Bingnan always stood by his own ideas and ideals, practicing his own design and education concepts. In Yu Bingnan's words:
Design is creation, and creativity is the basis for the existence and development of design education. It keeps design education in sync with the ever-changing world. Designers are faced with multilingualism and multiculturalism. They must surpass the old concepts and limitations in the context of the collection. Our goal is to find the way and method of contemporary Chinese visual design, and use Chinese modern and international visual language to express our unique traditional culture.

—Yu Bingnan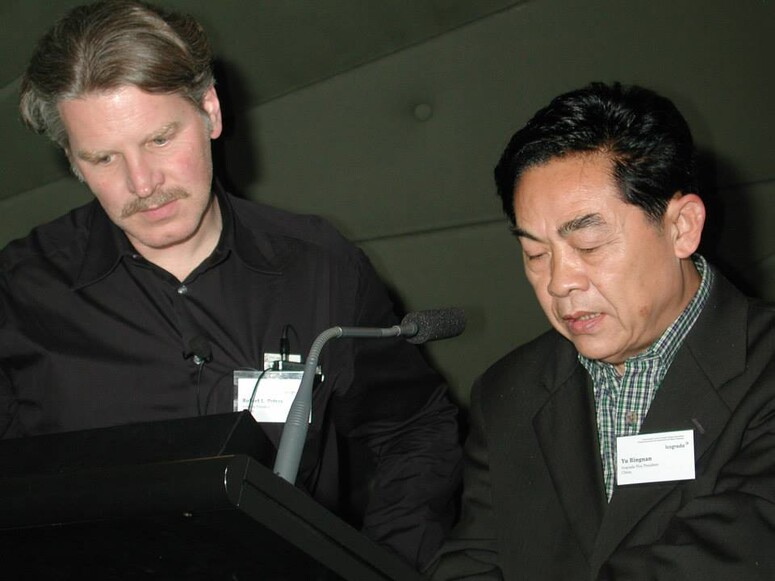 Icograda President Robert L. Peters with Vice President Yu Bingnan during the 2001-2003 term.

Known for his extraordinary research and knowledge creation in book arts, including typography, font design, and book layout design, Yu Bingnan comingled Chinese and European methodologies, laying the groundwork for the development of modern graphic design in China. After China's reform and opening up, Yu Bingnan promoted Chinese design processes internationally; in 1989, becoming the first person in Asia to receive the German Gutenberg Lifetime Achievement Award for his outstanding achievements and contributions in the field of graphic design and education. Yu Bingnan also won an Icograda Achievement Award, the German Best Contemporary Print Type Award, Germany's Most Beautiful Book Design Award, Tokyo's TDC Award, the Fuji Excellence Award for the World Poster Exhibition, and recognition from the Czech Republic's Brno Graphic Design Biennale, among others.
Of his achievements educating generations of outstanding designers, Chao Zhao, current Vice President of International Council of Design and Secretary-General of Design Disciplinary Teaching Steering Committee of the Ministry of Education China and Deputy Dean of Academy of Art and Design in Tsinghua University, describes Yu Bingnan's special approach to design education:
When Yu Bingnan taught font design to students at Tsinghua University, he proposed three innovative methods of font design: one was the ingenious combination of traditional quintessence and the spirit of the times, using traditional things for reference, and then transforming them; the second was the variety of writing tools, e.g. the transformative use of different pens, scissors, electronic screens, etc.; the third was the association and expansion of artistic concepts related to text.
—Chao Zhao

Known as the "godfather of Chinese type and a pioneer of visual communication design in China," (Design China), his written and translated publications on typography and graphic design, include: World Book Art Schools, Modern German Illustrations, Science and Technology Illustrations, Book Design, Layout Design, alongside works such as Fine Letters, Fundamentals of Typeface Design, Developing Book Art, The Most Beautiful Book in the World, A Brief History of European Book Art, and dozens of articles and papers. These monographs intuitively brought western book design theories to China as bridges and outreach across continents in complement to Yu Bingnan's commitment to the principles of modern book design in China.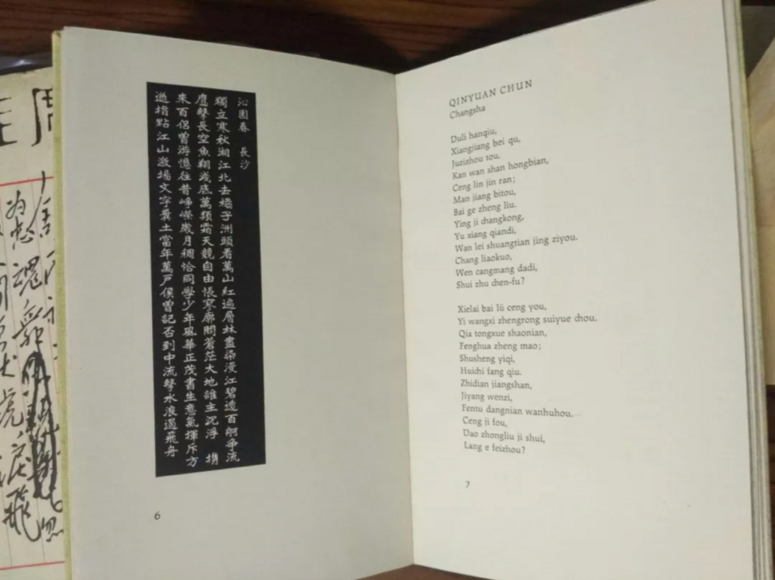 The two titles in German and Pinyin above use the historical "Friendship style". Below the title, Yu Bingnan chose a bold calligraphy handwritten by Mao Zedong. "As the saying goes, words are like their own, so through the trend of calligraphy lines, you can also feel Mao Zedong's personality and personality." —Chao Zhao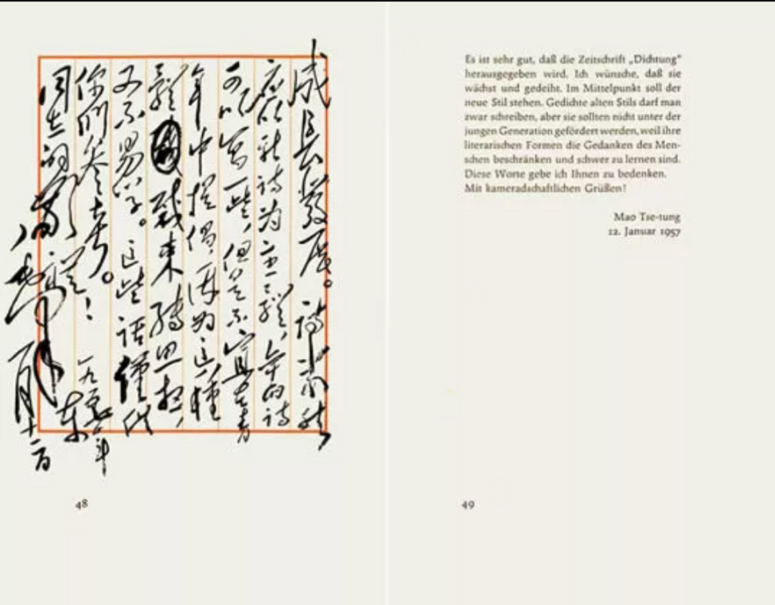 A world-renowned design master, Yu Bingnan has been praised by international colleagues for fostering exchange through lectures, congresses and exhibitions between Chinese design and the world. Through his efforts, organised the Icograda Design Perspectives seminar and logo2002: Identity and Communication Conference held in Beijing in 2002, which connected various international design stakeholders interested in seeding the formation of new professional associations. Led by Yu Bingnan's facilitation, China hosted the 2004 AGI Beijing Conference, held by the Academy of Fine Arts of Tsinghua University, in addition to XIN: Icograda World Design Congress in Beijing in 2009. This was the last dedicated Icograda Congress and was attended by 1 750 delegates from 48 countries.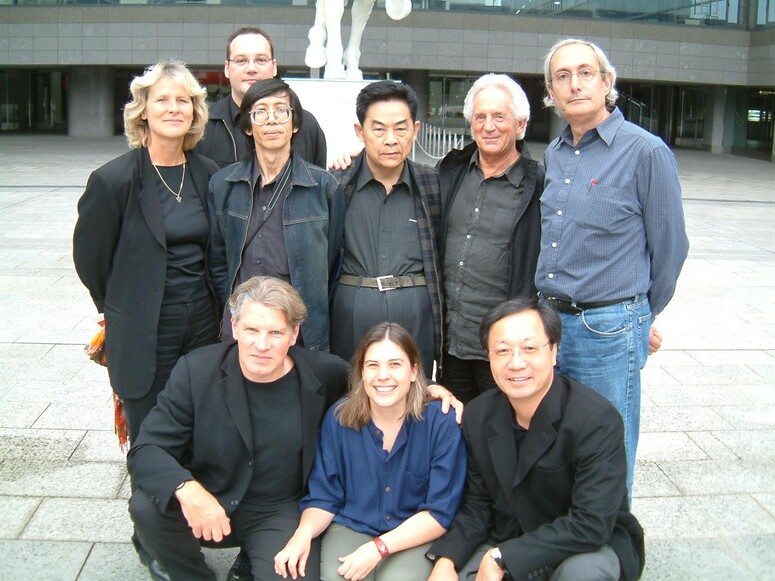 Icograda Board cohorts (2001-2003) (top row from left to right): Karen Blincoe, Jacques Lange, William Harald-Wong, Yu Bingnan, Mervin Kurlansky, David Grossman; (bottom row from left to right): Robert L. Peters, Tiffany Turkington, Apex Lin.
In the words of Yu Bingnan's colleagues at the Tsinghua University School of Fine Arts: "After years of unremitting efforts, Mr. Yu Bingnan has made important contributions to China's graphic design moving to the world stage and achieving great results. Therefore, former International Alliance Graphique Internationale (AGI) President Henry Steiner, former International Association of Graphic Design Associations (Icograda) President Robert L. Peters and other international colleagues praised Mr. Yu Bingnan for opening the world to understand Chinese design. Mr. Yu Bingnan is the bridge between China and the international design field, and his role is irreplaceable. The beloved Mr. Yu Bingnan will always live in our hearts!"

—Special thanks to the Academy of Arts and Design, Tsinghua University and to ICoD Vice President Chao Zhao for their contributions to this In Memoriam. Quote attribution to interview with Yu Bingnan, More on Professor Yu Bingnan by Design in China.