have we designed our own obsolescence?
There was an inflection point between the time that design was coming into its own as a recognised profession and the moment that the visuals of the design started to matter more than the usefulness of the design.
The profession of 'designer' is a relatively new one. Born during the industrial revolution, the designer resulted directly from the invention of the printing press, industrial manufacture and serial reproduction. These technologies split the functions of designing a prototype from the manufacturing process and the final user.

The first designers were adapting methodologies and know-how from a variety of established fields, taking material knowledge from craftspeople like carpenters and iron workers, and the basic notions of drawing plans from the fields of architecture and engineering. Overall, designers worked very closely with various industries to develop their own, specialised, design knowledge.

OPTIMISATION FOR INDUSTRY

Until about the 1970s and 80s, design was optimised for the needs of industry. Products were mostly meant to work well, be durable, desirable, and be adapted to the needs of reproducing in large quantities. Before anything went to print, was manufactured, or rolled out on a large scale, the designs were honed and adjusted. Within this framework, one could not afford to mass-produce a poor design, so time was taken to get it right. Advertisements during this era vaunted the product's capacity to function, its dependability and 'honesty'.

Around this same time, many principles of 'good design' began to emerge. Designers who are still considered to be a part of the design canon like Dieter Rams, Massimo Vignelli, Paul Rand, Alvar and Aino Aalto, and Arne Jacobsen, developed not only designs that are still in use today, but a legacy of design theory, thinking and writing about design that design students still refer to. Most of these 'fathers' of design (as they are mostly men) developed their own idiosyncratic, design ethos. Whether they wrote manifestos, principles for good design, books on their methodology, or made films to show their all-encompassing worldview, the designers of this era were trying to develop a professional standard.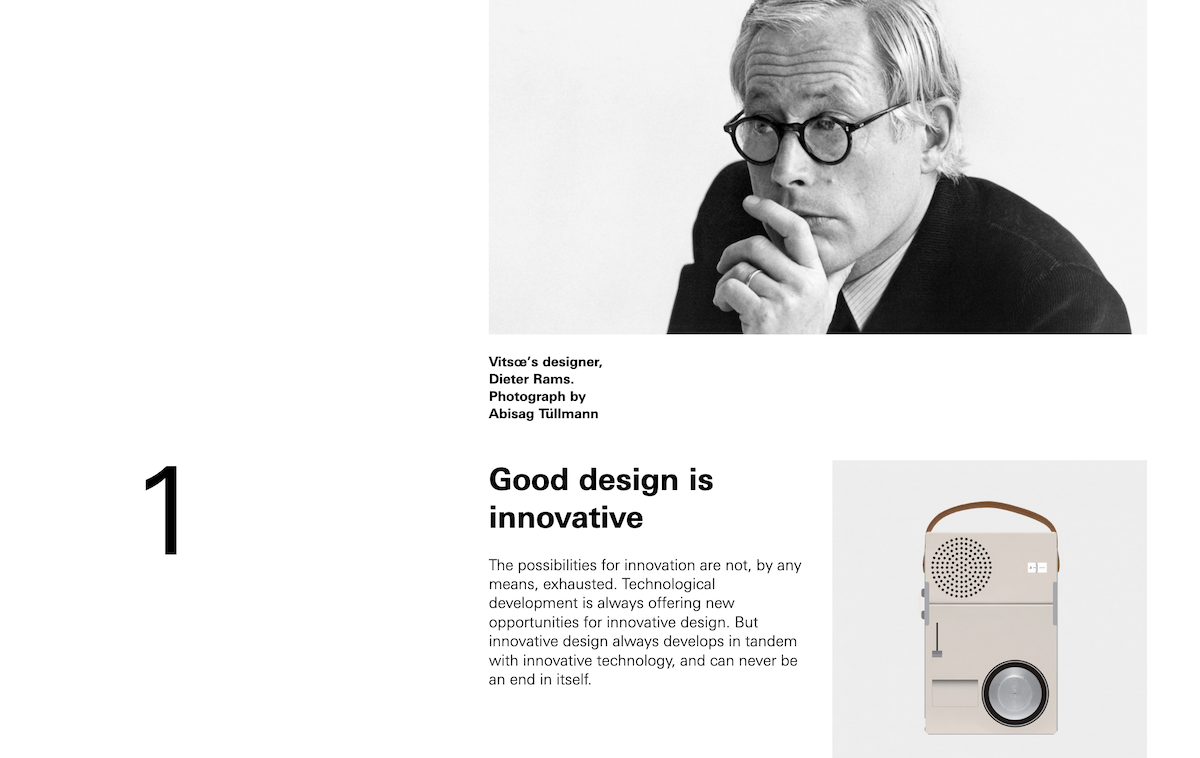 Dieter Rams' Principles of Good Design from the Vitsoe Website
PLANNED OBSOLESCENCE

The concept of planned obsolescence was introduced early in the 1900s. Limiting the durability of a product to increase sales was conceived of as 'contrived durability' with parts or the whole breaking down by design (i.e. light bulbs with a shorter life), which was later traded for what was called 'progressive obsolescence', where things went out of style and needing to be replaced.

Though lucrative, this practice is inherently unethical. Aside from being completely unsustainable— more things mean more exploitation of resources, more energy and transportation impacts, and inevitably, more waste— the professional and cultural implications are worth noting. By creating what they knew to be poor products on purpose, designers, perhaps unthinkingly or unwittingly, accepted that their professional integrity would be compromised for the profits of their clients at the expense of the common good. The crossing of this line had a critical impact on our profession going forward.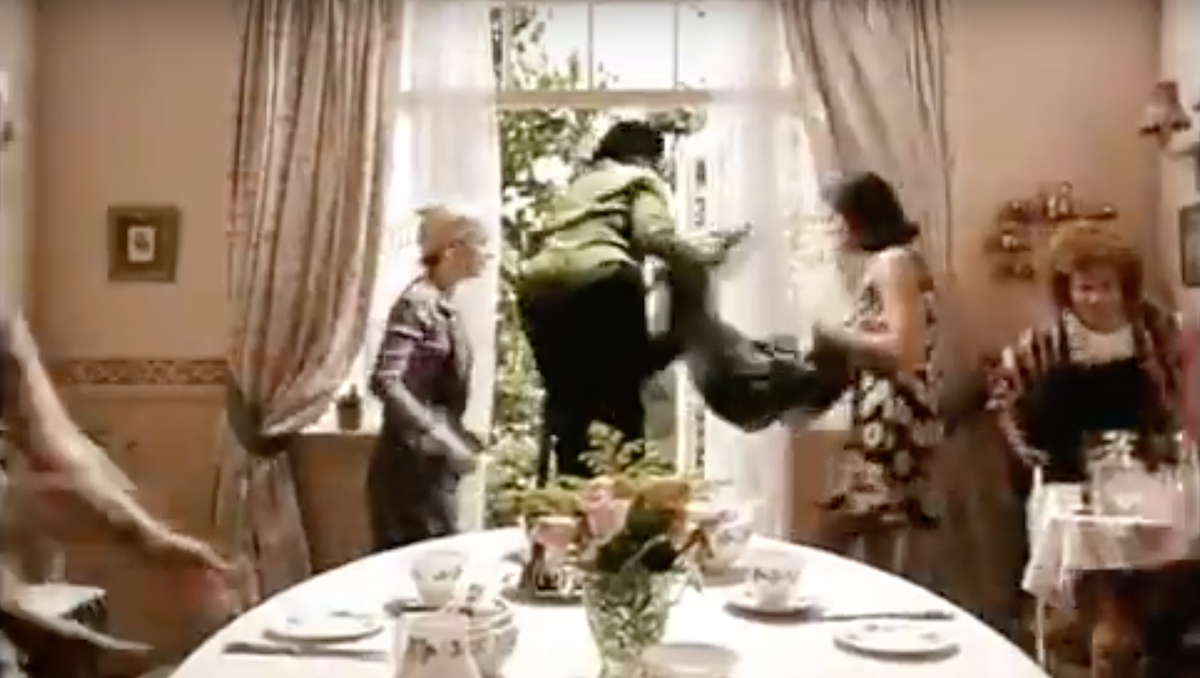 A still from IKEA's 1996 "Chuck Out Your Chintz" advertisement

DESIGN FOR MARKETING

By the 80s and 90s fast fashion and even fast furniture (IKEA encouraged customers to "Chuck Out Your Chintz" and replace everything) had firmly taken their place. The current supporting obsolescence only became more pronounced after this. Through the proliferation of design magazines (later to become blogs) and a powerful advertising industry that increasingly drove consumption by pumping out powerful images, the material value of objects took a backseat to the visual impact of the pictures of objects. 'Quality' started to be redefined in popular culture. How the object appeared in a given context was more important than the physical attributes and qualities or how the object might be experienced. Brand names and 'photographability' took precedence over durability, practicality and functionality. After all, if what matters is the way an interior design will look in a magazine, then the chair's ergonomics are of little consequence. If what matters is the website's allure demonstrated through screencaps submitted for an award, then its accessibility matters not.

But these are the very things that make it design. Design is supposed to be— above all— functional. Strangely enough, designers, the very so-called professionals that so earnestly developed 'good design' principles in the first place and considered themselves experts, counselling their clients to make better products, were now key actors in allowing bad design to proliferate. Little by little, less well-trained and ethical 'designers' with some talent for the visual started to take their place. Public trust in design started to erode.

INSTAGRAM AND THE METAVERSE

Today, it is inevitable to consider how a design will photograph as it is being designed. Instagram and design blogs drive the promotion of design through luscious images that need to be renewed daily to drive internet traffic and likes. These metrics are at odds with good design. By reducing the design to its image, we are devaluing the aspects of design that matter.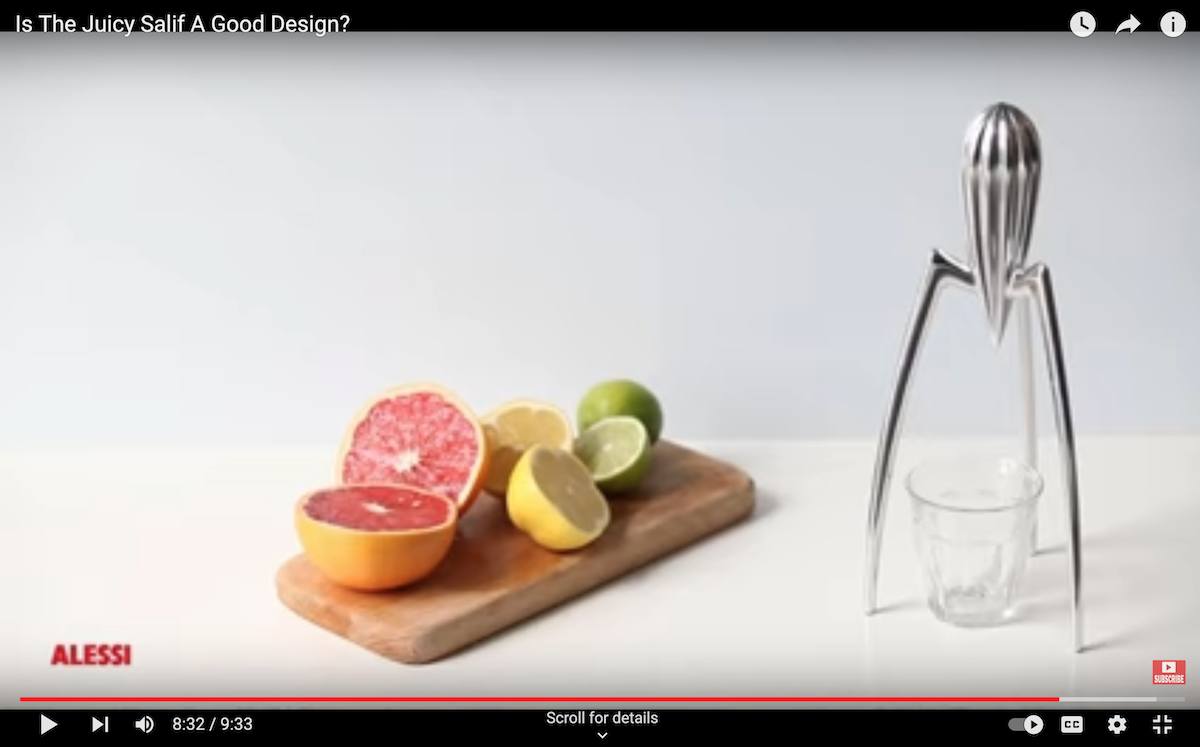 A still from the video "Is the Juicy Salif a Good Design?" that reports that nearly 30% of users never used the juicer to make juice

Sustainability, accessibility, functionality, pleasure of use, ergonomics and real innovation (as opposed to visual newness) are not worth investing in if all that matters is how many likes an image will receive. Professional designers who still work hard to maintain standards and design processes now struggle to articulate their value in a market where unqualified technicians with a little knowledge of Adobe Creative Suite can produce images or renders of "design" for blogs for a fraction of the cost of a real professional.

We are at a critical point for design right now. If we allow space to the metaverse and the proliferation of non-design "design" and allow design blogs, Instagram accounts, and other new forms of marketing to control the narrative around design, our profession will continue to struggle to be paid adequately and taken seriously. With every pretty-but-impractical design, the general public learns that design is, in fact, trivial, a superficial gloss where designers beautify, rather than make a difference in how people live well in the world. Instead, we are all too quickly designing our own obsolescence.



Welcome to the 'Polemics' section of our website. This is a place where we want to explore discourse and thought on the contemporary practice of design. We aim to take a critical view of the profession and the controversial issues that surround its practice.



LEXICON

CONTRIVED DURABILITY: A type of planned obsolescence, where the durability of the product is willingly limited through designed-in defects (for example, parts that break easily).

'GOOD' DESIGN: The Council defines 'good' design as design that takes into consideration the social, cultural, economic and environmental ramifications of the work, producing equitable, accessible, culturally aware, and sustainable design.

PERFORMATIVE DESIGN: Design that looks good, photographs well, is apt to social media promotion, but is not good design. Performative design may or may not be functional or even exist (for instance, virtual design).

PLANNED OBSOLESCENCE: A business strategy whereby a consumable product is designed to last less than is possible to instigate increased consumption. The product's obsolescence may be due to breakage or reduced desirability (going 'out of style').

PROFESSIONALISM: the difference between doing something for immediate personal gain or gratification (regardless of the impact on others), and doing something because it is right, and builds long-term confidence in the profession at large.

PROGRESSIVE OBSOLESCENCE: A type of planned obsolescence, whereby the item is designed to go out of style so that it needs to be replaced.