professor in new frontiers in design | tenure track
Aalto University School of Arts, Design and Architecture (Helsinki)
Finland
Valid from 25.01.2021 to 21.02.2021
Aalto University School of Arts, Design and Architecture is seeking: Professor in New Frontiers in Design The call is open for tenured or tenure track levels of the Aalto University tenure track system. The position will begin the 1st of August 2021 or as agreed. The professorship is full-time and, depending on the positioning on the tenure track, with either a fixed-term or permanent contract. Please find more information about the Tenure Track system here: www.aalto.fi/en/tenure-track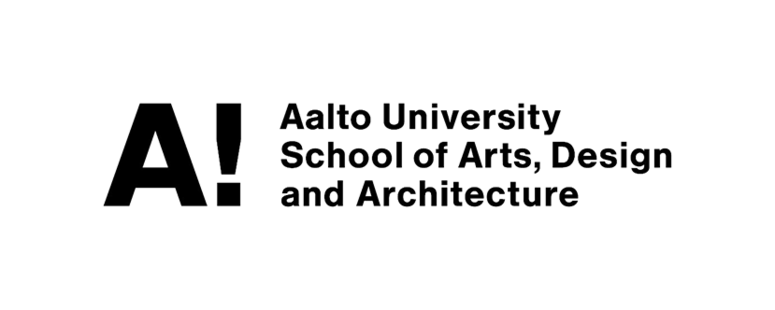 The New Frontiers in Design professorship builds on the Aalto University's mission to seek and build crossovers between disciplines, communities, education, research and practice. The professorship will strengthen the Department of Design's internationally recognised design practice and design research competences. The New Frontiers in Design professorship will focus on the potentials of design research and practice for impactful societal renewal and wellbeing. It seeks to further expand the field of design and builds on resourceful problem-framing and -solving competences. It will contribute to ARTS research focus areas, in particular to co-creating social engagement and social responsibility, environmental sustainability, knowledge-building in and through design actions.
Your role and goals
This professorship will build on the integrity of design combined with future-oriented visions, and strong academic skills. The professor will play a key role in the future success of Aalto's Design research. The professor will expand the forward-looking design and research community at the Department of Design, premised on Aalto university core values of courage, responsibility and collaboration. The expectation is to develop the field in relation to the living strategy of Aalto that emphasises the shaping of a sustainable future, future-led learning, radical creativity and interdisciplinary collaboration across Aalto's fields of research and teaching. The professor is expected to make major contributions to Department of Design degree programmes, such as the MA programmes Collaborative and Industrial Design and Creative Sustainability, as well as the new international BA programme in Design.
Your experience and ambitions
We are looking to hire an ambitious colleague who has the capacity to lead and collaborate in the continuous renewal of design education and design research, including:
Demonstrated competence and track record in new frontiers in design and design research
Demonstrated ability to acquire competitive research funding
Experience and high competence in university education, preferably also having undertaken training in university pedagogy
Doctoral degree in design or in a related relevant field
Experience with academic responsibilities in university education and research management, relevant to your career stage.
What we offer
We offer the opportunity of working in a dynamic world-class community of creative professionals and researchers, with a remit to continuously explore the frontiers of design research and practice.
The salary is determined based on applicant's experience and qualifications. Activities of the department are mainly located in the Otaniemi campus of Aalto University in Espoo (Helsinki metropolitan area).
Aalto University provides its employees with excellent learning and development opportunities and occupational health care services. Finland is a healthy and safe living environment, offering many excellent state-subsidised services including affordable day care and free schools and universities, which are consistently ranked among the best in the world. More information about living and working in Finland: https://www.aalto.fi/en/study-at-aalto/this-is-finland


Ready to apply?
To apply, please share the following application materials with us in English and in PDF format:
Statement of interest in the new frontiers of design professorship (max 1 page)
CV, including a list of academic publications
Design practice portfolio (max 10 pages)
Teaching portfolio (max 5 pages) Compiled according to Aalto guidelines

Please submit all your application materials in English no later than 21 February 2021 (Finnish time UTC +2). The link to the eRecruitment system ('Apply for this job') can be found at the bottom of this page.
From amongst the applicants in the first phase, Aalto University will select those who may be asked to supplement their application materials. Supplemented applications are submitted for review by external experts and the Departmental Committee will invite the most suitable applicants to the last phase where they will deliver teaching demonstrations in the spring of 2021.
Aalto University reserves the right for justified reasons to leave the position open, to extend the application period, or to consider additional candidates who have not submitted applications during the application period.
For more Information
For additional information, please contact Professor Sampsa Hyysalo, email sampsa.hyysalo@aalto.fi.
In questions related to the recruitment process, please contact HR Coordinator Riina Kesänen, riina.h.kesanen@aalto.fi.


Tenure track in Aalto University
The tenure track is open to talented individuals who have excellent potential for a scientific career. Individuals on the Aalto University professorial tenure track have the possibility to advance in their career through regular performance reviews, which take into account their merits in all areas of their scope of duty. Launched in 2010, the tenure track has attracted a wide range of international applicants, giving Aalto University the possibility of recruiting top experts and young research talent to join the Aalto University community. Read more about the Aalto University tenure track system at www.aalto.fi/en/tenuretrack
******************
Aalto University is a community of bold thinkers where science and art meet technology and business. We are committed to identifying and solving grand societal challenges and building an innovative future. Aalto University has six schools with nearly 20 000 students and more than 400 professors. Our campuses are located in Espoo and Helsinki, Finland.
The Aalto School of Arts, Design and Architecture (ARTS) is a Nordic leader in higher education for design, fashion, games, media, architecture, film, art education and fine art. We produce world-class research e.g. in design, digital media and visual culture, art education, urban planning and architecture. Our graduates innovate in and beyond their fields, drawing on over a century of tradition of our institution, a humane and forward-looking approach, and the latest technologies. Our new campus in Espoo, just west of Helsinki, makes working together among and across disciplines easier than ever before.
The Department of Design is a diverse community of competent, creative and responsible individuals. We appreciate technical skill, social significance and artistic expression. We educate front-line design professionals and visionaries for established, changing and emerging fields of design. We constantly improve our expertise through high-level research in collaboration with our stakeholders. We strive towards a sustainable and just society and environment (https://www.aalto.fi/en/department-of-design).