2006 PRINCIPAL PRINCE CLAUS AWARD TO IRANIAN GRAPHIC DESIGNER REZA ABEDINI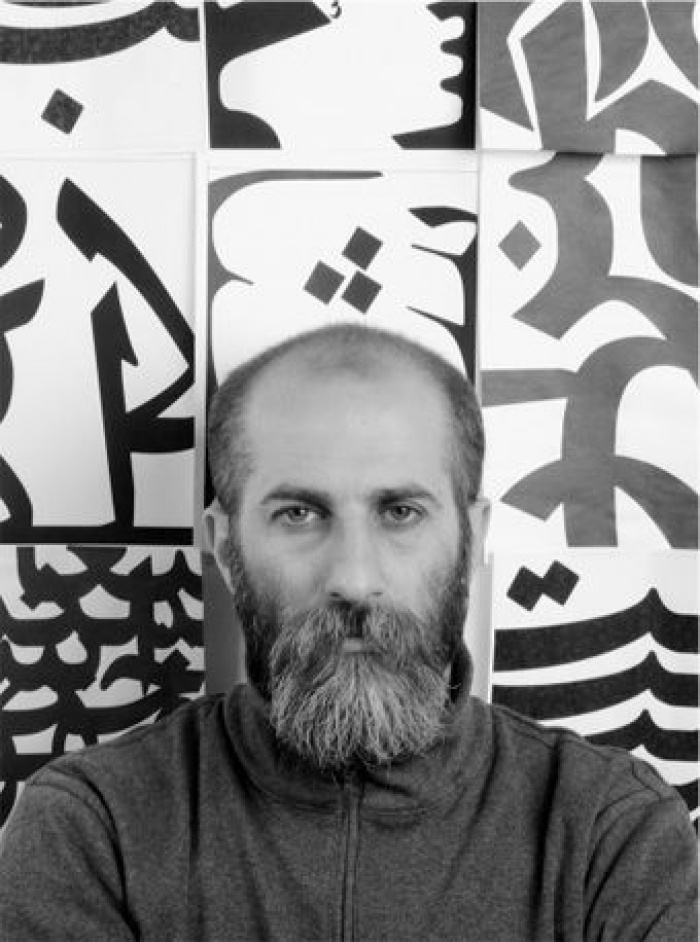 27.08.2006 News
The Hague (The Netherlands)
- On Wednesday, 13 December 2006, the Iranian graphic designer Reza Abedini (1967 Iran) will be presented with this year's Principal Prince Claus Award of EUR 100,000 at the Muziekgebouw aan't IJ in Amsterdam.
About Reza Abedini: Principal Prince Claus Laureate
Reza Abedini is a graphic designer and a professor of graphic design and visual culture at Tehran University. He emphasises the relationship between visual tradition and modern form, encourages research in the long and rich history of Persian art and calligraphy, and nurtures talent in the younger generations. Reza Abedini is granted the Principal Prince Claus Award in recognition of his personal creativity in producing superb graphic design and his individual skill in adapting the knowledge and achievements of Iran's artistic heritage, making it new and compelling today. The award values and draws attention to the diversity of Iranian culture both historic and contemporary. It recognises the impact of graphic design as a powerful global medium of communication, and highlights the tradition and role of graphic design both in the laureate's own country and across the world.
The other ten Prince Claus Awards 2006 of EUR 25,000
Laureates working in the area of the visual arts
Lida Abdul (1973 Afghanistan)
is a visual artist who uses diverse media including video, film, photography, installation and live performance to explore and visualise issues of 'home' and identity. She fights against the senseless destruction of cultural heritage in her country and highlights women's role in society.The outstanding artistic quality of her work is combined with powerful political and social statements, and is recognised both within Afghanistan and internationally. Lida Abdul regularly exhibits and teaches in Kabul.
Christine Tohme (1964 Lebanon)
is a cultural organiser, art activist and curator. In 1994 she founded Ashkal Alwan, the Lebanese Association for the Plastic Arts, a non-profit organisation that initiates and supports contemporary artistic practice. Through her work, she provides a platform for free thought and critical discourse in Lebanon, promotes and develops critical reflection and cultural theory, and fosters regional and international cultural exchange.This award honours Christine Tohme s struggle and achievements in stimulating local multi-disciplinary art production and art criticism.
Laureates working in the area of writing and publishing
Erna Brodber (1940 Jamaica)
is a writer, cultural historian and social activist who has carried out pioneering research on oral history in Jamaica and is an important role model in her society. Using fiction as a medium, she has written groundbreaking books in terms of individual and community identity formation, foregrounding the role of language in development. Erna Brodber is honoured for her innovative use of the Creole language and for her outstanding contribution to the promotion and establishment of local languages and cultures.This is the first Prince Claus Award in Jamaica.
Henry Chakava (1946 Kenya)
is an innovative, courageous and enterprising publisher. He has published work by important writers and new voices in African literature, encouraged publication in local languages,and produced locally oriented textbooks. The Prince Claus Award honours Henry Chakava for his lifetime s work in developing African publishing, for nurturing and promoting writers in a difficult context, and for defying dictatorship in his own country.
Franketienne (1936 Haiti)
is a poet, writer, dramaturge and teacher. An important figure in the cultural history of Haiti, he is the author of the first novel in Haitian Creole and has written more than 30 titles. This award honours Franketienne for his lifetime's achievements in the arts in a complex political context, for his poetic use of language, his radical stance on local languages, and his important contribution to regional literature and culture. This is the first Prince Claus Award in Haiti.
Laureate working in the area of theatre
Madeeha Gauhar (1956 Pakistan)
is an outstanding actor,theatre director and women s rights activist. In 1983 she set up the Ajoka Theatre, which produces challenging, socially relevant works and performs in the streets and community spaces. Her aim is to promote a secular, humane, just and egalitarian society. She nurtures a new generation of actors and organises collaborative cross-border performances in India, Bangladesh, Nepal and Sri Lanka. Madeeha Gauhar is honoured for her artistic and social contributions to public theatre in South Asia.
Laureates working in the area of cultural education and debate
Michael Mel (1959 Papua New Guinea)
is a performance artist, thinker, communicator, curator and teacher. He lectures in Expressive Arts at Goroka University and his performance/installation work is innovative and culturally significant. Mel plays a key role in the cultural development of Papua New Guinea s highland community and is one of the few bridges between Papua New Guinea and the world, enabling better understanding of the complex cultural concepts and practices of the island. This is the first Prince Claus Award in Papua New Guinea.
Committee for Relevant Art (CORA)
(since 1991 Nigeria) is an innovative, non-profit, activist platform for public experience,engagement and debate on cultural issues in Nigeria. Working through all legitimate means including popular book fairs, film festivals, a stampede and a newsletter, CORA encourages and creates an environment for the flourishing of contemporary culture.This award celebrates CORA's energetic activities and highlights the contributions of committed citizens in stimulating the arts.
Al Kamandjati Association (since 2002 Palestine)
is a non-profit organisation that gives music lessons to Palestinian children,particularly those living in refugee camps and marginalised villages in the West Bank,Gaza Strip and southern Lebanon.It enables the children to explore their cultural heritage, to open themselves to the outside world and gives them an opportunity to discover their creative potential. The award honours Al Kamanjati for creating spaces of hope for Palestinian children.
Laureate working in the area of cultural heritage and education
The National Museum of Mali in Bamako (reopened in 1981 Mali)
is a vibrant and outstanding cultural institution. The Museum plays a major role in the prevention of cultural looting and trafficking in the region,it educates local communities, and preserves and interprets local aesthetic heritage. Alongside its well-designed displays of the historical collection of over 6,000 objects in a building inspired by local Bambara architectural forms, the Museum stimulates contemporary art production and exhibitions. This award celebrates the work of the National Museum of Mali, highlights the role of museums in culture and development, and emphasises the importance of preventing cultural looting and trafficking.
The Committee for the 2006 Prince Claus Awards
In 2006, five new members joined the Prince Claus Awards Committee. The committee for 2006 is composed of:
- Niek Biegman, Chairman, former Dutch ambassador to the United Nations,
photographer, Amsterdam / Janjina,Croatia
- Manthia Diawara, professor of comparative literature, editor-in-chief of Black RenaissancE, author, filmmaker, Bamako, Mali / Accra,Ghana / New York, United States
- Amitav Ghosh, author, Calcutta, India / New York, United States
- Pablo Ortiz Monasterio, photographer, editor, Mexico City, Mexico
- Mick Pearce, architect, Harare, Zimbabwe / Melbourne, Australia
- Virginia Perez-Ratton, artist, curator, director of TEOR/eTica, San Jose, Costa Rica
- Selma Al-Radi, archaeologist, American Institute for Yemeni Studies, Baghdad, Iraq / Sana'a, Yemen
Fariba de Bruin-Derakhshani is secretary to the committee.
10 years of the Prince Claus Fund
2006 is the 10 anniversary of the Prince Claus Fund. Since 1997 the Prince Claus Awards have been presented annually to artists, thinkers and cultural organisations in Africa, Asia, Latin America and the Caribbean. Over the years, to shape its research on culture and development, the Fund has chosen themes such as "Humour and Satire" (2005), "Urban Heroes" (2000) and "Creating Spaces of Freedom"(1999). In celebrating the 10 anniversary of the Prince Claus Awards, the work and principal ethos of the Fund is this year's central focus.
---
For further information please contact:
The Prince Claus Fund for Culture and Development
T: +31 70 427 43 03
Lieke Vervoorn
E:
l.vervoorn@princeclausfund.nl
Reza Abedini is a member of the Iranian Graphic Designers Society (IGDS). IGDS is a professional Member of Icograda.
www.graphiciran.com
Detailed information about the 2006 Prince Claus laureates and a summary of the laureates since 1997 will be available as from mid August at:
www.princeclausfund.org