2009 SEGD DESIGN AWARDS PROGRAM JURY ANNOUNCED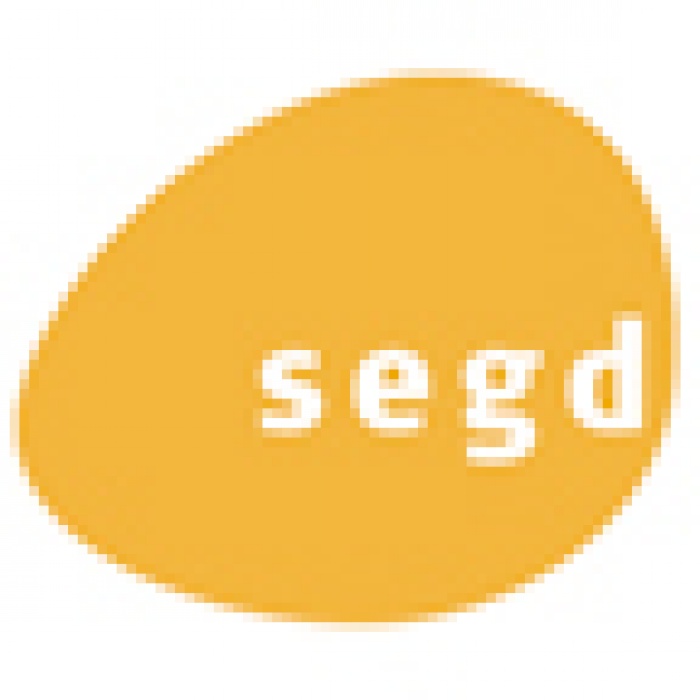 23.09.2008 News
Washington, DC (United States)
- (the Society for Environmental Graphic Design), an Icograda Associate member, is pleased to announce the jury for its 2009 SEGD Design Awards Program.
SEGD's annual design competition honors the best in environmental graphic design. Projects include dynamic environments, themed environments, wayfinding and signage, placemaking projects, mapping, public art, identity programs, architectural graphics, exhibits, and retail; also included are student work and unbuilt projects. Images of winning entries from previous years may be viewed on the Design Awards page of
www.segd.org
.
Winners in the program will be announced at the awards presentation in San Diego, in late May at the 2009 SEGD Annual Conference + Expo. Winning projects will be exhibited at the same event. Program entries must be submitted no later than 30 January 2009; late entries will be accepted through 13 February 2009.
Chair
Peter Dixon
is senior partner and creative director of Prophet, bringing clients a unique blend of perspectives as architect and brand specialist. His award-winning programs span building design, retail concepts, and merchandising systems; clients include BMW, Citibank, Chrysler, IBM, Microsoft, Sprint, and Samsung. Previously, he helped lead the consulting team on Wal-Mart's new brand strategy, was instrumental in designing Nissan Motors' new dealership concept, and directed a revitalised restaurant concept for McDonald's. A member of the AIA, Peter holds a B.S. in Mechanical Engineering from Louisiana State University and a Master's of Architecture degree from the University of Texas.
Jurors
Lars Uwe Bleher
, architect, scenographer, and exhibition designer, is a managing director of the Frankfurt-based Atelier Markgraph. He has designed and realised numerous award-winning national and international projects including Mercedes-Benz Brand Galleries in Paris and London; DaimlerChrysler Corporate Exhibitions in Washington, DC and Tokyo; and a science and technology exhibit for kids at the EXPO 2000 in Hanover, Germany. Lars also teaches architectural design and digital design media at the University of Oregon. In his research, he focuses on dynamic environments.
Stephen Burks
and his New York studio, Readymade Projects, have been responsible for creative direction on projects ranging from retail interiors and events to packaging, consumer products, lighting, furniture, and home accessories. He has developed innovative concepts for the international brands B&B Italia, Boffi, Calvin Klein, Capellini, Missoni, and Tods and continues his commitment to sustainable design in the developing world through his association with Aid to Artisans and the Nature Conservancy. Stephen studied architecture at the Illinois Institute of Technology and product design at IIT's Institute of Design; he also attended Columbia University's Graduate School of Architecture.
Tim Love
is a tenured associate professor at the Northeastern University School of Architecture where he teaches housing, urban design, and architectural theory. He is also the founding principal of Utile, an architecture and urban design practice that focuses on cultural institutions, multi-family housing, and urban design. Love serves on the board of the Boston Society of Architects and is a frequent contributor to the Harvard Design Magazine. He received a B.S. in Architecture from the University of Virginia and an M.Arch. from Harvard University.
Linda Raker
is senior project manager for Kaiser Permanente's National Facilities Services department, which is responsible for setting the design standards for their facilities across the U.S. As one of five design professionals that comprise the Environmental, Design, and Research team, she is charged specifically with design innovation. She is also the design lead for the firm's Brand Sign Standards program. For 25 years prior to going to KP, she was a one of three principals in RMA, an interior design consulting firm. Linda holds a B.A. and a Master's degree in architecture and urban planning from the University of California, Los Angeles.
Stephanie Reyer
is director of exhibitions at the National Constitution Center in Philadelphia. As such, she oversees all aspects of the Center's exhibition program, including the conceptualisation, development, and evaluation of original changing exhibitions. She also maintains the Center's permanent exhibition and identifies shows for inclusion in the museum's changing exhibition program. Previously, Reyer worked at the American Museum of Natural History for nine years. Stephanie received a Bachelor's degree from The Cooper Union for the Advancement of Science and Art and completed a graduate studies program at the Basel school of Design in Basel, Switzerland.
Kathy Wesselman
is a principal of wpa, inc., an interdisciplinary design firm specialising in graphic design and architecture, located in Seattle, Washington. In 1994, she merged her graphic design firm with Anthony Pellecchia Architecture Studio to form wpa, inc. She believes that design has the power to inform, educate, evoke, and elicit, leading to new understandings of the individual, community, and environment. Her work has been published in magazines such as Communication Arts, Architecture, and Identity and her environmental graphic design work is featured in Signage and Wayfinding Design; This Way: Signage Design for Public Spaces; Designing & Planning Environmental Graphics; and Print Casebooks.
---
For more information, please contact:
Ann Makowski
Society for Environmental Graphic Design
1000 Vermont Avenue, NW
Suite 400
Washington D.C 20005
T: +1 202 638 5555
F: +1 202 638 0891
E:
ann@segd.org
W:
www.segd.org
About SEGD
SEGD is the global community for people who work at the intersection of communication design and the built environment.