2011 SEGD Design Awards Jury named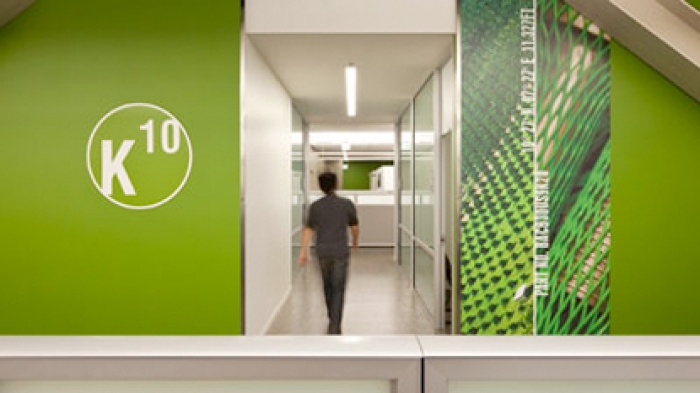 26.10.2010 News
Washington, DC (United States)
- An international, multidisciplinary jury has been assembled for the . Organised by
SEGD
(the Society for Environmental Graphic Design), the 2011 competition marks 24 years of recognising excellence in environmental graphic design. This year will also mark the second year that entries are accepted online in an efficient and effective way to participate.
"As environmental graphic design continues to evolve and impact the built world, the SEGD Design Awards have come to represent the best of our influential field," says John Lutz, principal of Selbert Perkins Design and chair of the 2011 jury.
SEGD juries are assembled to represent the wide range of disciplines found at the intersection of visual communication and the built environment—and this year is no exception. The 2011 jury includes:
John Lutz
(Chair), principal at Selbert Perkins Design (Los Angeles). John is known for his ability to turn verbal concepts into powerful graphic identities and dynamic communications programs. He takes a sculptural approach to his environmental work, creating systems that provide both visual drama and effective communication. SPD's recent work has included projects at McCarran International Airport–Terminal Three, the Dallas Cowboys Stadium, Caesars Spain, and Sony World Headquarters. John received his B.S. in graphic design from the University of Cincinnati. He has received numerous design awards for his work.
Tim Fendley
, founder of Applied Information Group (London). Tim established his company to push the boundaries of information design. His work draws on his experience in environmental, editorial, identity, and interactive design for clients such as Bosch, Ferrari, Gilbert & George, Orange, and Lexus. He has a passion for cities and mapping and a methodology that encompasses diagnostic testing in real situations mixed with product design prototyping. Tim's recent fixation is to make sense of London. He led the team that invented and proposed Legible London, the city's award-winning pedestrian wayfinding system.
Edwin L. Hofmann
, associate vice president of design at Limited Brands (New York). A founding member of the Victoria's Secret store design team, Ed's work focuses on defining and developing cutting-edge branding strategies, which are then translated into riveting, emotionally loaded flagship store concepts. Hofmann and his team were responsible for creating the Victoria's Secret flagship stores in New York, Chicago, and Hawaii. Before that, he was design director at Victoria's Secret Beauty and senior designer at Robert A.M. Stern Architects.
Kate Keating
, president and founder of Kate Keating Associates (San Francisco). Kate's firm is known for its ability to successfully integrate wayfinding programs into complex architecture and spaces. Kate is known as a wayfinding expert in the healthcare industry and is currently designing wayfinding programs for numerous medical facilities, including Lucile Packard Children's Hospital, UCSF Medical Center at Mission Bay, and Sutter Health's Cathedral Hill Hospital Rebuild. Kate developed Universal Wayfinding, a system based on numbers that provides clear, legible wayfinding for people with limited English proficiency.
Sarah M. Kirchoff
, winner of a 2010 SEGD Design Award for her MFA thesis project titled, "The Influence of Context on Message-Making and Audience Reception in Graphic Design." She graduated with her MFA in graphic design from the Rochester Institute of Technology and her BFA in art history from Hobart and William Smith Colleges. As an artist, she has participated in a many private and public art and craft shows. Sarah works as the communications program manager at the Association Montessori International of the United States, formulating the organization's visual direction.
Ronald A. Loch
, vice president of planning and design for the Taubman Company (Bloomfield Hills, Mich.). Ron creates unique concepts and master planning for all new development projects in the pipeline, and provides leadership and guidance to the Taubman Asia team for all planning and design developments internationally. He is currently leading the retail planning and design efforts for City Creek Center, a mixed-use development located on Main Street in the heart of Salt Lake City's central business district.
Douglas Morris
, principal of Poulin + Morris (New York). Morris' firm creates award-winning visual communications programs for clients such as the Alliance for Downtown New York, Ann Taylor, Bank of America, and Brooklyn Botanic Gardens. Doug has extensive experience in alternative sign technologies that support information and wayfinding with state-of-the-art electronic information display systems, interactive media, and live-action transmission for clients such as Citibank, Pfizer, and the General Services Administration. He is also coauthor of Wayfinding: Designing and Implementing Graphic Navigational Systems.
Robert Probst
, dean of the College of Design, Architecture, Art, and Planning at the University of Cincinnati. Robert has been a professor of graphic design in UC's School of Design since 1978. He was named director of the school of design in 2001 and dean of the college of DAAP in 2008. His work spans a wide range, including two-dimensional graphics, promotional, and identity design; multi-dimensional interpretive exhibition work; architectural signage and environmental design; wayfinding systems; and product development. Robert received his design education from the University of Essen, Germany, and the College of Design, Basel, Switzerland, and is a member of the Alliance Graphique Internationale.
Call for entries
The call for entries for the 2011 SEGD Design Awards is now open. The entry deadline is 31 January 2011; the late entry deadline is 14 February 2011.
Find out all the details at:
www.segd.org/design-awards/index.html
---
For more information, please contact:
Ann Makowski
T: +1 202 638 5555
E:
ann@segd.org
About SEGD
Founded in 1973, SEGD (the Society for Environmental Graphic Design) is the global community of people working at the intersection of communication design and the built environment. Through educational programs, research, and publications, SEGD's mission is to provide learning opportunities and resources for professionals involved in EGD, promote the importance of the discipline in establishing place, and continue to refine standards of practice for the field.
www.segd.org