2012 SEGD Conference: The Bridge Celebrates Design, Culture, and Connections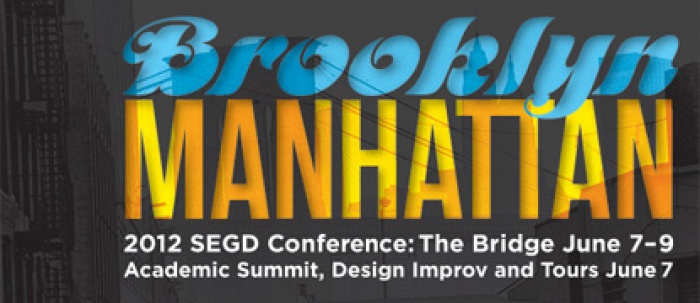 07.05.2012 News
New York (United States) - High Line co-founder Robert Hammond, Pentagram Partner Michael Bierut, Culturematic author Grant McCracken, and Project Runway winner Anya Ayoung Chee will be among the featured presenters at the 2012 SEGD Conference: The Bridge, convening in Brooklyn and Manhattan June 7-9.
IDEO Partner Fred Dust, Kickstarter co-founder Charles Adler, Etsy Creative Director Randy Hunt, and environmental graphic design pioneer Lance Wyman will also be on the main stage for SEGD's 32nd annual conference, the only international educational event focused on communication design for the built environment.
The 2012 program celebrates design, culture, and connections, says Jill Ayers, creative director at Design360 (New York) and 2012 Conference chair.
"The SEGD Conference is known for its multidisciplinary ethos and unique mix of compelling speakers, signature project tours, and fun networking events," she adds. "This year we've put together a thought-provoking program with an amazing roster of speakers and events packed into three days."
The conference's dual setting - the funky, DIY vibe of Brooklyn and the sleek, glass-and-steel culture of Manhattan - will underscore the theme of connections, says Jessica W. London, SEGD CEO. "Our goal is to inspire the multidisciplinary design community to explore the 'bridges' between local and global cultures, generations, languages, philosophies, visual styles, and design approaches."
Day 1 (June 7) includes the SEGD Academic Summit as well as the popular Design Improv workshop and project tours in Manhattan and Brooklyn.
Day 2 (June 8) will take place in Brooklyn at the New York Marriott at the Brooklyn Bridge. Day 2 sessions will explore topics ranging from the pop-up destination phenomenon (featuring the creative minds behind the Sephora Sensorium and Brooklyn's Dekalb Market) to the space where culture, media, and design collide (with cultural anthropologist and writer Grant McCracken, author of Culture and Consumption, Plenitude, Big Hair, and Culturematic).
Day 3 (June 9) will be held at the New York Marriott Marquis Times Square. Day 3 sessions will focus on how social media and technology are being used to start and grow design businesses (with Kickstarter co-founder Charles Adler, Etsy Creative Director Randy Hunt, and Dwell magazine Editor Amanda Dameron). Susan Szenasy, Editor of Metropolis magazine will lead a discussion exploring the "Bridge to the Future" of design, featuring forward design thinkers James Biber (who reimagined the concept of a portfolio show with his "100 Ideas" series and book) and Geoff Cook, managing director and partner at Base Design, the multidisciplinary firm that "specializes in not specializing."
Learn more about or register for the 2012 SEGD Conference.
---
About SEGD
Founded in 1973, SEGD (the Society for Environmental Graphic Design) is the leading global organization dedicated to communication design in the built environment. Through educational programs, research, and publications, SEGD's mission is to provide learning opportunities and resources for professionals involved in creating environmental graphics, promote the importance of the discipline in establishing place, and continue to refine standards of practice for the field.
segd.org