2014 Adobe Design Achievement Awards: Call for Entries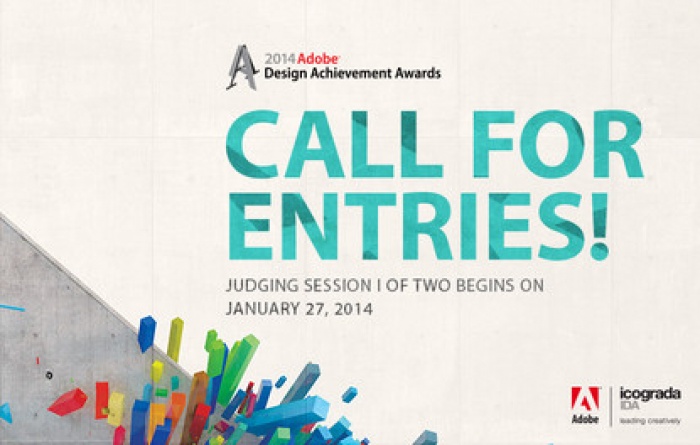 26.01.2014 News
Adobe has announced the call for entries for the fourteenth annual Adobe® Design Achievement Awards (ADAA). Icograda (International Council of Communication Design) is partnering with Adobe in producing the ADAA competition for the sixth consecutive year.

The competition recognises the best student graphic designers, photographers, illustrators, animators, digital filmmakers, developers and computer artists from higher education institutions worldwide who have created innovative projects using Adobe software.

Students are invited to compete in 11 categories, including Web and App Design, Game Art and Design, Animation and Illustration. Since the ADAA competition began in 2001, nearly 30,000 submissions, from over 75 countries have been involved! In 2013, the ADAA received over 3,750 submitted projects, from 55 countries worldwide.

Free to enter and open to students of higher education institutions worldwide, the 2014 ADAA will be judged by a panel of design experts in two independent judging sessions. Submission deadlines are from 27 January 2014 to April 18, 2014 and from April 18, 2014 to June 20, 2014 at 5:01 p.m. (pacific time) Semifinalists will be announced after each judging session, providing participants with early visibility into their competition status. Finalists will be announced in in September.

Category Winners and Grand prize winners will win an Adobe certificate, Cash prizes, Adobe software and more! Previous ADAA winners have embarked on successful careers in design and look back at the competition as an integral first step.

"Honoring students, empowering them to pursue their careers, and reinforcing the fact that they're going in the right direction to make amazing work, is very important." Matias Corea, Co-Founder and Chief of Design, Behance

For detailed information about ADAA submission guidelines, deadlines, categories and more, visit adobeawards.com. Students are invited to submit projects through this website and view winning work from prior years in the ADAA Gallery. Visit the 2013 ADAA Yearbook for a look at the 2013 ADAA ceremony in New York.
Find out more at:
adaa.adobe.com
---
For more information, please contact:
Elizabeth Carbonell
Project Manager
Icograda Secretariat
ecarbonell@icograda.org
About Adobe Systems Incorporated
Adobe is changing the world through digital experiences.
adobe.com
About Icograda
Icograda is the world body for professional communication design. Founded in 1963, Icograda promotes communication designers' vital role in society and commerce.
icograda.org