aiap women in design award (AWDA)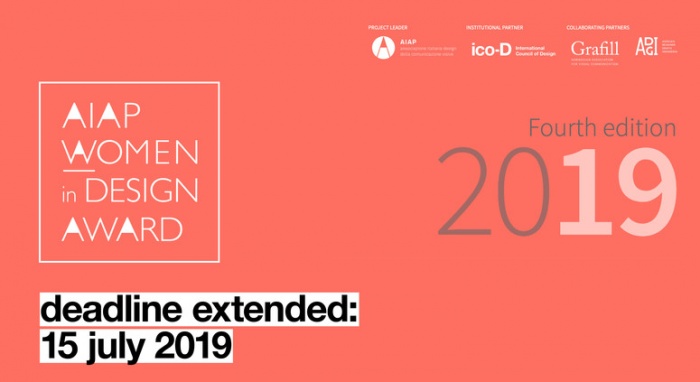 08.07.2019 Announcements
For the 2019 iteration of the AIAP Women in Design Award (AWDA), we have partnered with our Member AIAP (Associazione italiana design della comunicazione visiva, the Italian communication design association) who have founded and deliver, every two years, a truly well-organised, thoughtful, and exemplary award that attempts not only to recognise working women designers today but to fill out the empty spaces in design history by recognising research and shining a light on the issues that have kept women designers and their contributions to the design canon, in the shadows.
The 2019 edition of AWDA is open internationally for the first time. The International Council of Design and two of our Members, ADGI, the Indonesian Association of Graphic Designers and Grafill, the Norwegian Association for Visual Communication, have officially partnered this year with the event to increase the reach and impact of this award we so believe in.
Above: AWDA Jury
The award is open to all women designers—both students and professionals—around the planet. We would like to encourage all of you, our Members, to share the information on the Call for Submissions on your social media and internal communication channels to your members, your students and staff and to the design community, you serve.
Below, you can download a full press-kit on the award, see a list of the 2019 Jury Members and link to the award website for more information on the submissions process. There is no better way to encourage and support emergent women designers in your region than to give them a chance at international recognition. This is a winning proposition for your institution—having internationally recognised members of your community is prestigious—for designers in your region but also for the international design community that benefits from bringing to light the talents of all these brilliant women!
The Deadline for submissions is 15 July 2019, any questions can be directed to an AWDA representative at info@aiap-awda.com. Please visit the AWDA website for more details: www.aiap-awda.com. To download the full press-kit, .
JURY
The jury was announced last week. Composed of influential and internationally recognised experts including Alice Rawsthorn, writer and design critic; Justus Oehler, Alliance Graphique Internationale member and of Pentagram Berlin; Nilam P Moeliono, Honorary member of the Indonesian Association of Graphic Designers and brand expert; Maria Sætre, Board member of Grafill, the Norwegian Association for Visual Communication and Making Waves design leader; Marco Tortoioli Ricci, AIAP President, professor and visual communication designer; Laura Moretti, AWDA curator, professor and visual communication designer.
The AWDA jury will select the best work in the Professional and Student Categories, then will assign the AIAP Women in Design Award 2019 and the honourable mentions among the participants in all categories. A parallel panel of judges, equally authoritative, will evaluate the works of the PhD, Researchers and Teachers Category. This jury will be composed by Italian University professors and design critics with international experience.
AWDA will give mentions for each of the three categories of participation. A special award is given by the AWDA curators—Cinzia Ferrara, Laura Moretti, Carla Palladino and Daniela Piscitelli—at every edition of AWDA recognising a career contribution. The Special Lifetime Achievement Award is addressed to women designers who have distinguished themselves for their professional achievements, for having made a significant contribution to design culture, or both.