Booklet makes ISO graphical symbols child's play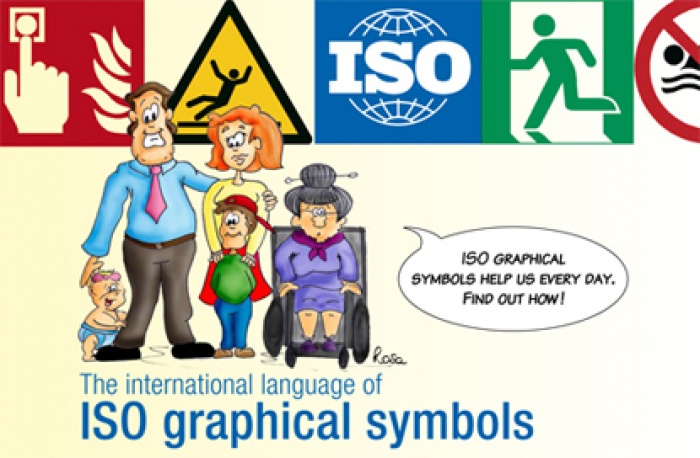 06.04.2010 Features
Being able to understand safety messages and public information despite language barriers or illiteracy is possible thanks to internationally harmonised graphical symbols developed by the
International Organization for Standardization
(ISO) that, for example, direct you to the exit in case of a fire, or tell you not to swim in dangerous waters.
---
To raise awareness about these symbols and teach the public to recognise the different meanings behind their various shapes and colours, ISO has developed a fun, easy-to-read booklet, The international language of ISO graphical symbols.
The booklet follows the Smith family - composed of Mr. and Mrs. Smith, Grandma and their two children - on holiday in the fictitious country of "Ambrosia". Vividly illustrated by cartoons, the story unfolds over a set of colourful A5-sized panels bound by a single corner rivet.
Each panel depicts an adventure during the family's trip and matches it to an ISO graphical symbol. From escaping a fire in their hotel, to rushing Grandma to the hospital, the series of holiday events enables the family to realise the usefulness of ISO graphical symbols which come to their aid by bridging language barriers.
A separate section explains the different shapes, colours and symbols used to convey important information. For instance, the booklet informs us that signs warning about hazards which could result in personal injury or which threaten health are illustrated as a yellow triangle with black borders and black symbols.
"The booklet highlights the importance of graphical symbols as a way to communicate without words," says Dana Kissinger-Matray, Secretary of the ISO Committee for consumer policy (ISO/COPOLCO). "No matter where you are in the world, ISO graphical symbols can help you understand important directions, product features and other aspects of daily life, such as where the lifts are for wheelchair users, or what areas to keep away from if you have a pacemaker, as well as helpful services such as where you can rent a car or find a hotel".
The set of graphical symbols included in the booklet have been primarily drawn from ISO 7001, Graphical symbols - public information symbols, and ISO 7010, Graphical Symbols - Safety colours and safety signs - Registered safety signs. These and other relevant standards are under the responsibility of ISO/TC 145, Graphical symbols.
The international language of ISO graphical symbols is intended as a public information tool and will also be helpful to professionals directly concerned with public safety and services.
The project is an initiative of ISO/COPOLCO. "The booklet illustrates the broad scope of ISO's work on behalf of consumer protection and the public interest" says Ms. Kissinger-Matray, "The idea was originally conceived by ISO/COPOLCO experts from BSI (ISO member for the United Kingdom) looking to educate the public about the value of ISO graphical symbols in an accessible and user-friendly way."
The international language of ISO graphical symbols (English only, 33 pages, ISBN 978-92-67-10521-5) is available free of charge (fee for postage and handling) from the ISO Central Secretariat through the ISO Store or by contacting the Marketing, Communication & Information department. It can also be obtained from ISO national member bodies. The booklet can also be
downloaded free of charge
(PDF - 5.5MB) from the ISO Website,
www.iso.org
.