CALL FOR ENTRIES: HKDA AWARDS 07 "DESIGN. NO JUNK FOOD."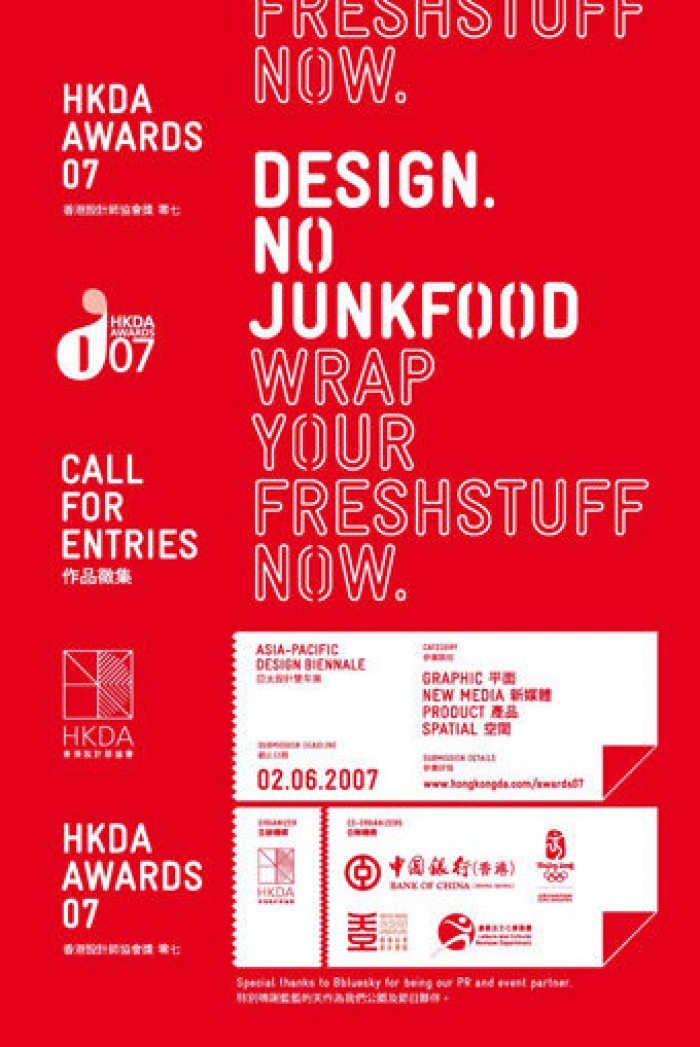 05.05.2007 News
Hong Kong (Hong Kong)
- Organised by the Hong Kong Designers Association (HKDA), the HKDA Awards has been a who's who of design excellence in Hong Kong and Asia Pacific for over 30 years. It is a comprehensive, multi-disciplinary award for professional designs in the fields of graphic, product, spatial and new media.
The theme of the HKDA Awards 07 is "Design. No Junk Food." It is a statement on the value of design, and a trumpet call to all professional designers throughout Asia Pacific bring forth your works of excellence to this longest-standing platform of acclaiming exceptional design solutions in the region.
The international judges of the Awards includes Mr. Vince Frost from Australia, Mr. Kashiwa Sato and Mr. Akihito Fumita from Japan, Ms. Natasha Jen from U.S.A., Mr. Pinky Lai and Ms. Kirsten Dietz from Germany, Mr. Michael Young from UK, Ms. Matali Crasset from France, Mr. Sandy Choi and Mr. Alan Yip from Hong Kong and more.
The HKDA Awards 07 is endorsed by Icograda.
Graphic Design judging panel:
Sandy Choi (Hong Kong)
- Sandy Choi studied Graphic Design at Saint Martin's School of Art in London. He became Creative Director for Euro RSCG Ball Partnership Hong Kong in 1994 and Joint Executive Creative Director for J. Walter Thompson Shanghai in 1996.
Back in Hong Kong in 1997, Sandy founded his own design consultancy - Sandy Choi Associates Limited, undertaking a wide range of design works in Hong Kong.
His work has won international and local accolades including awards from British Design and Art Direction (D&AD), New York Art Directors Club, Cannes festival, Warsaw International Poster Biennale, Le Salon International de l'Affiche Paris, HK4As and HKDA (Hong Kong Designers Association).
Sandy's first book "Sandy Choi: Printed Matter" was published in 2002. He is a member of British D&AD and New York ADC.
Kirsten Dietz (Germany)
- Kirsten Dietz, born in 1967, studied graphic design at State Academy of Art and Design Stuttgart. In 1995, she founded the agency strichpunkt, which she manages as a director together with two partners. strichpunkt stands for an intelligent, creative combination of strategy and corporate communication in brand development, image media, finance market communication and packaging design.
Constantly among the top ten European design companies, strichpunkt is one of the creative agencies with the most distinctions worldwide. Kirsten Dietz received international attention also due to her books. With "Finest facts & Figures" (2004), for example, she wrote an excellent fundamental work on the significance and design of business reports. Kirsten Dietz is a member of ADC Germany, TDC New York, and D&AD in London.
Vince Frost (Australia)
- Born in England and raised in Canada, Vince Frost regularly addresses conferences and judges design competitions around the globe. In 1989 he joined Pentagram in London and just three years later was their youngest Associate at 27.
Two years later he started his own studio, Frost Design, London creating award-winning work for clients from The Independent newspaper to Nike. In 2003 Vince relocated to Sydney Australia, from where he now runs his 25+ creative studio - working on anything from postage stamps to magazines, identities, TV advertising, online and the built environment.
He continues to work for a range of international clients, including D&AD's magazine Ampersand, as well as Warner Music, Macquarie Bank and Sydney Dance Company. Frost's work was the subject of a retrospective at the Sydney Opera House from January to March 2006, and will feature in a major design exhibition at Sydney's Powerhouse Museum in late 2006.
Frost's work is also documented in a 500-page book Frost*(sorry trees), spanning more than a decade of award-winning projects.
Natasha Jen (United States)
- Natasha was born in 1976 in Taipei, Taiwan. She traveled to New York in 1998 and received her Bachelor of Arts with distinction in Graphic Design from the School of Visual Arts in 2002. Between 2002 and 2005, Natasha worked for Base Design New York, producing a wide range of branding projects including the repositioning of PUMA's Black Station division.
In 2006, she joined the design team at 2x4 in Manhattan. At 2x4, her recent projects include the exhibition catalog for Zaha Hadid at the Guggenheim Museum in New York; a mega-book on urbanism in Lagos, Nigeria for Rem Koolhaas / Harvard Project on the City; identity for RE X (formerly OMA NY) and other publications and branding programs.
She is one of the recipients of the 2004 Young Guns from the Art Directors Club in New York and currently a judge for its 2006 Young Guns competition. Other awards include the Type Director's Club in New York, D&AD, and Graphis.
Her personal work has been published in several publications including Metropolis Magazine, Young Guns 2004, Art & Design Magazine in China, and Rosebud Magazine.
Kashiwa Sato (Japan)
- Sato was born in Tokyo in 1965. In 1989, he graduated in graphic design from Tama Art University and joined Japan's second biggest advertising agency Hakuhodo Inc. in the same year. Then in 2000, he established 'SAMURAI' creative studio.
'SAMURAI' performs all aspects of creative and art direction covering a broad array of product development, product design, package design, space design, advertising campaigns and brand identity development for many clients. Clients include a fashion brands (UNIQLO, ISSEY MIYAKE), cosmetic companies, a brewery, a baseball team, a football team, a university a kindergarten and The National Art Centre Tokyo. He has been offered new possibilities in art direction through his simple but innovative and powerful creations. Awards include the Tokyo ADC Grand Prix, Tokyo TDC Gold Prize.
Exhibitions held include 'The Power Of Art Direction' (2002), 'TOKYO 02 - 03
' (2002) and 'KASHIWA SATO BEYOND' (2004).

Publications include 'KASHIWA SATO ' (Ginza Graphic Gallery), 'KASHIWA SATO BEYOND' (SENDEN KAIGI) and 'The Works and Surroundings of Kashiwa Sato' (Rikuyosha CO., Ltd.).



Submission dealine

: 2 June 2007


---
For further information please contact:
E:
info@hongkongda.com
W:
www.hongkongda.com/awards07