Deadline Extended: Iridescent call for papers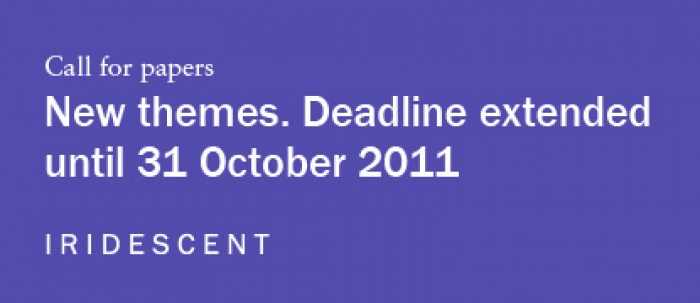 29.06.2011 News
Montreal (Canada) - Iridescent: Icograda Journal of Design Research has extended the Call for Papers deadline for its new themes. Iridescent will continue to accept papers until 31 October 2011.
Guest editors Teal Triggs and Alice Twemlow each nominated two new themes for paper submissions:
Communication Design and Public Spaces
Facing the Future: Postgraduate Research in Communication Design
New Approaches to Writing about Graphic Design
Understanding How Graphic Design is Animated through Use
Teal Triggs is Professor of Graphic Design at the London College of Communication, University of the Arts London and Alice Twemlow is Co-founder and Chair of the Design Criticism program at the School of Visual Arts in New York
To read the full theme descriptions visit the Iridescent website.
Review process
Guest editors Triggs and Twemlow will review all papers submitted for consideration under their themes. At least three members of the Iridescent Peer Review Panel will evaluate papers that pass this first stage of review.
All selected papers will be published online on the Iridescent website and may be selected for publication in Iridescent's second print edition in 2013 that will feature highlights from 2011-2013.
To read more about Iridescent's submission criteria, to download the paper template or to submit a paper visit: iridescent.icograda.org
---
For more information, please contact:
Diala Lada
Project Manager
Icograda Secretariat
E: dlada@icograda.org
About Iridescent
Iridescent: Icograda Journal of Design Research is an online journal established to advance Icograda's strategic aim to support the development of design education (theory, practice, and research). This peer-reviewed publication invites researchers and scholars worldwide to submit innovative design research in any of the six official language of the United Nations.
iridescent.icograda.org