DESIGN 21 SHOWCASES HUMAN RIGHTS POSTERS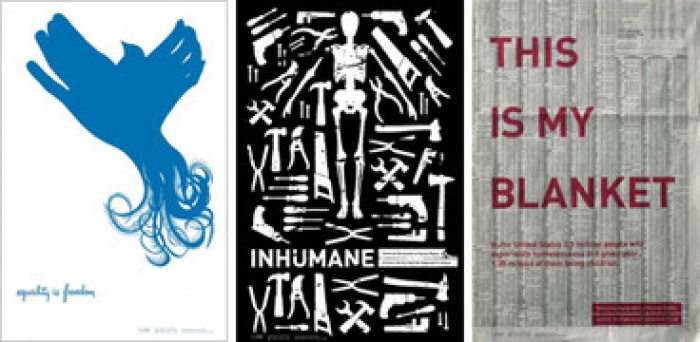 10.08.2008 News
New York (United States)
- An online presentation of student work-in-progress has been taking place on DESIGN 21. The project is a collaboration between the Illustration department and the Designmatters program at the Art Center College of Design in Pasadena, California. Students are designing posters to commemorate the 60th Anniversary of the International Human Rights Declaration. Last month, the class posted up their mid-term work on
DESIGN 21
.
To provide an outside and informed perspective on the topic and the designs, DESIGN 21 recruited Advisory Board member Jacques Lange to review the poster work at this mid phase and give objective feedback to the students. The Icograda Past-President and South African-based Lange was design consultant to the Nelson Mandela Foundation, the Center of Human Rights and the Center for the Study of AIDS both at the University of Pretoria, as well as the United Nations Development Programme.
Lange notes: "Human rights is a very complex issue and it needs to be considered with an objective yet sensitive understanding of unique social, political and economic differences and sensitivities to vernacular constructs in different parts of the world."
The final 25 pieces have been posted to the
Human Rights Poster group blog
on the DESIGN 21 website, as well as the earlier work and Lange's insightful comments. The posters will be printed for a public education exhibition at UNESCO in Paris during this Fall's NGO conference on human rights, and for a later show put on by the City of Pasadena.
---
For more information, please visit:
www.design21sdn.com