Emzin presents Andrey Logvin graphic design exhibition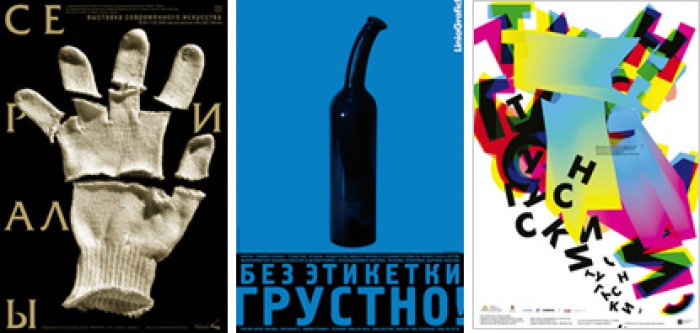 16.03.2010 News
Ljubljana (Slovenia)
- From 25 March - 6 May 2010, , the Institute of Creative Production, presents an exhibition of graphic design work by Andrey Logvin.
Andrey Logvin was born in Ipatovo, Russia, in 1964. In 1987 he graduated from the Moscow Art School, and entered the Graphic Design Studio of the Russian Artists' Union. In 1989 he became the art-director of IMA-Press publishing house. He has worked freelance since 1992, when he established a virtual design group LOGVINDESIGN. He has been a member of Russian Academy of Graphic Design since 1999.
Logvin has won many awards at international poster and design competitions, including Grand-Prix Golden Bee at the 1st International Poster Biennial in Moscow, 1992; Critics award at the 16th International Biennial of design in Brno, 1994; Grand-Prix at the 5th International Moscow Festival of advertising, 1996; Gold Medal at the 15th International Warsaw Poster Biennial, 1996; Grand-Prix at the 17th Poster Festival in Chaumont, France, 2006; Silver Medal at the 21st International Warsaw Poster Biennial, 2007.
In 2001 he was awarded The State Prize of Russia in Art. His work is found in various collections: Lenin State Library, Moscow, Russia; Tretjakov State Gallery, Moscow, Russia; Russian State Museum, St.-Petersburg, Russia; Wilanov Poster Museum, Warsaw, Poland; Museum of Modern Art, Toyama, Japan; New Museum of Contemporary Art in Munich, Germany; Lahti Poster Museum, Finland; Moravska Gallery, Brno, Czech Republic. His work is also featured in a number of publications.
Event details
The Andrey Logvin graphic design exhibition has been organised by IDMN participant EMZIN, Institute of Creative Production. Taking place in NLB Gallery Avla in Ljubljana, the exhibition includes 27 posters designed between 1994 and 2008.
The opening will take place on Thursday, 25 March 2010, at 20:00 and will be on display between 8 am and 6 pm every working day until 6 May 2010.
Location
: NLB Gallery Avla, Trg republike 2, Ljubljana, Slovenia
Special thanks for the realisation of the exhibition go to the Ministry of Culture of the Republic of Slovenia and the City of Ljubljana, Department of Culture.
---
For more information, contact:
Emzin, Institute of Creative Production
Metelkova 6
1000 Ljubljana
Slovenia
E:
emzin@guest.arnes.si
Contact person:
Jasna Rackov
T: +3861 430 35 44 / +386 31 685 067