FABRICA ANNOUNCES BRUCE STERLING WORKSHOP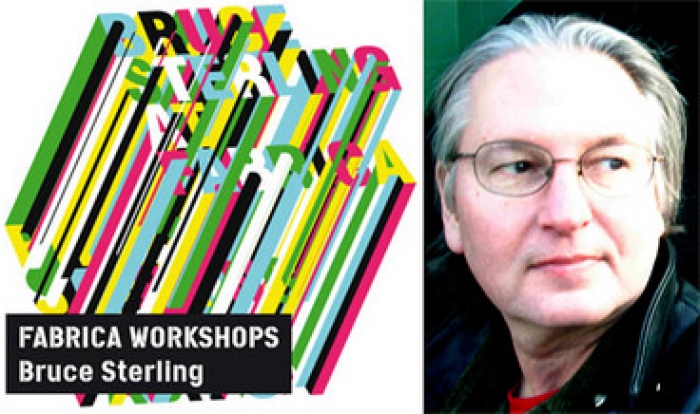 16.11.2008 News
Treviso (Italy)
- Fabrica, the Benetton communication research center, continues its international workshop and lecture program. Bruce Sterling, writer and futurologist, will be at the institute from 25-28 November 2008 to lead an intensive trans-disciplinary workshop. In addition, Sterling will give a public lecture on 25 November illustrating his philosophy and recent projects.
Environmental, Social, Relational
The title of this new workshop and lecture program is rooted in Fabrica's heritage of cross-cultural creativity for social concern. Its precise definition however emerges directly from a recent debate between Fabrica's researchers that had the specific objective to identify common interest platforms for future studies.
Environmental, social and relational themes are central to human ecology, a transdisciplinary field using holistic approaches in the search for harmony between people and their natural and created environments but mainly between people and their societies.
Along these lines Fabrica wants to investigate, experiment, catalyze, document and disseminate how contemporary communication, design and artistic expression can contribute to helping people solve problems and enhance human potential, within near and far environments.
The workshop series will bring to Fabrica international creatives from all fields of communication, design and technology that have in common the desire to apply innovation to social improvement.
Bruce Sterling
Generative Art and Design: Critical Assessments
Workshop
: 25-28 November, 2008 (by application)
Lecure
: 25 November, 6:00 pm (open to all)
Bruce Sterling, author, journalist, editor, and critic, was born in 1954.
Best known for his eight science fiction novels, he also writes short stories, book reviews, design criticism, opinion columns, and introductions for books ranging from Ernst Juenger to Jules Verne.
His nonfiction works include The Hacker Crackdown: Law and Disorder on The Electronic Frontier (1992), Tomorrow Now: Envisioning The Next Fifty Years (2003) and Shaping Things (2005).
He is a contributing editor of Wired magazine and a columnist for Make magazine.
He also writes a weblog. During 2005, he was the "Visionary in Residence" at Art Center College of Design in Pasadena. In 2008 he was the Guest Curator for the Share Festival of Digital Art and Culture in Torino, Italy.
He has appeared in ABC's Nightline, BBC's The Late Show, CBC's Morningside, on MTV and TechTV, and in Time, Newsweek, The Wall Street Journal, the New York Times, Fortune, Nature, I.D., Metropolis, Technology Review, Der Spiegel, La Repubblica, and many other venues.
Bruce Sterling is considered one of today's most prominent design futurologists.
blog.wired.com/sterling
www.fabrica.it/workshops/bruce_sterling.html
Download (PDF - 496KB).
---
For more information, please contact:
Fabrica, Via Ferrarezza
31020 Catena di Villorba, Treviso
Italy
T: +39 0422 516309
E:
fabrica@fabrica.it
W:
www.fabrica.it/workshops