FAREWELL TO A GREAT MASTER: MORTEZA MOMAYEZ (1936-2005)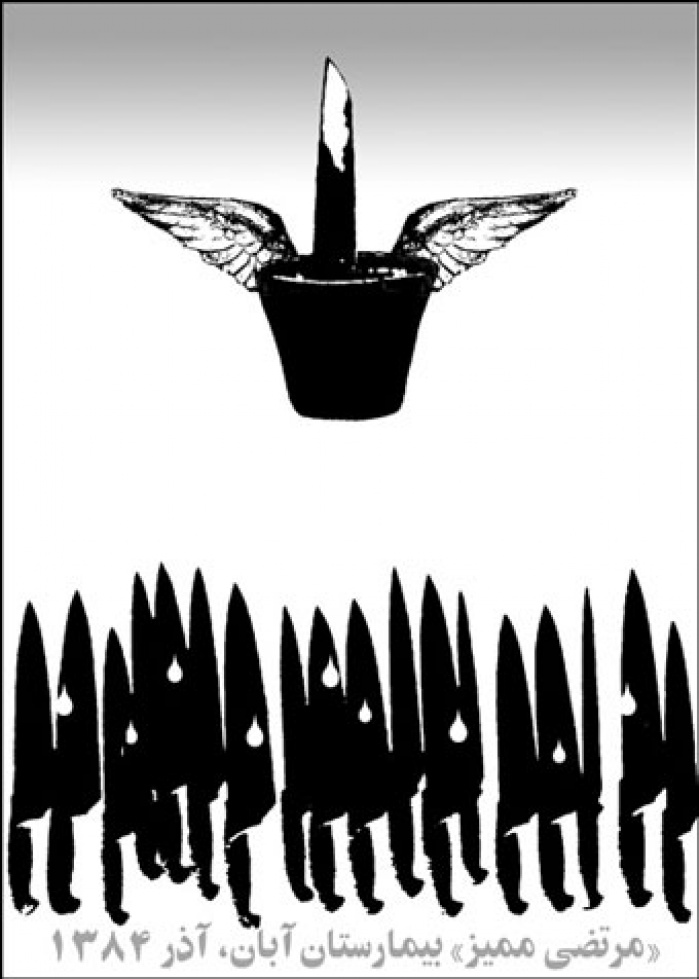 05.12.2005 News
Tehran (Iran)
- The 'Father of Iranian Graphic Design', Morteza Momayez died on Friday, 25 November 2005 in Tehran's Aban Hospital, leaving Iran's art and cultural community to mourn at their great loss. He had been battling prostrate cancer over the past few years. Considered by many to have been the major force behind the development of Iranian contemporary graphic design because of his dedication to the management and promotion of almost all categories of Iranian contemporary visual arts, Morteza Momayez's influence has been monumental.
Having graduated in painting from The Faculty of Fine Arts of the University of Tehran, he later introduced graphic design into this very faculty after beginning to teach there in 1968. As one of the founders of the Iranian Graphic Design Society (IGDS), a member of the Alliance Graphique Internationale (AGI), President of the Tehran International Poster Biennial, Editor-in-Chief of the Iranian graphic design magazine, Neshan, and an active participant in numerous other cultural institutions, exhibitions and graphic design publications, he was instrumental in building fruitful relationships between the Iranian graphic design community and other design communities around the world.
Although this most eminent artistic and cultural figure in Iran will be forever missed in the field of Iranian graphic design, his legacy of inclusiveness, effectiveness, perseverance, and passion will certainly be transmitted by the numerous students and colleagues he has inspired into international recognition and involvement.
Once when asked about his approach to teaching he said: "For one thing, I don t teach graphic design; I teach people to find their own strengths. Second, I don t hold back anything for myself. I share everything I know. I get back much more than I receive."
Morteza Momayez was honoured by Icograda with a Lifetime Achievement Award in April 2004 after a major retrospective of his work was held at the Tehran Museum of Contemporary Art in January and February of 2004 as part of an exhibition entitled 'Graphic Designers from Three Continents'. Since this retrospective, which featured his posters, logos, paintings, photographs, installations and book and magazine covers, a bust of Momayez was installed at the museum to underline his crucial role in the history of Iranian graphic design.
He was buried at his family cemetery in Baghbankola, near Karaj, after a funeral ceremony at the Iranian Artists Forum in Tehran.
---
For further information please contact:
Iranian Graphic Designers Society (IGDS)
E:
info@graphiciran.com