Godfrey (Geoff) Fawcett in Black & White at 2011 State of Design Festival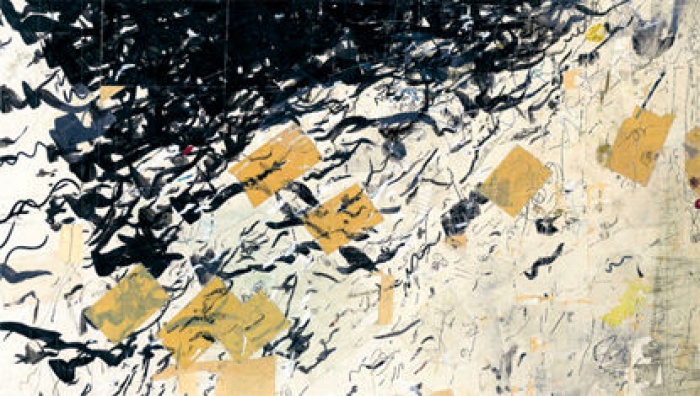 19.07.2011 News
Melbourne (Australia)
- David Lancashire presents a retrospective of collected original works by the late lettering artist Godfrey (Geoff) Fawcett at this year's
State of Design Festival
. Offering a rare insight into the lost craft of hand lettering, this show features a selection of the words, graphics and studio materials of one of the last commercial lettering artists who worked entirely by hand.
"Geoff Fawcett worked with me at my studio for almost 20 years. He had amazing skills for artwork. I remember introducing him as a Finished Artist, to which he said 'I'm not a Finished Artist, I'm a Lettering Artist', and so he was – a great one at that.
All his work was carried out by hand and with bromides, then stuck down on smooth-finished artboard with cow gum. Brush ruling was used for his hand lettering. He also mesmerised students and new designers in the studio with his method of sharpening a stick, dipping it in ink and ruling with it on tracing – he said it gave a better line than ruling pens. This exhibition showcases a lot of work that was carried out in collaboration with myself and other pieces that I saved. Before the days of pixels and computers, it shows the skill of this very special lettering artist, whose company was always interesting and full of laughs."
The exhibition runs from 28 July-20 Aug at the
Lamington Drive Gallery.
An opening is schedule from 18:00-21:00 on 28 July.
About the State of Design
Established in 2004, the State of Design Festival is the largest and most innovative design event in Australia and the heart of design thinking and design activity.
State of Design Festival increases the awareness of the value of design and showcases how design generates innovation, promotes sustainability and adds value to business and society. Festival programs demonstrate and broadly communicate how the Victorian and Australian design profession can improve living conditions, create sustainable development opportunities, and generate new and innovative products and services; in turn, providing economic benefit for the state of Victoria.
By communicating to Victorian, Australian and international audiences, the Festival promotes a deeper understanding of design capability and value. The Festival is accessed through a highly focused program of workshops, forums, exhibitions and events. A chief concern of the festival is to assist designers in making their "offer" more appealing to businesses and to encourage those businesses engaged with design to communicate the benefits to their peers who are not engaged.
The 2011 edition of State of Design runs from 20-31 July.
---
For more information:
www.stateofdesign.com.au