GOLDEN BEE 6 AWARD-WINNERS EXHIBITED AT MOSCOW INTERNATIONAL BIENNIAL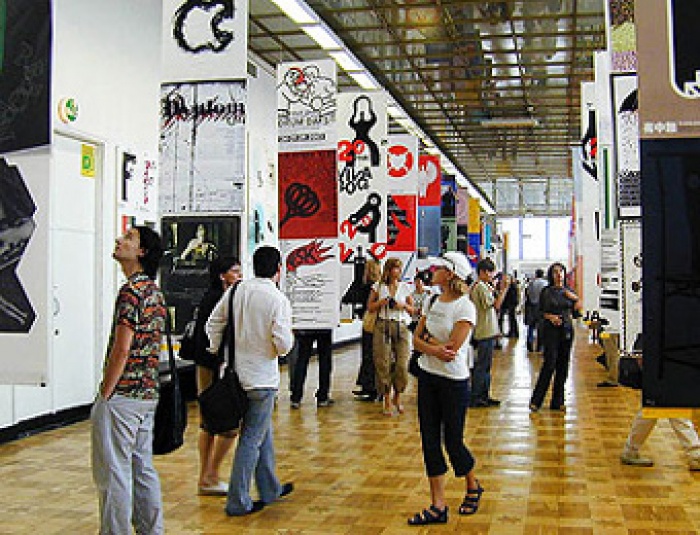 16.09.2004 News
Moscow (Russia)
- Golden Bee 6* awarded competition winners earlier this month during the Moscow International Biennial of Graphic Design at Central Artists Hall. Designers from Russia and around the world submitted thousands of entries to the Golden Bee competition under the categories: Posters, Typography, Student Design, 'Antiterror'. Award-winning entries and other selected works were showcased at the Biennial exhibition from 1 to 10 September 2004.
Golden Bee 6, Moscow International Biennial of Graphic Design, received 4136 works by 825 designers from 53 countries in total. The Pre-Selection Committee allowed 1200 works by 552 designers from 42 countries worldwide to participate in the competition. An International Jury comprising Werner Jeker (Switzerland), Jury Chairman, Oleg Veklenko (Ukraine), Eugeny Dobrovinsky (Russia), Phil Risbeck (USA), Daniela Haufe and Detlef Fiedler (Cyan, Germany) presented prizes to the Moscow Laureates at the award ceremony on 9 September 2004. The award winners of the Golden Bee 6 competition are as follows:
Golden Bee Grand Prix
Tartakover David (Israel)
Posters
(775 posters were selected from 2204 entries)
Apeloig Philippe (France)
Gulitov Yuri (Russia)
Zask Catherine (France)
Le Quernec Alain (France)
Loesch Uwe (Germany)
Logvin Andrey (Russia)
Matsunaga Shin (Japan)
Miller Abbot (USA)
Paris-Clavel Gerard (France)
Sonnoli Leonardo (Italy)
Surkov Yuri (Russia)
Troxler Niklaus (Switzerland)
Hong Sung-il (South Korea)
Chen Jun-Lian (China)
Scher Paula (USA)
Schraivogel Ralph (Switzerland)
Typography
(223 from 866)
Hasting Julia, Phaidon Press (USA) - First Award
Stefan Sagmeister (USA)
Kavko Dmitry, Ostengruppe (Russia)
Korneev Eugeny (Russia)
Chaika Vladimir (Russia)
Scher Paula (USA)
Shmid Helmut (Germany)
Student Design
(137 from 772)
No awards
Antiterror (65 from 294)
Gritsenko Olga (Russia)
Khamdohova Irina (Russia)
The Golden Bee Biennial promotes the achievements of designers from Russia and around the world, and aims to elevate the status of graphic design on both a cultural and professional level. In addition to the awards ceremony and exhibition, the Golden Bee 6 biennial programme consisted of student workshops, lectures, a 'Design and Polygraphy' exhibition and other design events in Moscow museums and galleries. This year's Golden Bee was organised by 'Expo-Park Exhibition projects' Company, in collaboration with the Academy of Graphic Design (AGD), Golden Bee Association and numerous public and private cultural institutions in Russia and Europe.
Golden Bee website:
www.goldenbee.design.ru/eng/news
---
For further information please contact:
Julia Klintsova
Russia 119049 Moscow,
Krymskiy Val 10,
Central Artists Hall, office 165
T: + 7 (095) 238 4500 / + 7 (095) 238 4516
E:
klintsova@expopark.ru
* This event is endorsed by Icograda. Icograda endorsement is a guarantee that the design event complies with approved international guidelines.