HKDC presents INDEX:'s Kigge Hvid with 2009 Design Leadership Award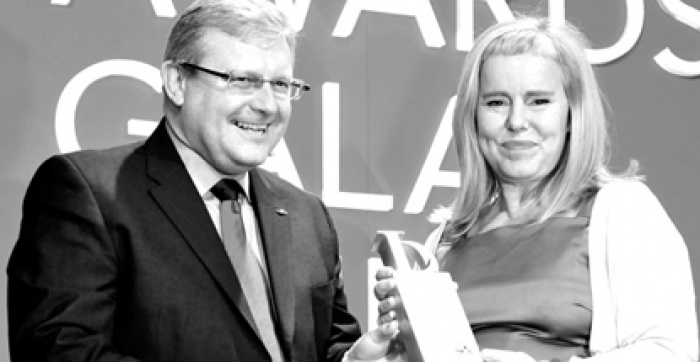 06.12.2009 News
Hong Kong (China)
- At the awards gala on 4 December 2009, Kigge Hvid ended a year of pivotal growth for INDEX: by becoming the fifth recipient of the
Hong Kong Design Centre
's Design Leadership Award.
HKDC's Design Leadership Award acknowledges the achievements of strong corporate leaders who have developed and applied design to achieve exceptional business success. Launched in 2004, the Design Leadership Award aims to:
Acknowledge the excellent achievements and contributions made by an outstanding world business leader;
Establish role models within the international business community; and
Inspire the public to shape a better future for society.
Several firsts are set in Kigge's acceptance of the signal award during Business of Design Week 2009 events in China:
INDEX:, the Danish-based global frontrunner in applying design thinking to major world challenges, is the first non-profit organisation to be honored by the Judging Panel and Board of Directors of the Hong Kong Design Centre.
Kigge is the first woman recipient of the award, which singles out world business leaders "who have successfully combined strong corporate leadership and design excellence into a single concept."
Kigge is the first European to win the Design Leadership Award, which is organised by the Commerce and Economic Development Bureau of the Hong Kong SAR Government along with the Design Centre.
In accepting the award Friday night in Hong Kong, Kigge said, "I am very proud and honored to receive this prestigious award on behalf of INDEX:. Over the past seven years, the relatively small and very flexible INDEX: team has worked hard to put an international focus on the necessity to unfold the potential of design to improve people's lives substantially - reflecting Denmark's brand as the natural cradle of such a responsible approach."
In naming Kigge, Hong Kong Design Center Board Chairman Victor Lo said, "I cannot think of a better role model among international business leaders who understand design and support design so strongly and with such rigor as yourself."
The prestigious award was inaugurated in 2004 and is not necessarily given each year. It is conferred only when the Judging Panel - a blue-ribbon group of design professionals, design promoters and design academics from many parts of the world - determines that it has a candidate worthy of nomination and endorsement.
Kigge now enters a group of winners of the Design Leadership Award including:
Yang Yuan-qing, Chairman of the Lenovo Group, China's best-selling PC maker, a Fortune 500 company and pioneer in the "home PC" concept;
Tadamitsu Matsui, President and CEO of Ryokin Keikaku, parent company of MUJI, the famous Japanese maker of elegantly simple household goods;
James P. Hackett, President and CEO of Steelcase, the purveyor of office furniture, architectural and technological products; and
Kun-Hee Lee, Chairman and CEO of Samsung, one of the several best-recognised and widely sold technology names in the world and a leader in the development of design in Korea.
Hong Kong's singular distinction comes to Kigge and INDEX: following the organisation's major success with its third round in conferring the world's richest prize (500,000 euros) in design. The INDEX:Award is the key instrument by which INDEX: encourages, celebrates and drives implementation of Design to Improve Life among a fast-growing network of designers, business and political leaders, academic thinkers and design students in 78 countries.
Drawn from an initial nomination pool of more than 720 designs from 54 countries, INDEX:Award 2009 recognises signal innovation - both in products and systems designs - that address pressing social issues in the five INDEX: categories of Body, Home, Work, Play and Community.
Funded by government bodies, foundations and corporations, INDEX: ennobles the fame of Danish design and its humanist principles, making Copenhagen the world hub for the concept of Design to Improve Life. INDEX: not only gives the biennial INDEX:Award, but also operates year-round international programs to bring design process into education, business and political settings, benefitting people in both the developed and developing worlds.
The INDEX:Award Exhibition, inaugurated in August at Copenhagen's Kongens Nytorv, or King's New Square, now is on view in INDEX:Partner City Singapore after a blockbuster run seen by 2.9 million people in Seoul. The exhibition next returns to Europe for viewings in several key Danish cities - with its educational school service program -- before returning to international tour. The exhibition catalogue is online here.
In a major new initiative, INDEX: is in tests with an unprecedented design curriculum in three major high-school settings in Denmark, taking the principles of design thinking to students who learn to apply them to problem-solving in many aspects of life.
INDEX:'s new Horizons Initiative program is being developed for 2010 to bring design process to bear on world challenges in association with major global media partners.
---
For more information, please contact:
Hong Kong Design Centre
1/F InnoCentre, 72 Tat Chee Avenue
Kowloon Tong, Hong Kong
T: +852 2522 8688
F: +852 2892 2621
E:
info@hkdesigncentre.org
W:
www.hkdesigncentre.org
INDEX:Award
T: +45 33 89 20 05
E:
info@indexaward.dk
W:
www.indexaward.dk
About Business of Design Week
One of the most significant annual events on the international design calendar, Business of Design Week (BODW) is Asia's leading conference dedicated to design, innovation and brands. This pre-eminent conference and forum brings the best of the global design world to Hong Kong. Organised by the Hong Kong Design Centre since 2002, BODW has aimed to encourage businesses to unleash the power of design by focusing on the vital relationship and complex interplay between design and business.
www.bodw.com.hk
About the Hong Kong Design Centre
The Hong Kong Design Centre is a non-profit organisation dedicated to helping local designers and businesses realise their full potential. The Hong Kong Federation of Design Associations established the Hong Kong Design Centre in 2001. The Hong Kong Design Centre was and remains to be the only organisation in Hong Kong dedicated to encouraging, inspiring, supporting, and facilitating the best use of design as an instrument for the sustainable competitiveness, economic prosperity and overall well-being of society.
www.hkdesigncentre.org