Hong Kong Design Centre showcases creative leadership at Expo 2010 Shanghai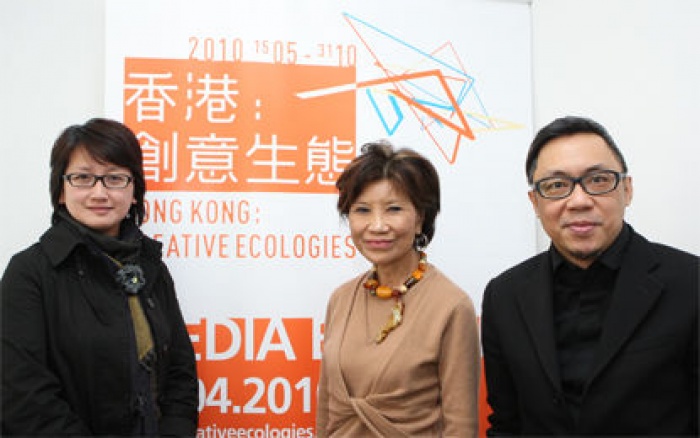 10.05.2010 News
Hong Kong (Hong Kong SAR)
– The Hong Kong Design Centre (HKDC) will run a six-month multi-faceted programme entitled "Hong Kong: Creative Ecologies – Business, Living, Creativity" to promote the energy, style, innovation and branding power of Hong Kong designers to the mainland China and global audiences during Expo 2010 Shanghai. Launching this month, the programme will run through the end of October. It will be staged at a new creative cluster The Bridge 8, Phase 3 at 550 Jumen Road, Luwan District, in Shanghai. After the Expo period, the exhibition will move to the Hong Kong in early 2011.
The exhibition places Hong Kong design and creativity firmly in the context of Hong Kong's fast-evolving and cosmopolitan environment. It reflects the eclectic ideas, high standards of governance, and links to the Pan Pearl River Delta and the world at large that make the city a hotbed of creativity, a fertile fusion of modern design and cultural heritage, and a magnet for overseas talent.
The exhibition features the iconic works of hallmark names such as Eric Chan, Kan Tai Keung, Michael Lau, Tommy Li and Vivienne Tam, and cover genres from fashion and luxury goods to product and spatial design.
HKDC Chairman Victor Lo said, "Our partnership with the Hong Kong SAR Government in promoting design during the Shanghai World Expo period leverages this high-profile event and maximises the exposure of Hong Kong designers and design businesses. Audiences from around the world will be able to see the range and quality of our design industries at this global event."
Above: artist's rendering. Photo courtesy of HKDC.
The Acting Head of Create Hong Kong, a Hong Kong SAR Government department funding the programme, Mr Alan Siu, welcomes HKDC's initiative and encourages all Hong Kong visitors to Shanghai during the Expo period to visit the Jumen Road exhibition. "This is a great opportunity to showcase the design excellence and unswerving commitment to quality of our creative industries. We are proud that they are putting their talent and innovation on display during the staging of this mega global event in Shanghai," he said.
Exhibition curator and renowned designer Kai-Yin Lo said the exhibition would illustrate Hong Kong's creative ecologies, that is, the historical, geographic, social, cultural and economic assets that have powered the city's path from a manufacturing power to a services hub and to a creative city in progress.
Other key contributors to the exhibition include visual director Stanley Wong; spatial designer Joey Ho; new media artist Henry Chu; and lighting expert Teddy Lo. Their aim is to generate an innovative and high-impact, interactive experience for visitors.
To supplement and complement the exhibition, the HKDC will organise a series of events including two conferences on creative industries, shows featuring the work of young designers, and workshops featuring past winners of the Hong Kong Young Design Talent Awards. There will also be a six-day tour to Shanghai for design students and young designers.
The exhibition, conferences and workshops will appeal to all those attending the Shanghai World Expo, as well as urban planners, designers, and design experts and professionals in the Greater China region.
Date: 15 May – 31 October, 2010
Venue: The Bridge 8, Phase 3, 550 Jumen Road, Luwen District, Shanghai
Admission: Free
---
For further enquiries, please contact:
Vickie Ho / Florence Li
Ruder Finn Asia
T: +852 2201 6438 / 2201 6478
F: +852 2521 7088
E:
hov@ruderfinnasia.com
/
lif@ruderfinnasia.com
Elaine Chow / Jaime Chan
Hong Kong Design Centre
T: +852 3586 3015 / 3586 3024
F: +852 2892 2621
E:
elaine.chow@hkdesigncentre.org
/
jaime.chan@hkdesigncentre.org
About HKDC
HKDC is a non-profit organisation established in 2001 by the Hong Kong Federation of Design Associations. The Federation's Founding Members are the Hong Kong Designers Association, the Chartered Society of Designers (Hong Kong), Interior Design Association (Hong Kong) and the Hong Kong Fashion Designers Association. HKDC works with the HKSAR Government, business partners and associations to promote design as a strategic, value-adding component in business.
www.hkdesigncentre.org