Icograda Board Meets in Montreal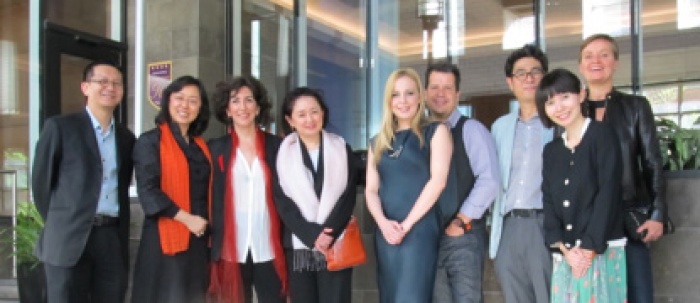 29.05.2012 News
Montréal (Canada) - Icograda Board Members from 9 countries gathered on 20-21 May 2012 in Montreal, Canada to share ideas and plan for Icograda's ongoing strategic development.
Vision of the New Board
A central topic of the board meeting was the future implementation of a new communication platform to make better use of online social media networks and increase Members' participation and interaction.
President Leimei Julia Chiu expressed her desire for Icograda to focus on strategic partnerships with governments, enterprises, and affiliated NGOs, in support of her belief that creative industries should serve as a catalyst for economic growth and social innovation. In alignment with this vision, Board Members will develop an integrated strategy to take the organisation to new levels and to answer 21st-century needs in the field of communication design and beyond.
New Provisional Members
Another item on the agenda was the granting of provisional professional membership to The Association of Designers of Russia (ADR), as well as provisional educational membership to the Manchester School of Art (Manchester, UK), and The Design School Southern Africa (DSSA, Johannesburg, South Africa).
New Managing Director
On the evening of 20 May a farewell dinner was held in honour of Brenda Sanderson, who is leaving Icograda after 7 years as Managing Director. The dinner was attended by Secretariat Staff and Board Members, who presented Brenda with an Icograda Certificate of Appreciation and awarded her with Lifetime Friend status in thanks for her tireless dedication to Icograda and her support of the global design community.
The Board ratified the selection made by the Interview Committee of the successful candidate for the role of Icograda Managing Director, who was introduced to the Board via a Skype conference. It is anticipated that the new MD will start in mid-July, at which time a further announcement regarding this exciting development will be released.
Nomination for President-elect
The Board accepted the resignation of President Elect Omar Vulpinari, who has had to step down from the Board after 6 years of service due to unexpected personal and family-related reasons. The Board sends its sincere thanks to Omar and wishes him all the best for the path ahead. As outlined in Icograda's Governing Policies and Bylaws, this vacated role will be filled through the regular process re: nominations prior to and election at Icograda General Assembly 25 in Istanbul, Turkey in November 2013.
Celebrate Icograda 50
Icograda marks its 50 anniversary in 2013. This special occasion will be celebrated throughout 2013 and culminate with the IDA Congress and General Assembly in Istanbul. A team at Fabrica under the direction of Omar Vulpinari developed this identity for Icograda's 50 anniversary inspired by old world maps structured on dual globes. The two-sphere map reflects the mission of Icograda to foster respect and exchange between all design cultures and societies globally.
In the coming months, Icograda will officially launch this logo, and has planned a special version of this logo for members' use.
---
For more information, please contact:
Gabriel Gosselin
Communications Manager
T +1 514 448 4949 x 234
E fggosselin@icograda.org