ICOGRADA COLLABORATES WITH OMNIUM RESEARCH GROUP ON CREATIVE WAVES 2007: VISUALISING ISSUES IN PHARMACY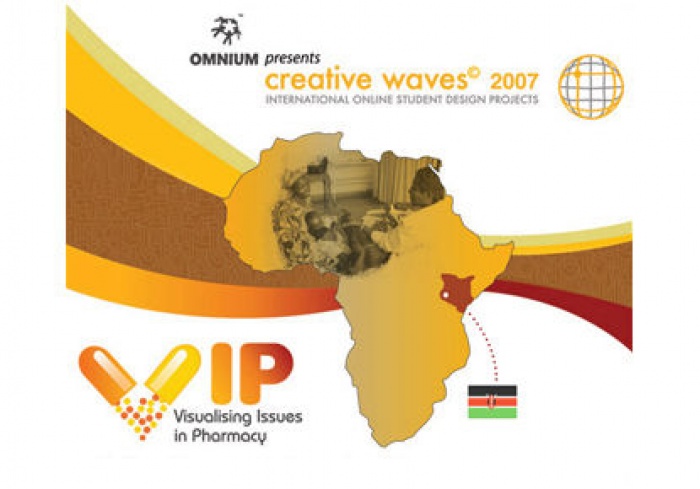 27.02.2007 News
Montreal (Canada)
- Icograda is very pleased to announce that it will be collaborating with the Omnium Research Group (Australia) on a new international education initiative: 'Visualising Issues in Pharmacy' (VIP).
"We are very pleased to be a part of this latest project with Omnium," says Russell Kennedy, Icograda's Vice President in charge of the Icograda Education Network (IEN). "Not only will it create an innovative design education environment, but it will also demonstrate how design can be used as a medium to effect progressive change on global issues such as health. We hope as many of the 75 schools in 29 countries that make up the IEN will get involved."
As Omnium's Founder and Director, Rick Bennett explains "VIP is the first international online education initiative to link students and teachers from pharmacy and communication design departments from universities and colleges around the world. We are very excited to build upon the momentum of the last Creative Waves project in 2005 and produce a project that can hopefully have some direct social impact on areas very much in need of help."
The VIP project will challenge a diverse body of stakeholders to address critical health issues relevant to Kenya. These issues include adherence to medicines, chronic disease, malaria, tuberculosis, immunisation and sexually transmitted diseases.
"For Icograda, the project has the added benefit of creating new relationships with other international organisations, such as the International Pharmaceutical Federation, says Brenda Sanderson, Icograda's Managing Director. "Engaging with other international bodies to demonstrate the value of design as a strategic development tool is a priority for our members."
The partnership between Icograda and Omnium builds on a successful collaboration that began in 2005, when the initial Creative Waves project linked over one hundred photomedia and design students and their teachers from 35 colleges in 22 countries around the world.
How will the VIP Project take place?
More than 50 pharmacy students and 50 design students will join forces for three months, with project convenors, teachers and special guests worldwide, to work collaboratively within Omnium's fully online learning environment. Pharmacy students will participate in online discussions and forums to produce in-depth research papers on the specific health related issues. On completion of their research reports, the pharmacy students will then brief the communication design students to create visual health awareness campaigns for use in the Nyanza province of Kenya.
Throughout the project students will form valuable connections with colleagues in distant parts of the world - receiving regular feedback and support from peers, teachers and established professionals, using the internet as their sole communication tool.
Students, educators and professionals wishing to be involved in VIP should register their interest on the website. Go to
creativewaves.omnium.net.au/vip
Applications for design students close mid-April, 2007.
---

For further information please contact:

Brenda Sanderson
Managing Director
E:bsanderson@icograda.org


About VIP
VIP is produced, directed and funded by The Omnium Research Group at the College of Fine Arts, University of New South Wales (Australia) and written in collaboration with the School of Pharmacy, University of Auckland (New Zealand).

Endorsed by:
Universitas 21 - The Network for International Higher Education

Currently tabled for collaborative support from:
International Pharmaceutical Federation FIP
International Pharmaceutical Students' Federation - IPSF