ICOGRADA ENDORSES 2009 TAIWAN INTERNATIONAL DESIGN COMPETITION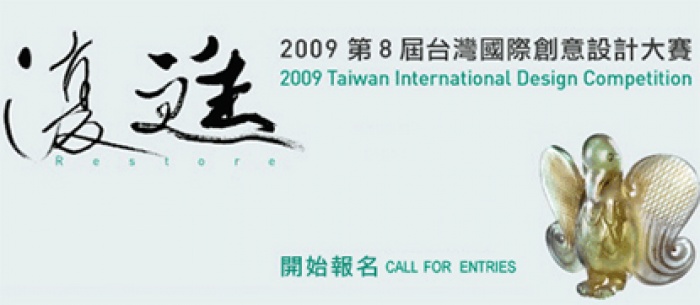 21.04.2009 News
Taipei, Taiwan (Chinese Taipei)
- Icograda is pleased to endorse the (TIDC). In response to contemporary design phenomena as well as other global issues this competition will be operating under the theme of "Restore". Through this theme, TIDC hopes to explore design as a tool to create new opportunities and restore the world back to its prosperous state.
Since its inception in 2002, the TIDC has become one of the most prestigious and authoritative design competitions in Asia. It is not only a futuristic design competition open to creative talents worldwide, but also aimed at encouraging design interactions and international cultural exchanges. In order to further trigger the creativity of young students, the Ministry of Economic Affairs has cooperated with the Ministry of Education i planning an expansion of the competition scope since 2008.
TIDC 2009 consists of two main sections, both operating under the same theme. The 'general' section is open to designers, design educators and design students of all ages. Participants who are interested in submitting their work under the general section of TIDC are required to design pieces that fit within the product design category. The 'student' section is open to design students under the age of 26 who may submit pieces under product design, visual design and/or digital animation.
A team of domestic and international experts in different fields will be invited by the executive team to form the Preliminary Selection and Final Selection committees in order to process the evaluation. The evaluation will first look at the design's creativity and ability to break through existing product design and express the theme's concept and aesthetic perception.
The Preliminary Selection will be made based on the design illustrations provided by the participants, the evaluation committee will select 30 pieces of work to participate in the Final Selection. For the Final Selection, the works' mockups and CD-ROM works will be evaluated by the committee.
Visit the website
http://tidc.boco.com.tw
for more details related to registration, categories, eligibility, submission requirements, fees and more.
---
For more information, please contact:
Taiwan Design Center
3F, Bldg.G, 3-1 Park Street
Nangang Taipei 115
Taiwan
T: +886 2 2655 8199 ext. 163
F: +886 2 2655 8299
E:
tidc2009@gmail.com