Icograda General Assembly 24 elects historic board and adopts new name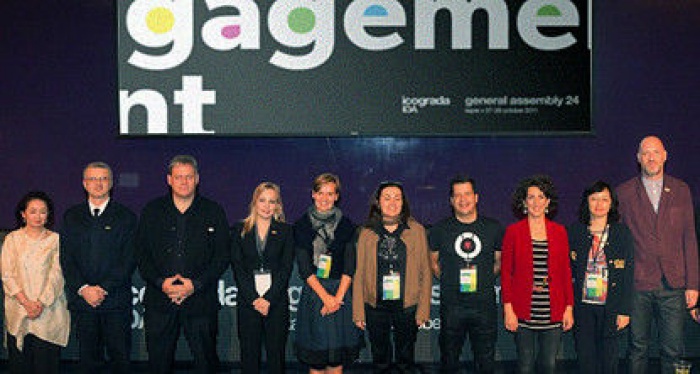 01.11.2011 News
Montreal (Canada)
– Delegates to the Icograda General Assembly 24 elected an historic Executive Board to lead the Council in its 50 anniversary term. Representing more than 200 organisations in 67 countries globally, the 10 person board will be led by Leimei Julia Chiu (Japan), who becomes Icograda's first female President. For the first time in Icograda's almost 50 year history, the board includes a majority of women members.
Leimei Julia Chiu is Executive Director of the and a Professor in the Department of Visual Communication Design at
Musashino Art University
. She was born in Taiwan (Chinese Taipei), raised and educated in the United States and later Japan. She specialises in international policies on creative cities and has worked with governments and academic institutions across Europe, North America and the Pan Pacific Rim to implement design policies and strategic visions for the development of creative industries. Prior to her current position with the Japan Institute of Design Promotion, President Chiu served as the Director of International Relations for the International Design Centre in Nagoya. She has previously held positions on the Icograda Executive Board from 1997-2001.
In her remarks to the General Assembly, President Chiu made note that Icograda's 224 member organisations across 129 cities and 67 countries makes it the largest membership-based international design organisation after the International Union of Architects (UIA). She highlighted Icograda's unique strength as an international organisation being its ability to create and mobilise networks of members, partner organisations, international NGOs and government bodies. "Icograda's role can be to act as a facilitator to serve members and collaborate with non-members. We need to embed real collaboration in our way of working. In the coming term, I envision Icograda furthering its role as ambassador of design in service of humanity and reaching out to industries."
The 2011-2013 Icograda Executive Board includes:
During the two-day meeting in Taipei, Taiwan (Chinese Taipei), the General Assembly ratified several significant decisions for Icograda's future - delegates unanimously adopted a new sustainability framework that is the foundation for an Icograda sustainable certification process under development; amended Icograda's membership categories to include networks of education institutions and professional associations; and approved resolutions to amend Icograda's professional practice guidelines on award competitions which strengthen the Council's opposition to speculative practice. In an earlier announcement, Icograda joined IDA Partners Icsid and IFI to make a statement on professional practice during the opening of the IDA Congress on 24 October 2011.
Aligning its official name with the language adopted by the General Assembly 23 in La Habana (Cuba), the delegates in Taipei ratified Icograda changing the name of the Council from the 'International Council of Graphic Design Associations' to the 'International Council of Communication Design.' Past President Russell Kennedy described the new name as honouring the Council's history by retaining 'Icograda' as its primary identifier, while embracing the emerging fields and expanded media practice of communication design.
The Icograda Executive Board will meet next in Montreal, Canada from 27-29 January 2012, aligned with the board meetings of all three IDA Partners. The first meeting of the 2011-2013 IDA Executive Committee will follow from 30-31 January 2012.
---
For additional information, please contact:
Leimei Julia Chiu
Icograda President 2011-2013
E:
ljchiu@icograda.org
Brenda Sanderson
Managing Director
T: +1 514 448 4949 x 226
E:
bsanderson@icograda.org
Gabriel Gosselin
Communications Manager
T: +1 514 448 4949 x 234
E:
fggosselin@icograda.org
About Icograda
Icograda is the world body for professional communication design. It is a non-profit, non-partisan, member-based network of independent organisations and stakeholders working within the multidisciplinary scope of communication design and expanded media. Founded in 1963, Icograda actively promotes the value of design practice, thinking, education, research and policy, representing more than 200 organisations in 67 countries and regions globally.
As a partner of the International Design Alliance, Icograda's members believe in interdisciplinary collaboration and the effectiveness of a collective voice to represent the design industry. The Council's vision, mission and core values are manifested through initiatives to use design as a medium for progressive change.
Icograda maintains consultative status with UNESCO, UNIDO, WIPO and is in liaison with the ISO.