ICOGRADA HONOURS ROY CLUCAS WITH ACHIEVEMENT AWARD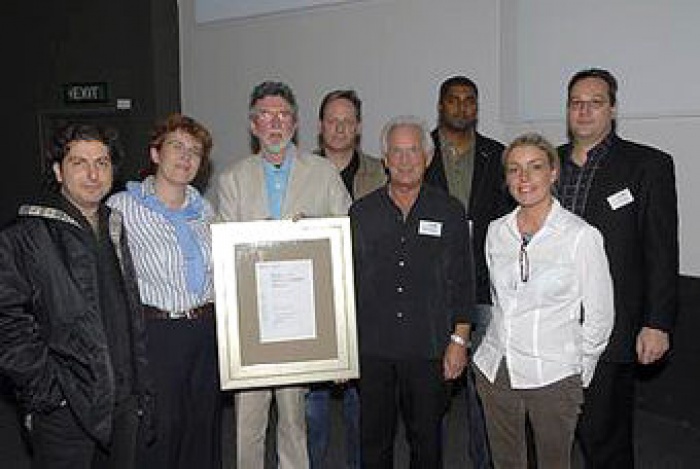 02.10.2006 News
Johannesburg (South Africa)
- On 20 September 2006, Icograda presented Roy Clucas with an Icograda Achievement Award at the first annual think conference held at the University of Johannesburg. Clucas is one of the iconic figures of design in Africa, who has been an active influence for literally generations of professionals engaged in design, very broadly defined.
In his introduction to Clucas, Icograda President Jacques Lange said. "The Icograda Achievement Award honours an outstanding career. On behalf of the local design community, the South African Graphic Design Council (think) put forward this nomination to the Icograda board. Making the decision to bestow this recognition was easy and it seems particularly appropriate to be making this presentation at an event, hosted by an organisation with which the recipient has close ties since its formation and at a time when the Icograda Board is visiting the country. While the award is voted on by the executive Board of Directors, it is a celebration by all of our members in 57 countries."
Roy Clucas has been practicing graphic design in South Africa, New York and Paris for nearly 40 years. His work has represented both small and large companies across a wide spectrum of industries and institutions.
Roy's career began in 1968 at Young Advertising. In 1971 he became a founder member of Grapplegroup, a studio that rose to avant-garde prominence before members of the group relocated abroad after the 1976 political upheavals in South Africa. In New York, where he worked for a year in 1978, his major clients included Diners Club and the Metropolitan Museum, while his interest in music and fashion were expressed in projects that would be considered innovative or radical even today. Roy then moved on to Paris where he worked as a creative director on Chrysler Simca Talbot's pan European marketing design programme. In 1981, Roy formed an independent company (Eclectic Studio Paris), which handled projects for Christian Dior and various other fashion, publishing and advertising houses.
Back in South Africa his clients for brand graphics and design development work included SAB, Nedbank, MNet, PPC Cement, Illovo Sugar, Independent Newspapers and more recently the innovative positioning for Joburg's waste disposal / environmental management utility, which he named PIKITUP.
In 2001 Roy, along with two colleagues, formed RCDP, Roy Clucas Design Process, which is where he now focuses his energy and creativity. Published in journals and books in the USA & Great Britain, he was one of only three South African designers featured in a book entitled
World Graphic Design
by Professor Geoffrey Caban in 2004.
From book and publication design, to design promotion on behalf of NGO's Design South Africa and think, to various judging committees including the Loeries, Spadas, think ahead and Fuji awards, Roy has been a well known figure in the design world for many years, dedicated to raising the profile of design and developing the profession.
Roy also has close ties with Icograda. In 1997 in Punte Del Este, Uruguay, he represented South Africa and co-presented the country's bid at the Icograda General Assembly to host the 2001 World Design Convergence Congress. For the next few year, he worked energetically at promoting the 2001 Congress.
He served a three year term as President of Design South Africa which is now amalgamating with many other design discipline bodies to form the Design Council of South Africa, fulfilling Roy's long held conviction that South Africa would be best served by such collaboration and unification.
Roy continues to remain active in various industry initiatives and is a longstanding promoter of representative design bodies and interests, both locally and internationally.
---
For further information please contact:
Brenda Sanderson
Icograda Secretariat
455 Saint Antoine O, SS10
Montreal, QC
H2Z 1J1
T: +1 514 448 4949, x 226
F: +1 514 448 4948
E: bsanderson@icograda.org