ICOGRADA OFFICIALLY OPENS NEW SECRETARIAT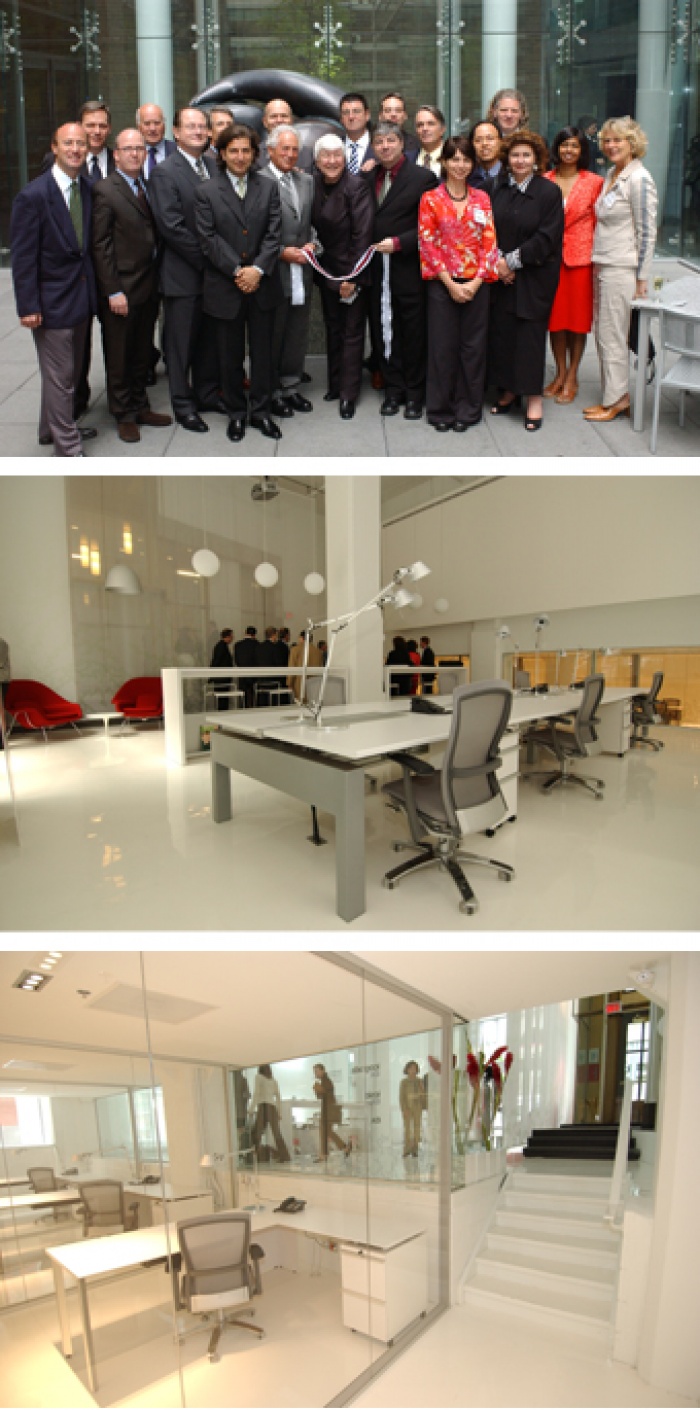 01.06.2005 News
Montreal (Quebec, Canada)
- The 30 May, 2005 brought together the Executive Boards of Icograda and Icsid for an historic occasion - the opening of the new joint Secretariat in Montreal, Canada.
The day began with a morning press conference that included honoured guests Quebec Minister of International Relations and Minister responsible for La Francophonie, Ms. Monique Gagnon-Tremblay; Member of Parliament for Lac Saint-Louis, Mr. Francis Scarpaleggia, speaking on behalf of the Honourable Jacques Saada, Minister of the Economic Development Agency of Canada; and Montreal's mayor, Mr. Gerald Tremblay.
In the evening, more than two hundred representatives of the design, business and international organizations in Montreal gathered at the new office to celebrate with members of Icograda and Icsid.
Several companies contributed to making the Secretariat a unique location. "We have been fortunate to work with exceptionally talented individuals on this team," offered Mervyn Kurlansky, Icograda President. "Their dedication to creating our new space is a great example of the passion for design we knew we'd find on Montreal."
Daoust Lestage Inc. was selected, in association with Triplan Design Inc., to design the new offices at 455 Saint Antoine Ouest. These partners transformed the ground floor of the newly renovated Montreal Herald building into an office space that Icograda and Icsid will be proud to occupy.
"It is always a pleasure to work with such professionals recognized for their contributions to their industries, for their accomplishments and astute vision, and it was indeed an honour for me to present the two designers to the Icsid and Icograda boards," stated Luigi Ferrara, President of Icsid. "From the onset, the synergy between Renee Daoust, Genevieve Grenier and our committee was invaluable to the successful execution of our mandate and it is due to this nurturing relationship that they have delivered an outstanding signature project.
Designer Renee Daoust was recently recognized at the 2005 Institute of Design Montreal Awards in the Interior Design category. Other examples of Daoust Lestage Inc.'s work can be seen at
www.daoustlestage.com
Triplan excels at the collaborative approach that was necessary to meet this project's exceptionally tight timelines. From presentations right down to designing the invitation to the opening celebration, they delivered exceptional service. Explore Triplan's multidisciplinary approach to design solutions at
www.triplandesign.com
The design team delivered a space that would not have been possible without the support of key suppliers.
Knoll furnishings
,
Prelco glass
,
Starwall moveable partitions
,
Sistemalux
and
Artemide lighting
each contributed an outstanding attention to detail.
Other local supporters include CEV, Construction Albert Jean, Contact Image, DuPont SentryGlas Expressions, SITQ, GO multimedia, Le Living and MPI impressions.
---
For further information please contact:
Brenda Sanderson, Icograda Director
455 Saint Antoine Ouest, Suite SS 10
Montreal, QC H2Z 1J1
Canada
T: +1 514 448 4949, x 226
E:
secretariat@icograda.org