ICOGRADA WORLD DESIGN CONGRESS 2007 ANNOUNCES NEW MEDIA PARTNERS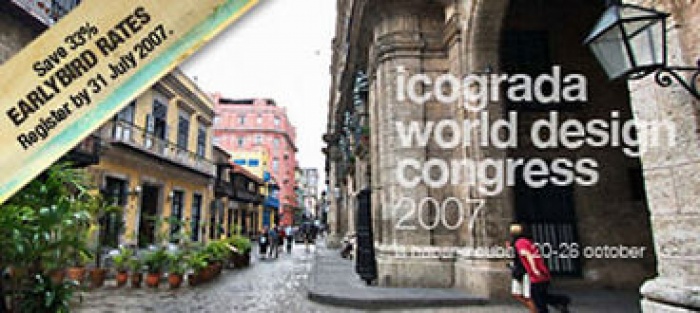 18.07.2007 News
La Habana (Cuba)
- Applied Arts Magazine and Grafika are the newest partners to support
Design/Culture: Icograda World Design Congress 2007
.
La Habana will be the international capital of graphic and communication design in October 2007 - a place for designers, consultants, design managers, buyers of design services, educators and students to gather, to share, and to learn. The Congress will offer a memorable gathering of the international design community. A full week of dynamic programming that includes more than 40 speakers from 20+ countries will explore the possibilities in the relationship between culture and design. To make the Congress even more memorable, the events will open on 20 October, Cuba's national day of culture.
"Our media partners are a critical link in reaching the broadest possible audience about the Congress." says Brenda Sanderson, Icograda's Managing Director. "Through Applied Arts and Grafika we can effectively reach Canada's English and French design communities to share the exceptional programme that is happening in La Habana from 20-26 October. Cuba and Canada have a close relationship and the interest from Canadian designers has been high."
"In return, by partnering with Icograda to promote the Congress, we are able to offer Applied Arts and Grafika international exposure and recognition for the work they do to promote design."
About AppliedArts
Applied Arts is Canada's premier magazine of visual communications. For more than 20 years, we have delivered gorgeous imagery, strong opinion, timely information and essential industry insight to our readership of senior creative professionals in graphic design, interactive design, advertising, photography and illustration. Our six yearly issues include two highly prized references the Photography & Illustration Annual (July) and the Design & Advertising Annual (November). Applied Arts is your window on the very best creative work produced in this country and abroad.
About Grafika
Grafika links the communication design profession in Quebec. It covers all aspects of communication design - graphic design, branding, packaging, web design, motion design, photography, illustration, print production and new technologies. Grafika magazine showcases work by Quebecois designers and is a key resource for corporate brand managers and decision makers on current trends in communication design. Read by 23 000 professionals, who find it a continual source of inspiration.
Book now for best rates
Student, Group, and Early Bird rates are available, with registration fees as low as $295.00 CAD. Take advantage of a 33% discount when you register before 31 July 2007.
---
For further information please contact:
Icograda World Design Congress Secretariat
E:
events@icograda.org
W:
havana.icograda.org
Organising Partners

The Congress is being planned in collaboration with Prografica, Icograda's Cuban member association, and their sponsor, El Consejo Nacional de las Artes Plasticas (CNAP).

Official Media Partners

AppliedArts (Canada), Colors (Italy), d[x]i (Spain), egodesign (Canada), etapes (France), form (Germany), Grafika (Canada), IdN (Hong Kong), Lino (Australia), Package and Design (China), netdiver (Canada)