it might look like a logo, but it isn't design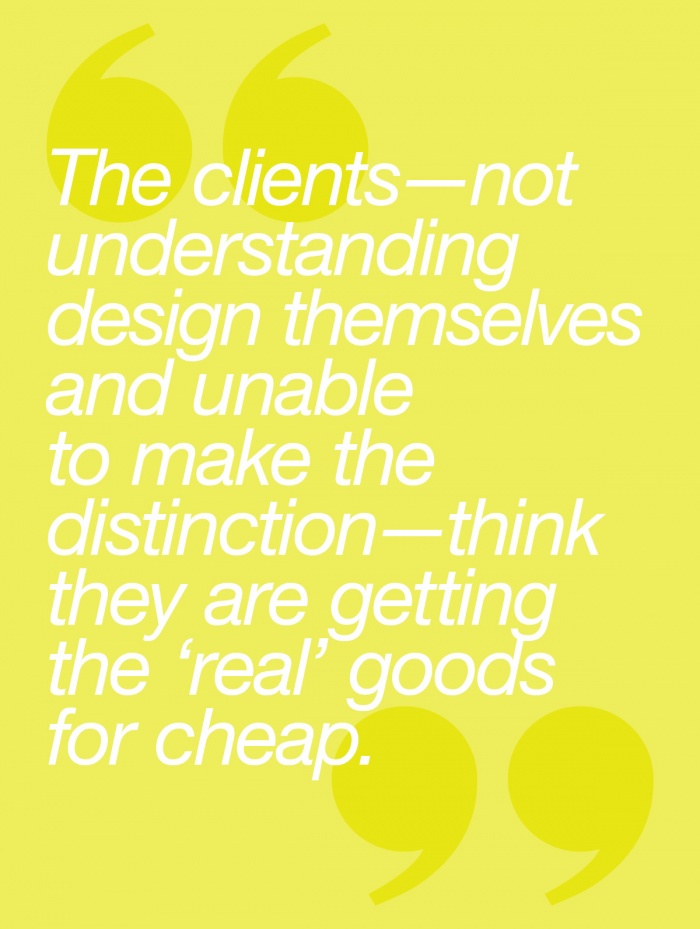 25.03.2019 Editorial
ICoD was approached by a "Business Strategy Associate" from the on-line platform with a request to promote their new online "Design" course:
"Recently, we have successfully launched Fiverr Learn, a one-of-kind e-learning platform, which provides freelancers with a range of digital courses provided by experienced practitioners. Once the courses are completed by the students, they will receive a badge that they can use as part of their freelancers' profile and boost their freelance career. As most of our best-seller courses are in the field of graphic design, we wanted to reach out and discuss possible partnership possibilities with ico-D."

Quickie graphic design courses? The concept was so contrary to our understanding of what professional design education is that we were compelled to explore the matter further.

There is a whole on-line gig economy, an Airbnb or Uber type of workforce, but geared for "freelance designers" and users of design. Gig economy "freelance" formats, featuring new work hours and methods, are taking up more space in the workforce, encroaching on the traditional well-paying, stable, salaried jobs with benefits. This development is raising important questions around what it means to be "professional." Online platforms — Fiverr and 99designs are some of the better known— are one example of an ever-growing industry in this gig-economy landscape, where service providers and end-users connect directly to drive the market. This happens outside the framework of the traditional professional community culture and a larger regulating body.

This is what we were able to ascertain: what goes on these websites, the vast majority of them in fact, is not design. "Logos" are produced in vast quantities, but these are mostly only merged images and pseudo-typography with none of the aspects that make logos valuable as a business asset. The clients — not understanding design themselves and unable to make the distinction — think they are getting the "real" goods for cheap, and are often very surprised when the "designer" does not act professionally. They may get what appears to be a logo quickly and cheaply, only to discover that later on, after they have invested time and resources, that the logo does not serve their purposes, requiring very expensive and painful corrections – perhaps fatal to their businesses. A quick scan of message boards shows that clients have a lot of complaints: these run the gamut from bad customer service to receiving incomplete work, receiving plagiarized work and worse.

Fiverr claims to provide service providers access to a broad range of jobs and clients. Fiverr also promises clients the power to scroll and pick the "designer" and "design" of their choice, often at low cost and with a speedy turnaround. The online platform connects both entrepreneurs and those providing creative and digital services, including graphic design, copywriting, voiceovers, and music and film editing. Portraying itself as a part of the new, edgy marketplace:

"Fiverr's mission is to democratize lean entrepreneurship by giving entrepreneurs, freelancers, small businesses and even enterprises the resources they need to get things done quickly, flexibly and fearlessly so that they can thrive in the new economy." (Inspiration Room)

The problem is, platforms such as Fiverr are raising questions around web scams, infringement of copyright, fair pay, the need for certification, and the consequences of creating a space ripe for skewing the perception of what a designer is. What is often obscured by the virtual marketplace is the expertise of the person hired to do the job and the quality of work that will be delivered.
ARE THERE PROFESSIONAL DESIGNERS ON THESE SITES?
The short answer is: very few. You'll recognise them by the fact that they charge at close to professional standards for the amount of work it takes to actually design a logo — not to copy-paste clip art and add a font (Hint: this is not $5).

Without going too deeply into the design process, when a professional designer or agency develops a logo, they go through a time-consuming process.

An actual design process has many steps. It generally starts with getting to know the client. They ask questions like: What differentiates your brand? What is your unique positioning vis a vis your competitors? What is your product? Who is it being targeted to? Then a designer looks at your competition (What are you doing differently than them? What is working for them? Not working for them? How does your brand fit into this competitive environment?) Only when the designer has a solid understanding of these variables, will they even begin to start the creative process.

At this point they tap into their breadth of experience, something that has taken them years to hone and cultivate: an understanding of semiotics (the study of signs and symbols and their use or interpretation), popular culture "lingo" and trends, colour theory, aesthetics, and visual history. The designer has a recall of the existing catalogue of logos, both historical and current. This is when the classic design process starts: ideas, mockups, sketching, etc. Usually, this is a process that is done in very close collaboration with the client – requiring feedback and a degree of intimacy.

A designer can go in a direction that feels "right" or can be off the mark on early concepts. When off the mark, we see logos that may appear visually slick but feel empty or detached from what they are representing (for example, a paper supply company whose logo looks like a coffee shop). When a concept is refined, the designer will generally start to do another round of research to determine if the logo or something like it already exists. When this research isn't done, sometimes two independent designers can come up with similar concepts by accident and for all the subsequent companies who launch a "copy-cat" this is terribly embarrassing, if not worse. The final step of a good logo design is some kind of focus testing. Can it be effectively implemented across the spectrum of different applications, current and future? How do stakeholders react? The general public? Company staff and management? This final step can confirm a good process or avoid embarrassing mistakes.

Now, obviously no one can do all that for $5. Some logos and associated branding can cost hundreds of thousands of dollars. But if you are paying less than a few hundred, it is pretty much guaranteed that you are not working with a professional.
THE HIDDEN COSTS OF GETTING BAD DESIGN
TERRIBLE COMPANY I wanted a simple logo created for my business. After working with two separate designers — whose collective work was that of a 3rd grader — I asked for a refund and was told my money would be held with Fiverrr so I could re-order. I do not want to re-order, I want to get my money back as Fiverr is clearly hiring substandard designers and robbing the public blind. WHAT A SCAM! will never work with Fiverr again - they are worthless.
— Anonymous user comment on Fiverr, from the Better Business Bureau, an American, nonprofit organisation whose self-described mission is to focus on advancing marketplace trust.

When you are dealing with providers that are not professionals, not only is the quality of the work received not guaranteed, but the very business practices of the seller might fall anywhere in the range from efficient and professional to outright dishonest.

"Bad" work
Your logo is a cornerstone of your branding. When the person "designing" your logo does not follow the process described above, you have no guarantee that the result will be adequate. It can happen — the Nike logo was famously developed for $35, albeit by a design student with some notions of design — but, depending on what your needs are, most clients cannot afford to risk starting with a sub-par logo. That logo is your face to the world, it tells potential clients who you are. Based on that logo, you will produce your website and packaging and extend the brand as your business thrives. Bad design will cost your business, undermine your credibility. Read more on the experiences of one small consulting company.

Plagiarized work
The limited means to resolve disputes is a particular problem when it comes to copyright and trademark infringement. Fiverr's business model creates the perfect conditions in which copyright and trademark infringement can occur. It attracts the inexperienced and encourages bargain fees, which means providers will be tempted to save time by simply copying the work of truly professional designers. The Fiverr providers might also use public domain images or clip art. That means the buyer might find their "original" logo used elsewhere, and have no way to prevent that since public domain images are not copyrightable.

The sellers — not trained in the ethics of professional design — may not even understand the issue of copyright infringement. In the USA, our Member the Graphic Artists Guild, has documented cases of designers discovering their designs on Fiverr, represented as new designs by somebody else. This is a huge issue for professional designers, who are discovering their works have been copied from their online portfolios and are being sold on Fiverr. The professional designer's only recourse is to ask Fiverr to remove the infringed work; they have no other way to pursue the infringer for legal remedies.

Fiverr of course neatly sidesteps the issue with a notice on copyright and trademarks that states that Fiverr takes no steps to ensure that the work posted on their platform is original: "Fiverr does not check user uploaded/created content for violations of copyright or other rights" and "Fiverr does not check user uploaded/created content for violations of trademark or other rights." That is like a pharmacy saying "we are not responsible for the medicines we are selling you".

If you think this is a "designer" issue, think again. For clients, obtaining plagiarized work can be very expensive. Imagine purchasing a logo on Fiverr, and then investing money into putting that logo onto a sign, stationery, a car wrap, or in advertising. Then imagine the reviews you will get online saying "this logo looks just like XYZ logo, they copied it!" or worse from the original designer "they stole my work!". Or a competitor "they stole my logo!" The damage that that can do the credibility of your business is incalculable. Or imagine receiving a lawyer's letter demanding that you stop using the logo because it is trademarked and you do not own the rights. You would have no recourse. According to Fiverr's policy on Intellectual Property Claims, you have to cease using the logo and simply lose the funds invested in implementing it, with no recourse.

Bad Business Practice
When you deal with non-professionals, you never know how what kind of customer experience you will have. As with the comment above, you don't know if your messages will be answered in a timely matter, if you will receive the work on time or how the overall business transaction will be treated. Unlike in "real life" the online nature of the transactions leaves clients with little recourse:
They give the seller [designer] full privilege and obviously don't ask for their certification since the quality is incredibly low, so that it ends up as a cancellation. Fiver doesn't refund their service fee even though there was no service. The resolution center is just as vague and unhelpful as the designer. Also, be aware - many of these designers […] play the "I don't understand you" game. Frankly, I think this was a scam.
—Anonymous user comment on Better Business Bureau for Fiverr
If $5, no problem....but don't waste your money […] providers that know how to scam the system. They just take a job and give you junk [....] you can't do anything about it....and then when you tire of the effort, it automatically approves and then you are out money. What a scam.
—Anonymous user comment on Better Business Bureau for Fiverr
WHO IS DOING THE "DESIGNING"?
Based on input from our Member organisations it seems that the bulk of the "designers" on this website fall into one of two categories: novices just out of school who have no experience and are trying to build a portfolio without some of the basic notions of professionalism; software technicians who have completed some form of limited training on the tools but not the process (5 week classes on the basics of the Adobe Creative Suite, on-line tutorials on how to vectorize an image, etc.); or wholly untrained non-professionals — often in developing economies where the 5$ price is financially enticing, but still incompatible with a professional process anywhere on the planet.
The degradation of quality of life that results from undervaluing the work in the gig-economy is very succinctly denounced in the The New Yorker article entitled The Gig Economy Celebrates Working Yourself To Death. The article underlines the failure of Americans to admit to an inherently flawed economic system as well as their obsession with congratulating and encouraging individuals to work excessive hours for low wages, in other words, to "do more with less."
In the case of under-trained technicians and untrained non-professionals, it is possible that platforms like Fiverr actually provide a way to increase quality of life standards and we applaud that—on the condition that both client and seller feel like they have gained from the transaction. Where we object, is when this transaction is equated with professional design work and the value of professional design services is eroded.
DEGRADING DESIGN STANDARDS
Because of this confusion, some professional designers are finding it difficult to compete with Fiverr. Many are reporting that they have lost projects when clients resort to Fiverr rather than pay reasonable professional fees. Others are finding that clients expect prices they've seen on Fiverr as fair fees. To counter this, professional designers may cut their fees, and take on more projects to make up the difference in income. The result is an overall degradation in design standards. Everyone loses.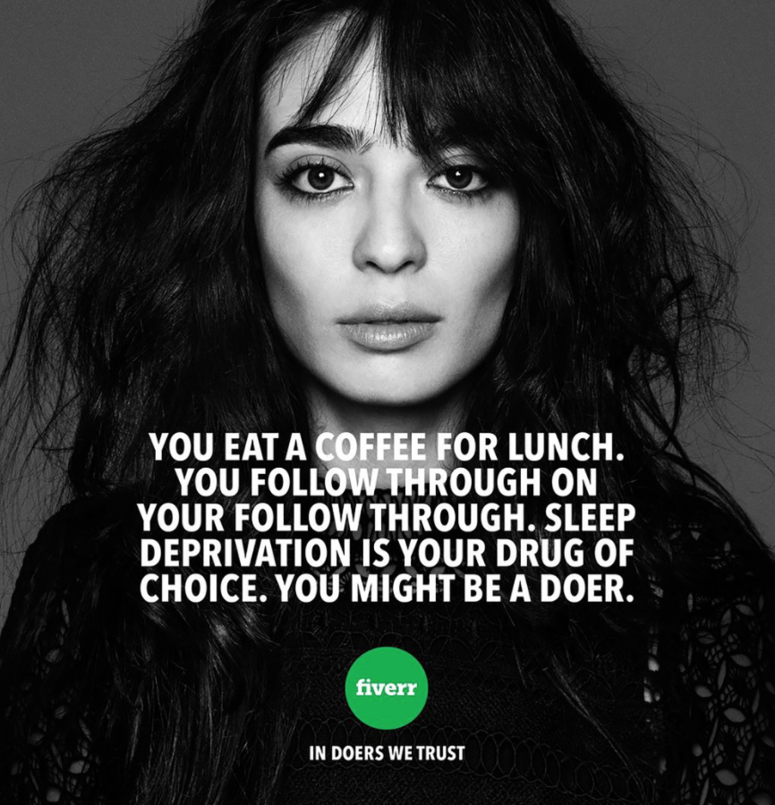 Fiverr campaign from 2017 created to attract designers, and what The New Yorker called "a faux inspirational tale" for "working themselves to death."

Ironically, the creators who make companies such as Fiverr thrive are the ones who gain the least from the platform. Fiverr doesn't just encourage providers to undercut each other in pricing. The company takes 20% of the income generated from each job completed on their platform. This is a significantly high percentage, particularly considering how low the Fiverr providers are charging. It's a lucrative business for Fiverr.

Awful, awful experience. You BARELY get customers because Fiverr decides to keep the SAME handful of sellers at the top of searches. This has been the WORST experience I've ever had with a platform like this. I will be removing my services promptly.
—Anonymous designer comment on Better Business Bureau

Since the company was founded in 2010, its net worth has grown to an estimate value of over $700,000,000. It's reported to be gearing up for an initial public offering in the United States this year at a value of $1 billion.
WHAT IS WRONG WITH ONLINE DESIGN COURSES
There is nothing inherently wrong with online courses for designers. The path to becoming a designer through online learning is a fast-growing reality. In fact, in regions where there are very limited educational choices for designers, online courses are often an introduction to design skills and best practices. Such platforms have added to web-based models of learning, offering design upgrade courses for students as well as courses in design methodology. The benefits of online models are autonomy of practice for the designer and the possibility for self-directed study, and an inexpensive marketplace for the user of design. As a supplement or as an introduction, online courses can be valuable.

Fievrr Learn claims to be a "a one-of-a-kind d-learning platform, which provides freelancers with a range of digital courses provided by experienced practitioners." The problem with Fiverr Learn, Fiverr's new online course product, is twofold. First of all, Learn misrepresents the material being taught. For example, a tutorial titled "Design a Logo by Hand" offers instruction on turning hand lettering into vector artwork. The inexperienced designer will assume such simple instruction covers the complexity of logo design, with no comprehension of the conceptual skills required. This contributes to the devaluing of logo design. Secondly, Fiverr Learn provides a veneer of legitimacy to the platform, whitewashing their dismal business model. To novices, and to buyers unfamiliar with working with designers, the existence of Fiverr Learn implies that the Fiverr is a trustworthy, fair source of design work. Online instruction which consists solely of video instruction, is not a good substitute for classes which permit students to engage with an instructor and with colleagues.

CONCLUSION
Understanding the parameters of professional design is part of our challenge as a global design organisation. When faced with new practices, innovations or educational models in design, our primary goal is to be fair to all designers and users of design, holding the line of ICoD Best Practice papers which state that, "ICoD strongly believes in the value of professional design and fair compensation for design work." The business model proposed by Fiverr does not meet international best practice standards for designers, users or the value of design in general.

Successful enterprises have learned the value of design, understanding that every dollar invested in good design results in profit and corporate design assets multiplied many times over in value. To ensure value, design providers – salaried, independent or freelance – must be professional in approach, conduct and experience. And for clients: Caveat emptor! (Let the buyer beware!)