Joseph Binder Award 2010 jury selects 24 finalists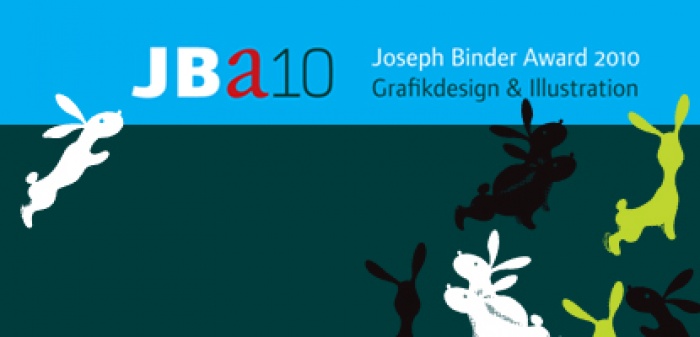 03.10.2010 News
Vienna (Austria)
- The international jury for the has announced this year's finalists. The jury assessed 447 entries by 206 participants from 16 countries. 63 entries were shortlisted, 24 of which will be awarded trophies in gold (8), silver (7), and bronze (9); the remaining 39 entries will be honoured with distinction awards.
The jury was chaired by the great Dutch designer Gert Dumbar, who is an experienced and passionate teacher and mentor of the younger generation. He was assisted by art director and newspaper maker Lo Breier, and illustrator Olaf Hajek, a successful commuter between Germany and the United States.
Joining them was Susanne Breitfeld (BDG), Michaela Varin (SGD), and Jürgen Grothues (AGD), who supported the jury not only with their expertise as communication designers, but also with their knowledge gained during their involvement of many years in the national design associations of their countries, Germany and Switzerland.
Most entries came from Austria (245), Germany (152) and Switzerland (22); the rest of Europe was represented by submissions from Luxemburg, the Netherlands, Sweden, Great Britain, France, Spain, Hungary, Croatia and Ukraine. Entries from overseas came from India, China, South Korea and the United States.
The submitted entries were assigned to the individual categories as follows:
Corporate (63)
Communication (71)
Orientation and Signage (15)
Type (13)
Poster (65)
Editorial (117)
Packaging (38)
Illustration (23)
Design Fiction (42)
This last category was open for independent, non-commercial, and unrealised projects, so that most of its entries came from students.
All shortlisted and winning entries will be published in a catalogue, which can be ordered for EU €14.90 as from 10 November 2010 at:
service@designaustria.at
The award winners will be announced during the award ceremony on 10 November 2010, 19:00.
Location
Ovalhalle, MuseumsQuartier
A-1070 Vienna, Austria
Museumsplatz 1
Those wishing to attend must register at:
service@designaustria.at
---
For more information, please contact:
designaustria
Interest Organization and Knowledge Platform for Design
designforum Wien im MuseumsQuartier
Museumsplatz 1/Hof 7, A-1070 Vienna, Austria
T: +524 49 49-0
E:
www.designaustria.at
About the Joseph Binder Award
The Joseph Binder Award is an international graphic design competition organised since 1996 by
(DA), the Austrian professional association of graphic designers, illustrators and product designers.
Partners
Allianz deutscher Designer
(AGD)
Berufsverband der Deutschen Kommunikationsdesigner
(BDG)
Swiss Graphic Designers
(SGD)