'L'innovazione Responsabile' (Responsible Innovation)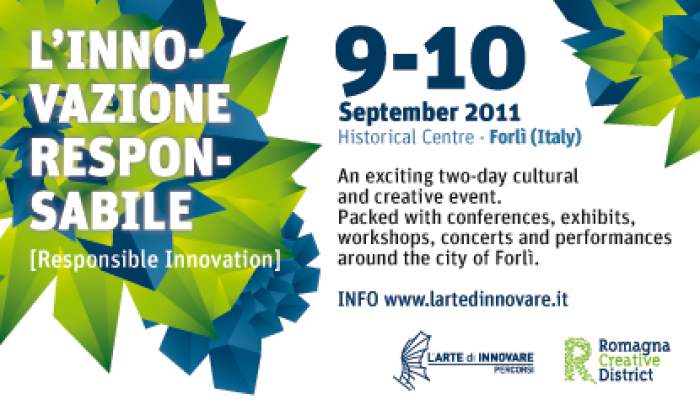 05.09.2011 News
Forl? (Italy)
- Romagna Creative District, in collaboration with 'L'Arte di Innovare,' is pleased to invite all professionals, entrepreneurs, academics, students and representatives in the cultural, creative, economic, social, scientific, technical and political sectors, to attend 'L'innovazione Responsabile' (Responsible Innovation) taking place in Forli, Italy from 9-10 September 2011.
What is responsible innovation?
It is a complex phenomenon delineating a way of thinking that goes outside the box of traditional models and opens a new chapter in the discourse of innovation, whereby sustainability and cross-disciplinary participation are principal ingredients, and where sparks of creative intuition are transformed into real outcomes that create positive change in the community.
L'innovazione responsabile is a yearly meeting of minds from around the region of Romagna, Italy and around the world, an open gathering to discuss the strategic importance of innovation for a sustainable future for everybody. It is the third event, launched in 2009 by 'L'Arte d'innovare' (the Art of Innovation), attracting politicians, entrepreneurs, private and public companies, professionals and intellectuals working to develop local and global strategies to move the region towards becoming a catalyst for innovation. This is the first year that L'Arte d'innovare has collaborated with Romagna Creative District, involving over 30 partners from creative and cultural fields to bring an even greater depth of interdisciplinary talent to the event and to reveal new perspectives on the theme of responsible innovation.
'L'innovazione responsabile' presents a rich program of thought-provoking conferences and creative events including performances, concerts, exhibitions and workshops that will take place all around the historical centre of Forl?, from its majestic buildings and galleries, to its piazzas and streets, from its open air arena to its shops, bars and restaurants. An entire street will be converted into an open air caf? of creativity with shops and residents engaging with visitors interactively. Numerous studios will open their doors to welcome visitors with workshops, demonstrations and interviews. Even vacant spaces and abandoned sites will come alive during these 2 days with an initiative to revitalise the city through cultural and creative events.
Participants will be led through a rich course of discovery over the two days:
sharing in the success stories of Italian innovators and international cases of excellence
uncovering how languages and cultures are shaping innovation
exploring concepts of indigenous design
identifying ways of producing innovation in multidisciplinary fields
creating opportunities for participatory community-centred design
engaging in visionary artistic, acrobatic, dance, musical and multimedia events
experiencing a taste of the rich local culinary culture
L'innovazione responsabile aims to investigate key factors of innovation through the lens of science, technology, creativity and culture, unravelling its strategic importance for a sustainable future.
Icograda and INDIGO are pleased to partner with Romagna Creative District and L'Arte di innovare for the following programme components:
Mother Tongue: Exhibition
A selection of submissions from INDIGO's very own Mother Tongue. 27 projects will be displayed for the first time
Where: Palazzo Albertini, first floor, Piazza Aurelio Saffi, 50 – 47121 Forl?
When: Friday 9 Sep 2011 from 10:30am-8pm / Saturday 10 Sep 2011 from 10:30am – 5:30pm
Registration: Open to the public
International Design Networks for local innovation: Conference
Enhancing and promoting the local region through intercultural and interdisciplinary projects.
Where: Sala delle Assemblee, Palazzo Monte di Piet?, corso Garibaldi, 45 – 47121 Forl?
When: Saturday 10 September 2011 at 14:30-15:30
Speakers: Omar Vulpinari (Icograda Vice President) and Evert Ypma (INDIGO Ambassador)
Registration: Send an email to
irene.hanna@romagnacreativedistrict.com
or register at
Creative Innovation: Cases of Excellence
Presenting a selection of innovative incubators for the promotion and export of Italian talent to the world.
Where: Sala delle Assemblee, Palazzo Monte di Piet?
When: Saturday 10 September 2011 at 15:30-16:30
Speakers: Omar Vulpinari (Creative Director of Fabrica-Benetton Group in Italy)
Registration: Send an email to
irene.hanna@romagnacreativedistrict.com
or register at
Creativity, Culture and Innovation for a sustainable and responsible development of the local region: Conference
Case studies from Helsinki, Barcelona, Romagna and Australia will highlight cultural initiatives and design strategies for regenerating and promoting their local regions.
Where: Refettorio, Museo di San Domenico, Piazza Guido da Montefeltro 12 – 47121 Forl?
When: Saturday 10 Sep 2011 from 12pm – 1:30pm
Speakers: Evert Ypma (INDIGO Ambassador)
Registration: Send an email to
irene.hanna@romagnacreativedistrict.com
or register at
For more details on the complete event programme and dates visit:
http://www.lartedinnovare.it/