Local Culture is the Global Future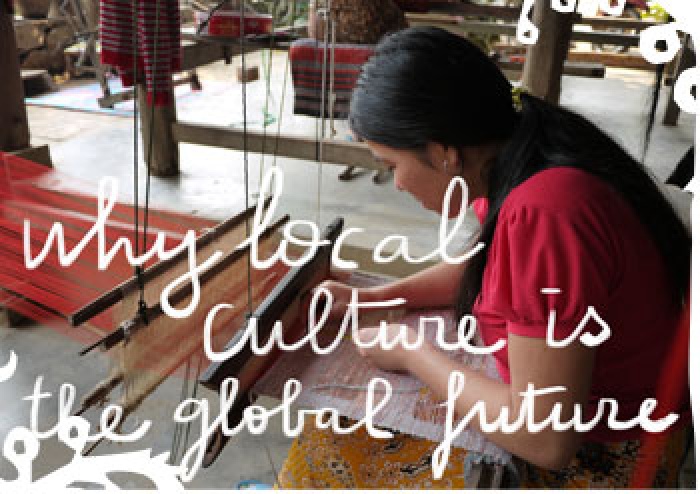 16.07.2012 Features
In this article originally published in CUTOUT Magazine

Sali Sasaki

(Paris, France) explores barriers and opportunities for the future of traditional craft.
---
While the term innovation has become rather ubiquitous in the design world over recent years, the notion of crafts is quietly experiencing its own rise in various countries around the world. Although some perceptions persist (i.e. crafts as outdated and perhaps conservative), the discipline is now brought to the limelight by a number of individuals and companies that believe in its values and potential to actually innovate. In Japan, everyday life goods company Muji, recently launched
Found MUJI
, a part gallery part retail space based on a revolutionary concept. The store sells its own products alongside crafted objects sourced from different parts of the world, such as hand needlework from India, handmade paper from Thailand, and coconut leaf brooms from the Philippines. The underlying philosophy focuses on the importance of preserving traditional practices that are struggling to survive while giving them a new purpose in the context of modern life. It is also for many of us a reminder that crafted objects are first and foremost synonymous with quality and uniqueness, two assets that have unfortunately become scarce in the context of mass manufacturing.
This is one inspiring example of design innovation through crafts, one that is situated at the intersection of culturally creative practices and new advances in product development, and which serves a new model for global competitiveness. Muji's creative director Kenya Hara believes that culture will soon become the most competitive asset in the world economy. As the world becomes more globalised, consumers will seek distinctive products imbued with local meaning. "The competitive performance of cultures supported by locality makes the world richer. It is a competition to create products or ideas that are based in one's own culture or market but can inspire other markets." (Kenya Hara, Designing Design, Muji - Nothing Yet Everything, p289, Lars Muller Publishers, Switzerland, 2007) This way of thinking has built Japan's credibility over centuries and its many layers will surely help sustain it in the future.
Having just returned from a cultural journey across Northern Thailand and Laos, I cannot help but wonder if a similar mindset can be embedded in Southeast Asian countries. In Thailand, there is no shortage of craftsmanship but a need for research and development, as well as a better integration of design methodologies in the value chain to move away from the simple "making and selling" structure that often hinders the flourishing of creativity. In Laos, the level of craftsmanship is astonishing and thus the products of incredible quality and relevance. And yet, the wave of imported goods from China and Thailand are threatening the irreplaceable wealth of culture that exists there, and some irreparable damage has already been done. For instance, many complex weaving techniques that characterise Laotian textiles have been simplified in order to produce and sell faster. With a large rural population working on farms and depending on crafts as an extra source of income, the monetisation of their skills is hugely important and yet it has also worked to the detriment of intrinsic cultural values. Through financial struggles, artisans had to change their ways of working, and meanwhile their children chose new career paths.
Reversing the existing tendency is not an easy task. However, smart design interventions can add value while ensuring the preservation of local skills, and boost the creation of a new market potential. Therefore, more bridges have to be built between designers and craft communities to increase dialogue, learning, and opportunities in the future.
Sustaining local traditional skills is about survival. On the one hand, they shape local cultural identity and on the other they enable principles of sustainability and community-based structures, embodying ethical practices that need support in our fast-paced globalised world. The innovation here is not only economic, but also social, cultural, and environmental. I see this as the tip of something very crucial not only at a local level, but for the future of our world as a whole.
The main challenges for crafts in Southeast Asia:
Encouraging young designers to learn about traditional crafts in relationship to contemporary design education;
Transitioning from old to new in a successful way;
New ideas and new designs that appeal on a global market;
Focusing on quality rather than quantity;
Changing perceptions and adapting ways of working;
Creating a value chain that leads to the development of culturally meaningful products.
The conversation and debate will continue in October 2012, at where many experts on traditional crafts and design will gather and speak on related topics such as creative industries, cultural conservation, indigenous design, and more.
---
First published in
CUTOUT Magazine
(Malaysia), Vol 03 issue 02 (2012)
About Sali Sasaki
A freelance consultant, public speaker and advisor on design, cultural development and creative industries, Sali holds an MA from the Royal College of Art London and a BFA from Parsons School of Design.
She has been a design research and writer for international clients including the UNESCO Office in Bangkok, culture360.org and the World Design Capital. From 2005–2008, Sali was the Assistant Programme Specialist for UNESCO's Creative Cities Network in Paris, France.
Sali is currently a Visiting Professor in Communication Design and Design Management at École Parsons à Paris. She is INDIGO Ambassador and member of the Programme Committee for Rediscovery: Icograda Design Week in Sarawak.