MAGAZINE BRINGS NEW EDGE TO DESIGN WORLD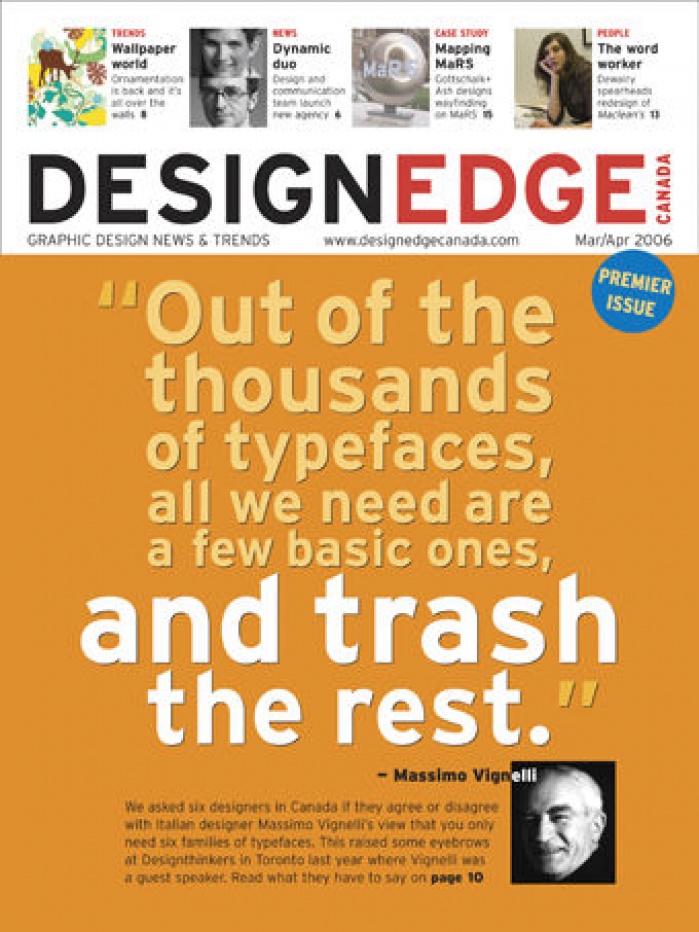 07.03.2006 News
Mississauga (Canada)
- Bursting out in bright orange,
Design Edge Canada
makes a big statement on the cover of its inaugural issue. Unafraid to tackle difficult issues, the publication differentiates itself from other graphic design magazines by setting itself apart as the news and trends magazine for graphic designers in Canada. Debuting with its March/April issue, Design Edge Canada's premier edition includes a debate on type, a profile of Maclean s new art director Christine Dewairy and tips on press checks and InDesign CS2.
With a nationwide circulation of 7,500, Design Edge Canada's readership is made up of design firms of every size, from independent freelancers to large design studios. The magazine covers all aspects of the graphic design industry, including editorial, advertising, web, corporate, retail, and government.

Graphic designers and other qualified members of this industry can sign-up for a free subscription at www.designedgecanada.com . The magazine comes out six times a year.

"Design Edge will focus on the news and trends that affect both design and the business of design. Design is a key industry cluster for the growth and prosperity of Canada's cities and we want to serve as an essential communications tool, both in print and online," comments publisher Doug Bennet.

In addition to its print version, Design Edge Canada has launched its new website DesignEdgeCanada.com, which works in tandem with the print publication to provide the latest news, events, and job postings for the graphic design community. Readers can also visit the website to enter Design Edge Canada's Name that Font contest and sign up for free e-bulletins and merchandise.

For further details and a copy of the magazine, please go to www.designedgecanada.com
---
For further information please contact:

Ann Meredith Brown
Editor
Design Edge Canada
8-1606 Sedlescomb Dr.
Mississauga ON L4X 1M6
T. +1 905 625 7070, ext. 280
F. +1 905 625 4856
E: abrown@designedgecanada.com

Design Edge Canada and its web extension are the latest offerings from Mississauga-based North Island Publishing, publishers of Masthead and Graphic Monthly Canada magazines.