meet the 2022–2024 executive board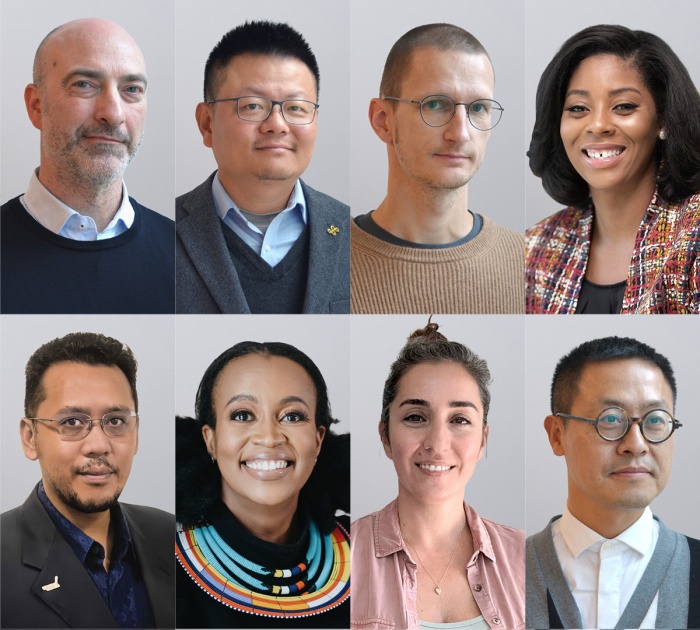 17.10.2022 ICoD news
We are pleased to announce that our Members have elected a new Executive Board for the 2022-2024 term. The Board is composed of representatives from seven countries, representing Professional, Educational and Promotional Members and specialists from graphic, industrial and interior design.
The Executive Board of the International Council of Design serves a term of two years. The Board is elected at the biennial General Assembly of the Members. Board members are collectively responsible for the effective governance of the Council including the vigorous pursuit of its mission and objectives and the adherence to its core values.
The General Assembly of our Members gathered for the 29th time in our history on 16 October in Kaunas (Lithuania), hosted by Member Lithuanian Design Association (LDA). They have elected the Executive Board for the 2022-2024 term, a group made up of four members of the current ICoD Board and four new members. We are pleased to welcome the following individuals, who will serve on the Council Executive Board for the upcoming term:


Ting Xu (China)
President
Johnathon Strebly (Canada)
Past President
Jonas Liugaila (Lithuania)
Secretary General
Yanique DaCosta (United States)
Vice President
Arez Ezman (Malaysia)
Vice President
Juliet Kavishe (South Africa)
Vice President
Melike Tascioglu Vaughan (Turkey)
Vice President
Chao Zhao (China)
Vice President

The ICoD Executive Board consists of individuals and experts from various design fields who are duly nominated and elected by the Member organisations. Members of the Executive Board serve in a volunteer capacity, donating their time and expertise to further the Council's mandate.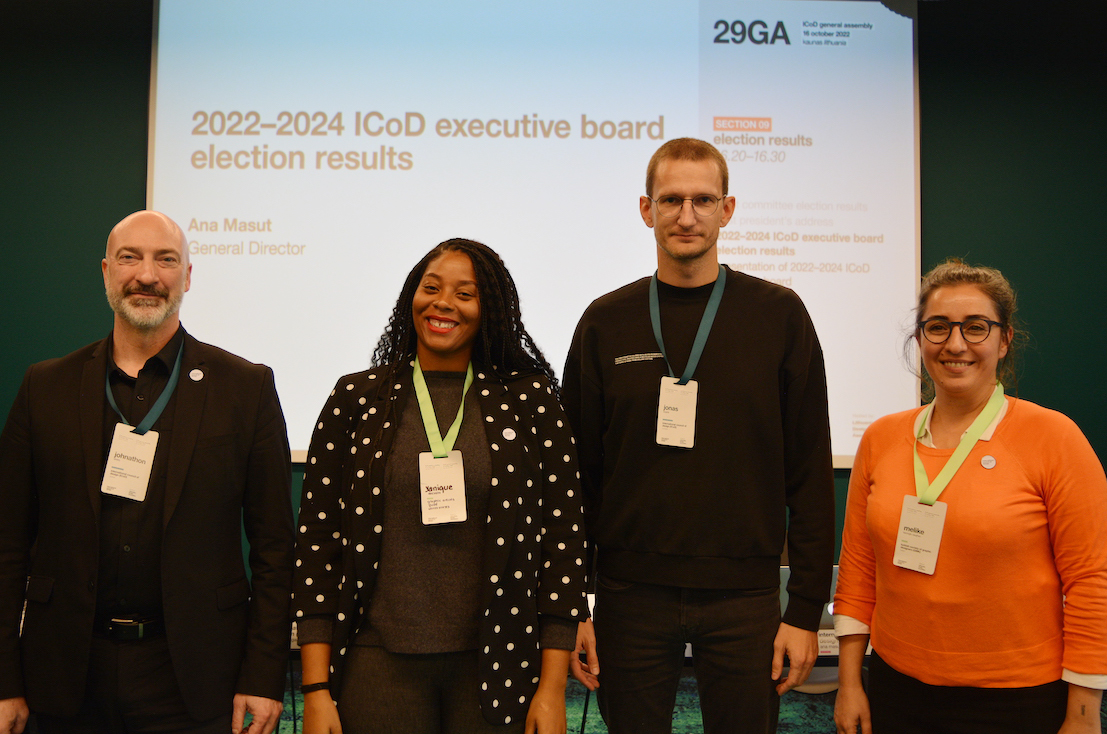 The Members of the 2022-2024 Executive Board that were present at the 29GA in Kaunas (from left to right), Johnathon Strebly, Yanique DaCoste, Jonas Liugaila, Melike Tascioglu Vaughan.
BIOGRAPHIES

TING XU (PRESIDENT)
Ting Xu is the Deputy Secretary-General of the Shenzhen Culture, Creativity & Design Association (SCCDA)—a para-governmental non-profit body commissioned by the Shenzhen municipal government to manage and brand 'The City of Design' programme. SCCDA is the focal point for the UNESCO Creative Cities Network programme, maintaining liaison with UNESCO and other creative cities around the world. In this role, Mr Xu is involved in the organisation of the government-sponsored Shenzhen Design Week and the Shenzhen Global Design Award (SDA). In cooperation across creative sectors between Shenzhen and other cities around the world, SCCDA facilitates design education and student exchange programmes. Mr Xu was the Co-Curator of the 2nd and 3rd HK–SZ Design Biennales and Curator of the HK–SZ Creative Furniture Exhibition.


JOHNATHON STREBLY (PAST PRESIDENT)
Johnathon Strebly is the former Director of Creative Services for HCMA Architecture + Design. Mr Strebly was founder of the Canadian brand strategy and communications agency The Notice Group and is the National Past President and National Ethics Chair of the Society of Graphic Designers of Canada (GDC) and past President of the Canadian Association of Professional Image Creators (CAPIC) Vancouver. He is also a co-founder of CreativeMornings Vancouver. As a design director, mentor, and creativity community advocate, Mr. Strebly engages with the design industry directly through curriculum design, advisory committees, and programming for design agencies and educational institutions.


JONAS LIUGAILA (SECRETARY GENERAL)
Jonas Liugaila has previously worked as an art director, design lecturer and strategist. His workshops, presentations and articles for national and international audiences bring critical thought and constant questioning of the design status quo. Currently in the role of Design Strategy Lead at the design agency CRITICAL + Xwhy, Mr Liugaila is also a junior researcher at Kaunas University of Technology and lecturer at Vilnius Academy of Arts, and serves as a Board Member of the International Council of Design, Lithuanian Design Association and Lithuanian Design Council.

YANIQUE DACOSTA (VICE PRESIDENT)
Yanique DaCosta was born in Kingston, Jamaica, and migrated to the United States, where she pursued a BA in Fine Arts and an MFA in Media Design. With more than 12 years of experience in the design industry, the United States Department of Labor recognised her as an expert in Brand Development and Graphic Design. DaCosta is no stranger to organisational leadership, she currently sits on the National Executive Board of the Graphic Artists Guild as Treasurer.

AREZ EZMAN MOHAMED (VICE PRESIDENT)
Arez Ezman (M.wREGA, DPIN-JPK) is the Creative Director at Zachary Haris Ong & Associates in Kuala Lumpur, Malaysia, Past Vice President of the Graphic Design Association of Malaysia (wREGA), and a design practitioner for more than 20 years. He was recognised as a Registered Industry Expert in 2014 by the Ministry of Human Resources Malaysia after being part of the Multimedia Development Corporation's (MDeC) National Occupancy Skills Standard (NOSS) competency program. Mr Ezman's vision is to recapitulate the industry growth on international strata while developing the global requirements to achieve the optimum high-skilled workforce through education, experience, and design.

JULIET KAVISHE (VICE PRESIDENT)
Juliet Kavishe is a practising Professional Interior Architect and Design Educator with a career spanning 15 years and two continents with a focus on high-end residential homes, commercial and corporate workspaces that centers African design perspectives, education and equity in education through policy. Ms Kavishe is Editor-In-Chief and an Executive Board Member of the PADI (Pan Afrikan Design Institute) and Director of the IID (African Institute of the Interior Design Profession), where she strives to improve and promote excellence and professionalism in the Interior Design profession. She is currently an undergraduate and postgraduate lecturer in Interior Design and concurrently participates in lecturers hosted by various global institutions and organisations, promoting the importance of Design education in Africa.

MELIKE TASCIOGLU VAUGHAN (VICE PRESIDENT)
Melike Taşcıoğlu Vaughan is a designer, artist and academic with a doctorate in graphic design. Ms Vaughan lives in Eskişehir, Turkey, where she teaches Bachelor, Masters and Doctorate degree courses as a full-time Professor at Anadolu University. Ms Vaughan has published two books, one focusing on book design and the other on environmental graphic design, as well as many articles, papers and book chapters. She is also a book designer, mainly working with international independent publishers focusing on issues of social injustice. She is a board member and secretary general of the Turkish Graphic Designers Association (GMK).

CHAO ZHAO (VICE PRESIDENT)
Chao Zhao is Deputy Dean of Academy of Arts and Design, Deputy Dean of Art and Science Research Institute, Chair of Industrial Design Department, Director of Healthcare Design Lab in Tsinghua University, and Secretary-General of the Design Disciplinary Teaching Steering Committee of the Ministry of Education China. With extensive experience in design education, research and practice, Dr Zhao has earned numerous awards, including 'Red Dot Award', National Design Award, Australia excellent Alumni Award, Top Ten Chinese Young Designer Award, and New Century China Talents Award, as well as Distinguished Professor Award. Additionally, Dr Zhao has an extensive and distinguished design related publication record in international journals and conferences.