Montréal, UNESCO City of Design: 5 years ALREADY!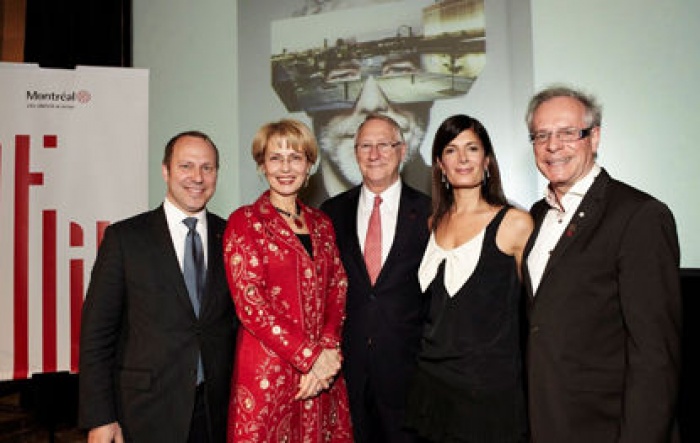 18.04.2011 News
Montréal (Canada)
- More than 25 000 designers have helped create the city that surrounds us, making Montréal a true UNESCO City of Design. To celebrate the fifth anniversary of this designation, Montréal is paying tribute to the people who shape our city and our everyday lives. The Mayor of Montréal, Gérald Tremblay—along with Helen Fotopulos, the Ville de Montréal's Executive Committee member responsible for Culture, Heritage, Design and the Status of Women; Michel Leblanc, President and CEO of the Board of Trade of Metropolitan Montreal; Simon Brault, President of Culture Montréal, and Anne-Marie Cadieux, spokesperson for the annual Design Montréal Open House—presented the report on municipal design action and unveiled the program of activities for the Montréal, UNESCO City of Design celebrations, which will run from May 2011 to May 2012.
"Being a UNESCO City of Design is a community project that involves all those who design, who carry out the projects and who live in Montréal," Mayor Tremblay said. "Five years later, we can truly be pleased about the benefits this designation has brought. It has accelerated the development of design in Montréal and across the entire metropolis."
Five years later: concrete benefits
Since 2006, more than $6 million has been invested to fund design and architecture competitions and to promote Montréal's talented people and exemplary accomplishments. Thanks to the creation of the Montréal, UNESCO City of Design initiatives—born of a unique partnership between the Ville de Montréal, the UNESCO Chair in Landscape and Environmental Design at Université de Montréal, the Minist?re de la Culture, des Communications et de la Condition féminine, the Minist?re des Affaires municipales, des Régions et de l'Occupation du territoire and the Conférence régionale des élus de Montréal—the number of creative projects has greatly increased in the last five years, with the launch of four urban design workshops, three design idea competitions and 15 design project competitions. Once completed, the resulting projects, including libraries, bus shelters, recycling bins, sports complexes, and various public spaces, will considerably enhance Montréalers' everyday lives.
Montréal loves design
A number of activities will take place from May 2011 to May 2012 to mark Montréal's fifth anniversary as a UNESCO City of Design. The celebrations will revolve around three key periods: June, October-November and May 2012.
In the wake of the Montréal International Interior Design Show (May 26-28), the celebrations will kick off with the Design Montréal Open House— organized as part of the Agreement on the Cultural Development of Montréal— which also is also marking its fifth anniversary this year. A total of 75 Montréal design agencies, projects and exhibition spaces will be open to the public free of charge this June 4 and 5. It's the perfect occasion to learn about the designers behind our urban surroundings. To find out more, visit
portesouvertesdesignmontreal.com
.
On 4 June, starting at 10 p.m. at the Society for Arts and Technology (SAT), the MUTEK digital creativity festival will host a free evening, Designer_Mix, a hybrid party imbued with the spirit of Buenos Aires, Berlin and Montréal, three UNESCO Cities of Design where globe-trotting creators from every discipline converge, bringing suitcases stuffed with ideas, images and sounds.
To be launched on 1 June during the Carrément Design benefit evening, the CODE International Poster Competition exhibition, being presented June 2-26 at the Centre de design de l'UQAM, showcases 70 award-winning concepts from the Montréal-driven competition held in each of the seven UNESCO Cities of Design.
From 4 June - 30 September, design takes centre stage at Place Ville Marie. A landmark of Montréal modernity designed by famed architect I. M. Pei, Place Ville Marie welcomes nearly 250 000 visitors each week. The summer exhibition, The talked about town presents the talent of Montréal designers and the projects that heralded their success.
The symposium Les politiques des villes de design, organized by the cities of Montréal and Saint-Étienne (France), will take place October 4 as part of the 24th Entretiens Jacques-Cartier. The result of a productive partnership with the Board of Trade of Metropolitan Montréal, the Palais des congr?s de Montréal, the URBA 2015 conference series, and the non-profit organization Mission Design, this public forum is a meeting of the mayors of European and Asian cities and elected officials from across Québec to discuss design-related city development strategies.
From 20 November - 4 December, the UNESCO Chair in Landscape and Environmental Design at Université de Montréal will organize a WAT ("workshop_atelier/terrain") on an emblematic Montréal site. Representatives of more than 20 universities from five regions of the world are expected to attend in order to work on solving urban design issues that relate to major social, cultural and environmental issues.
Lastly, Montréal will host the Annual General Meeting of the UNESCO Creative Cities Network in May 2012, alongside the C2MTL creativity summit.
Everyone is celebrating!
In addition to the Ville de Montréal, a number of cultural and business groups will be marking the anniversary as well!
Throughout the year, the Board of Trade of Metropolitan Montréal will organize a series of lectures on creativity and innovation in business, starting with a strategic forum on fashion and clothing on June 1.
According to Board President and CEO Michel Leblanc: "In a city renowned for its creativity, design represents major business potential. We are proud to celebrate the Montréal designers who are behind our businesses' success."
For his part, Jean-Paul L'Allier, Chair of the Mission Design Board of Directors, said: "The wealth of activities being held this year demonstrates just how important the design industry is for our economy—not only for the city, but for Québec as a whole. The commitment of cities is indispensable in making design a stronger part of our lives, and Montréal's engagement in this respect sets a very good example."
Simon Brault, President of Culture Montréal, took the opportunity to invite the cultural community to take specific actions to mark the celebrations. "The UNESCO City of Design designation granted to Montréal should encourage us to systematically make use of the talent and the brilliance of our architects and designers to improve citizens' living environment and to promote the national and international reputation of Montréal creation," he said. "In addition, this fifth anniversary provides an opportunity to reinforce the idea that design must be taken into account in all the areas of activity that make up Montréal life, and even more so in the arts and culture field."
To see the detailed program of activities surrounding the celebrations marking Montréal's fifth anniversary as a UNESCO City of Design, visit the
mtlunescodesign.com
website.
---
For more information:
T: +1 514 285 4545
W:
mtlunescodesign.com
Darren Becker
Mayor's Office and Executive Committee
T: +1 514 872 6412
Hél?ne Reeves
Media Relations
T: +1 514 573 6892