Musei Civici to host Fabrica's Communication Design for Social Impact Exhibition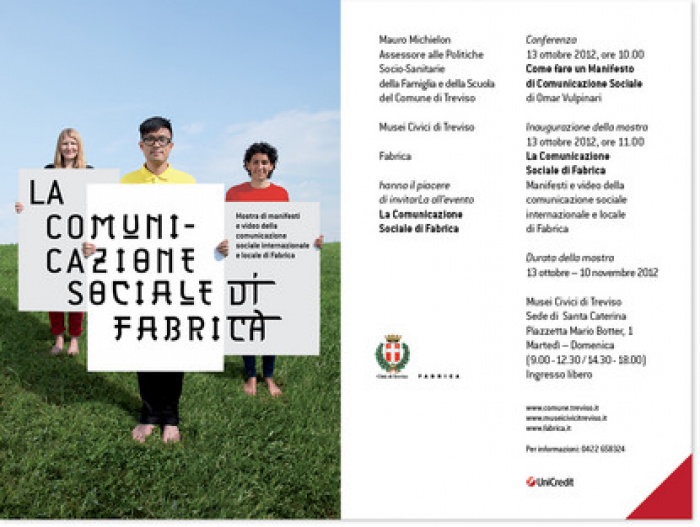 04.10.2012 News
Treviso (Italy) – Fabrica's Creative Director of the Visual Communication department Omar Vulpinari, (Icograda Board of Directors, 2006 – 2012), will hold a conference on the topic of "How to Create a Social Communication Poster," exploring communication design strategies and methods for creating images for transnational impact. The conference will take place on Saturday 13 October 2012 at 10:00 am.

The exhibition "Fabrica's Communication Design for Social Impact" will open at 11:00 am with a selection of socially impacting posters and videos designed by the young creatives at Fabrica, developed in partnership with both international NGOs – the United Nations World Health Organization, UNICEF, The World Bank, Reporters Without Borders, Teachers Without Borders, and local institutions – the local health authority ULSS 9 in Treviso, the La Tenda home for AIDS patients, and AVIS, the Italian blood donors' association.

The themes addressed will include but are not limited to: prevention of violence and child injuries, raising awareness on issues such as human rights, disability, road safety, blood donation, climate change, stigmatisation of AIDS victims, non-smoking and non-drinking culture, freedom of expression and the quality of education.

?Both events are free and open to the public, and the exhibition will remain open to the public until 10 November 2012.
__________________________________________________________________
For more information, please contact:

via Ferrarezza, 1
Catena di villorba, Treviso
31020 Italy
T: +39 0422 516111
F: +39 0422 516347
Email:
About Fabrica
Fabrica, the Benetton Group's communication research center, was founded in 1994 and is based in Treviso, Italy.

Fabrica is a unique hybrid of education, practice and research. It is a laboratory of applied creativity, a talent incubator, in which young artists and designers from all over the world develop innovative projects and explore new directions in numerous fields, from design to music film to photography, publishing and interaction. In this multicultural and transdisciplinary context the designer-experimenters are guided along their research paths by leading world figures in art, design and communication. A regular workshop program with visiting international experts fosters further exploration.

Communication research at Fabrica addresses individual creative expression, social causes, cultural events and commercial enterprise.