NEW LOOK AND NEW TOOLS: ICOGRADA RELAUNCHES WEBSITE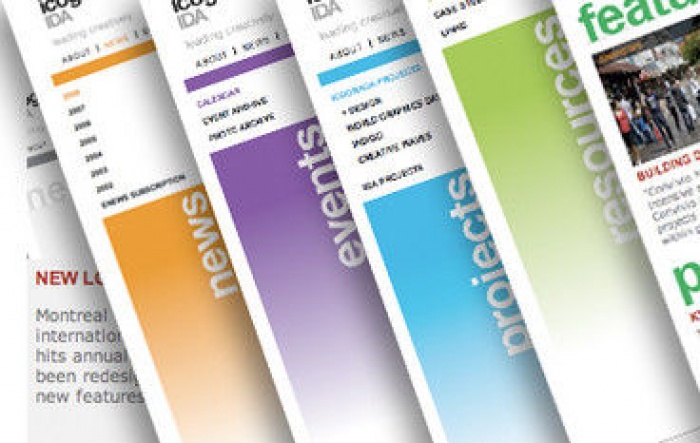 04.02.2008 News
Montreal (Canada)
- The Icograda website is your resource for international design news. The portal attracts more than 14 million hits annually from an international, multilingual audience. Now, it has been redesigned to provide even more content, incorporating exciting new features and a cleaner user experience.
The redesign has been a collaborative project with our IDA partner, Icsid (International Council of Societies of Industrial Design). Working with Vancouver, Canada based Ion Design and Smallbox Software, the new site aligns our organisations' brands, adds a case study and resource library, project gallery, photo archive and blog as new elements, while retaining its key features that have become widely respected tools.
Building community
A highlight of the new site is unifying all members in one searchable database, so that all Icograda members – design associations, promotional bodies, education institutions and individual Icograda Friends – can be located from one easy access point. "The ability to look across 67 countries and regions around the globe and find all the Icograda contacts in a single location with one simple search is a feature that responds to our users' input," says Brenda Sanderson, Icograda's Managing Director.
More than 1000 news articles
Originally launched in 2002, the news archive allows users access more than 1000 releases organised by year. It provides a knowledge base to trace the activities of Icograda and its members through a dynamic period of development for the communication design profession.
Open dialogue and exchange
The introduction of the Leading Creatively blog connects Icograda not only with our Members but also the international online community to share information and diverse viewpoints on current issues relevant to the profession.
Enhanced design education forum
Since its inception in 2002, the Icograda Education Network (IEN) has been one of the fastest growing membership categories within the Icograda community. Enhanced features of the Education section include features, case studies and a project gallery to showcase the dynamic activities of this network of members.
A deeper media network
Launched at Icograda's 2002
Identity/Integrity
conference in Brno, Czech Republic, the IDMN has now become a coordinated resource for all partners in the IDA. This approach provides IDMN participants with access to a broader range of information covering all design disciplines and expands the IDA partners' reach in communicating the value of design.
A platform for the future
Enhancing Icograda's communications toolset was a key priority identified by Icograda President Don Ryun Chang when he took up his position at the Icograda General Assembly 22 in La Habana, Cuba. "The rebranding and relaunch of our site is a key step in delivering on this strategic objective. It provides an enhanced platform to showcase the diversity of communication design practice, feature the programmes and events coordinated through our Secretariat, and highlight our members' activities from around the globe."
---
About Icograda
The International Council of Graphic Design Associations (Icograda) is the world body for professional communication design. Founded in 1963, it is a voluntary assembly of associations concerned with graphic design, visual communication, design management, design promotion and design education. Icograda promotes communication designers' vital role in society and commerce and unifies the voices of graphic designers and visual communicators worldwide. The vision, mission and core values of the council are collectively embodied in the statement 'leading creatively' and manifested through our members' diverse activities to use design as a medium for progressive change. www.icograda.org

For more information:
Brenda Sanderson
Managing Director
E.
secretariat@icograda.org
T. +1 514 448 4949 x 226